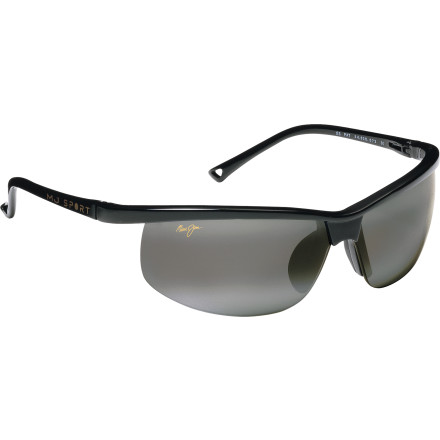 The Maui Jim® Sunset combines the best elements of a sport sunglass—lightweight nylon frame and polarized polycarbonate lens—into functional but stylishly crafted eyewear. The Sunset's lightweight nylon frame is strong, comfortable and attractive; the polycarbonate lens adds lightweight comfort and impact-resistance. Two layers of Maui Jim's CLEARSHELL® coating guard against scratches. Perfect for watersports—from deep-sea fishing to getting covered at Pipe, Sunset sunglasses feature PolarizedPlus® Technology. A polarized lens' primary function is to reduce glare—that is, light reflected from a flat surface which greatly diminishes color and contrast. A body of water, a windshield, and even an asphalt road are all notorious producers of polarized light. Polarized lenses are most useful when trying to see through these reflecting surfaces, like when fishing, boating, or driving. Maui Jim sunglasses feature one of the most effective polarized lenses on the market. They are lightweight, tough, and very stylish.
What do you think about this product?
Have questions about this product?
Someone gave me a pair of Maui Jim...
Someone gave me a pair of Maui Jim Sunglasses...it says they are MJ402-14 inside one of the bows. They look similar to these, but I'm not sure. I am going kayaking Saturday and need polarized sunglasses. I hope you can let me know quickly if these are the ones, or if I need to make a quick purchase. THANKS! Sharon
Best Answer
Hey Sharon,Backcountry uses a different coding system. You'll get the fastest and most accurate information by calling Maui Jim directly. They're really nice people and great to work with. 1-888-666-5905Hope that helps.
Can I get these sunglasses with a hard...
Can I get these sunglasses with a hard case . . . instead of a soft case ?
No. Soft cases are generally just soft bags for storage that double as lens cleaners so if you want a hard case, you'll need to buy it. I've never needed a hard case though; a little bit of care and a soft case is usually sufficient.Just as a side note: if you end up getting an Rx made for these they send them back in a very nice hard case!