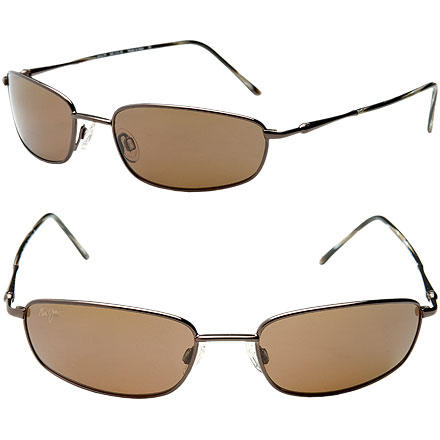 Maui's South Shore is known for its beauty, white sand, and sunny skies. With all of that sun, Maui Jim's South Shore Polarized Sunglasses will come in handy while walking along those gorgeous beaches. This distinct frame is crafted from the finest Monel metal for durability and easy adjustability. The refined rectangular-shaped frame is suitable for many different facial shapes.
Best sunglasses ever!
Gender:

Male

Familiarity:

I've put it through the wringer
These are very well made. The frames are durable but soft enough to adjust. I had the same problem as the other reviewer with them falling off my face. I used a small pair of pliers with a cloth to protect the finish to bend the frames (in) at the temple. I also bent the temples a little more behind the ear, perfect.



The glass is amazingly clear, evenly colored from edge-to-edge, scratch resistant and very lightweight (for glass). They are far superior to any polycarbonate lens I have ever owned.



After 5 years or so my first pair was starting to show signs of wear so I looked around for a replacement pair. Unfortunately, Maui Jim no longer makes this style but I was lucky enough to find them here at BC. Too bad because I really like this style and they don't make any similar styles (that I like) to replace them. But I am sure that any model will be just as well made as these and their customer service can't be beat either. I needed some replacement nose pads and the shipped them out right away, no charge.


Anyone find these a little heavy? I...
Anyone find these a little heavy? I couldn't get them to stay on whenever I tilted my head down to look at something. They kept wanting to fall off and I was afraid they would break. I returned them and got the wire frame ones.

-Even still, i've stuck with maui jims for the quality. it's unsurpassed as of yet.
Most likely you just need to get them adjusted to fit correctly behind your ears. All Maui jim's can be custom fit because of their optical grade frames. Even the plastic frames have a wire core so that they will retain their shape after being adjusted.
I believe that was after having them adjusted at a lenscrafters or equivalent. I guess they just weren't for my face.
I bought a pair of these two years ago and they changed my life. The glass lenses manufactured by Maui Jim are second to none and although a little heavier than your standard plastic lens pair of glasses, you hardly notice they're on your head. I used to only bought Oakleys, but once I stepped out of my box and bought these, Maui Jim earned a new lifelong customer. Everything is so clear through these lenses and they are very durable and scratch resistant. I took these glasses everywhere. I was even so bold as to wear them in the ocean! Sure I got salt water on them, but even the dried spots of salt water washed right off and the lenses were not harmed. The metal frames also showed no signs of damage. I am sad to say that I recently lost my beloved south shores, but I will be buying another pair. I've tried on other glasses from other brands, and even others from maui jim, but nothing I have tried even comes close to how i felt in these glasses.
I have owned a lot of crappy sunglasses in my day and usually I gravitate towards the $10 pair you can get pretty much anywhere, but these are the real deal. While, yes, incredibly expensive for a pair of sunglasses, the lenses are crystal clear and look great. I'm a Maui Jim fan for life, which is good for them because I'll probably lose these like I lose all of my sunglasses within a month. Truth be told, this is my second pair as I already lost one pair of these. That's how much I like them. Yes, I paid $400 for two pairs of sunglasses and although that makes me a huge idiot, it was worth it.