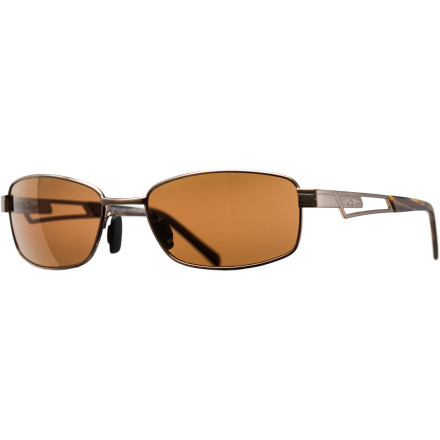 Videos
Peel out of your wetsuit, put on the Maui Jim Puamana Sunglasses, and rinse off your dive equipment. Thanks to its Polarized Plus2 lens technology, the Puamana virtually wipes out glare, blocks out all harmful UV rays, and boosts color so you can take in the ocean view from the sanctity of the dock after an intense cave-dive session.
Quality metal frames feature anti-corrosive springs for durability while you scrub down your boat or inspect your diving equipment
Polarized lenses wipe out 99.9% of glare, block 100% of harmful UV rays, and boost color
Polarizing film makes it possible to see below the surface of the water and eliminates glare from any flat, smooth, or shiny surface for a cleaner, crisper view
Scratch-resistant ClearShell treatment adds durability and performs better, longer
Waterproof and oleophobic lens coating sheds water and snow, repels grease, and makes smudges and fingerprints easier to wipe away
ST glass lenses are durable, scratch-resistant, and 20% thinner and lighter than standard laminated glass lenses for long-wearing comfort
Fits small to medium-sized faces
Neutral Grey lens tint offers the highest available light reduction, enriches color and contrast, and is best suited for bright, direct sunlight
HCL Bronze lens tint is best suited for everyday variable conditions and provides superb contrast
Included hard case for storage and transport
What do you think about this product?
Have questions about this product?
Maui Jim Puamana Sunglasses - Polarized