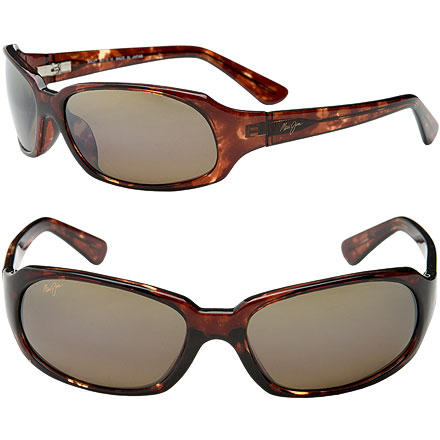 Videos
No matter what type of vessel you're piloting, it'll be easier to reach your destination with the help of Maui Jim's Navigator Polarized Sunglasses. These shades will help you find your way by providing superior eye protection and comfort, whether in your car or boat. The Navigator Sunglasses have high-fashion nylon frames that wrap for extra protection from the sun, wind and debris.
Maui Jim Navigator Sunglasses
do these tend to be for women
do these tend to be for women
have had maui jims in the past but these are the best yet. will be getting another pair soon. great optics as always and great out on the water. highly reccomend.
Can anyone tell me if these sunglasses...
Can anyone tell me if these sunglasses actually come with a soft case like the description says? I've owned several pairs of Maui Jim's and never had a soft case.
Thanks!
All of the Maui Jims now come with a hard case as well as a soft bag that can be used for cleaning the lenses.
I love it is the best sunglasses that ever had... much better that ray ban, very confortable...I got another pair but diferent style.
these are by far the best sunglasses i have used. the lens quality is awesome, the frames wrap very well, quality altogether is very high. the bronze lenses are a bit light in my opinion, if i was using them for outdoor sports like skiing or watersports, might want something darker, but for everyday use i have the bronze and they work very well. highly recommended.
If these glasses fit you and you can take care of sunglasses and not lose or destroy them every month, these are well worth the money. This is my second pair of navigators. I destroyed my first when I ran face first into a chin up bar. The quality of the frame and especially the lense is very noticable when compared to other sunglasses. As long as I can afford it, I'll always have a pair of Maui Jims.
I have a very wide face and want wraparound...
I have a very wide face and want wraparound glasses that will work well. I tried the new Maka glasses and like them but they are just a touch too small. the Maui Jim folks tell me they are 140 across. does anyone have a recommendation for the widest wraparound lens. I wear contact lenses and want to use them for golf to give my sun protection, visual clarity and importantly, to keep the dust out of my eyes on windy days.
Errol; Maui Jim Pele's have a wide frame,but aren't wraparound. Serengeti Cascades will work,but some are only photochromic instead of polarized. Coyote Sedonas are Polarchromic, and fit great,but may be too light, depending on the tint you need.Native has some really good shades like the Tare,etc.,that are polarized which could fit. I have a wide face,so I know what you dealing with.
Awesome. Best sunglasses. I had a pair of these for 1 year and lost them in the ocean. Bought another pair. These are truly sweet and comfortable. Color contrast is unbelievable. I love these glasses.
I have always used Ray Ban P's until 3 weeks ago, I dropped a 12 month old pair on carpet and they broke!!!!. My wife suggested I try Maui Jim, so I purchased a pair at the airport prior to flying off for a diving holiday in Fiji. The glasses fit well .... but these lenses would be the best I have ever had. Absolutely sensational, glare from water was cut better than Ray Ban P's. Looking into the glare, colours of objects were visible whereas the Raybans were shadows. Having returned home I have now also bought another pair with the Bronze lenses for lower light conditions. Seriously folks the lense technology is excellent.
These glasses suck and that is all i've got to say.. NOT! These glasses are the # 1 best brand you ever know of. Like the last two reveiws, these sunglasses fit your face PERFECT! And if you dont believe me or any of the following veiwers then I guess you will never know what you are missing out on.
WOW!!! I have owned Okley's, Ray-ban, Revo, and Coasta Del Mar's. But not any of those can stand up to Maui Jim's! These sunglasses are great for any outdoor activity like boating or fishing or just going to the lake or beach. The polarization of these sunglasses are amazing, so try these sunglasses and I promise... you will love them!!!
Maui Jim Navigator Sunglasses
These sunglasses are amazing! The lenses are unbelievably clear, and the shape of the sunglasses allows them to contour to the shape of your head. This is the best pair of sunglasses I have ever owned!