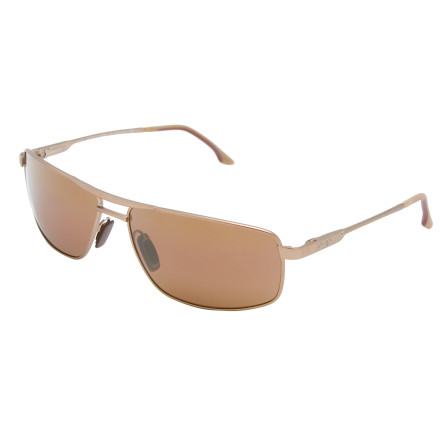 Detail Images
You love the benefits of glass lenses (super scratch-resistant) but aren't stoked on the weight (heavy glasses kill your nose-bridge). Maui Jim made the Kapena Polarized Sunglasses with lenses that use a thin, light glass. This means you get durability and scratch resistance without the weight of normal glass. The polarized technology blocks glare and UV, manages blue light, and boosts colors so you won't have to squint when you're out on the water. Treatment on the lenses and frame holds up to saltwater exposure.
Once you go Maui Jim, you'll never go back to Costa del Mar
I used to be a huge fan of Costa del Mar 580s, until I discovered MJ HCL bronze glass lenses. These things are the bomb! The Kapena is a very stylish wire rim frame and is fully adjustable, therefore, I am able to adjust them to fit my face like a glove.

I have two pair of Costa del Mar, one with the copper 580 and one with the green mirror 580. Nothing wrong with either one. I thought they were awesome till I tried on a pair of MJ. Since then, I picked up three pair of MJs, the Kapena, Akoni, and Volcano, all with the HCL bronze glass lenses and the Costas have been in the closet collecting dust.
i visited the site yesterday and these...
i visited the site yesterday and these were on sale at a 10% discount. What happened? Thank you.
Missed out dude, sales come and go!