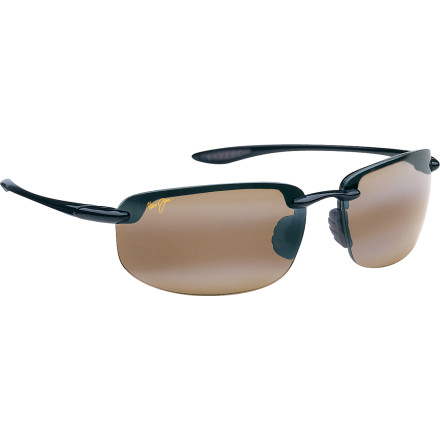 Videos
Description
Style for Hollywood; sport for the dedicated outdoor freak.
The Maui Jim® Ho'okipa combines the best elements of a sport sunglass—lightweight nylon frame and polarized polycarbonate lens—into functional but stylishly crafted eyewear. The Ho'okipa's lightweight nylon frame is strong, comfortable and attractive; the polycarbonate lens adds lightweight comfort and impact-resistance. Two layers of Maui Jim's CLEARSHELL® coating guard against scratches. Perfect for watersports—from deep-sea fishing to getting covered at Pipe, Ho'okipa sunglasses feature PolarizedPlus® Technology. A polarized lens' primary function is to reduce glare—that is, light reflected from a flat surface which greatly diminishes color and contrast. A body of water, a windshield, and even an asphalt road are all notorious producers of polarized light. Polarized lenses are most useful when trying to see through these reflecting surfaces, like when fishing, boating, or driving. Maui Jim sunglasses feature one of the most effective polarized lenses on the market. They are lightweight, tough, and very stylish.
Maui Jim Ho'okipa Sunglasses - Polarized
Unanswered Question
Am i able to order just one of the arm for...
Am i able to order just one of the arm for these pair of sunglasses?
nice glasses but not the best
I love sunglasses I own about 12 pair, always buy polarized, always buy higher end shades. I had to have a pair of maui jim's because everyone was telling me how great the lense clarity was.
Well its not a bad product but certainly not the best. The frames are flimsy and shortly stretched out of shape. The lenses are nice, but as far as clarity maybe forth or fifth in lense quality.
Certainly not nearly as nice a my favorite pair which are Costa del mar with 580 lense. Far superior optics
I bought these to use for running, skiing, biking etc. and on the first wear i bumped them against my car and the frames snapped in half. Maybe just a defective pair. I immediately returned them and went for a pair with metal frames.
I love these glasses. Super light weight and great clarity. I use these every day for driving, chilling outside, and hiking or biking. I got a pair of the gloss black and they look sharp. Some people in previous posts thought that they might come off as flashy, but they do not. I highly recommend these glasses.
Maui Jim's HCL stands for "High Contrast Lens". It is bronze in color and makes colors pop. HCL Bronze is my favorite lens color!
, ☃bcs_badge_alumni_label☃
Ho'okipa Video Review
View the materials, shape, lens technology and dimensions of the Ho'okipa sunglasses.
You can't beat these lenses
I'm on my second pair of these - I lost the first one :( - Seriously, I have yet to see lenses that come close to Maui Jims. They provide exceptional clarity, and brightening your view but totally eliminating glare. You don't even realize how much glare you face until you put these glasses on. I actually have this model, the Ho'okipa - and the frames are as light as a feather, yet the grips on the ends make sure they stay in place while playing around.
i want to order these for my husband for...
i want to order these for my husband for christmas. I know he wants black, but not sure if he'd want the gloss black or regular black. He is pretty traditional in style. wondering what people would recommend and why. thanks!
I would say the regular black. Gloss is a little flashy for some people, and that probably includes traditionalists.
This style only comes in one color black, not two. It also comes in a tortoise colored frame.
Do these fit larger or smaller faces better?...
Do these fit larger or smaller faces better? I have an asian style fit and am looking for glasses that are more taylored to that size, like the Oakley asian fit line. Are the nose pads more narrow or wide?
This style tends to fit slightly larger faces. It does have great nosepads that fit a wide range of noses. This is currently Maui Jims number one selling style.
Yes, they are hinged and the material itself if pretty flexible.
The best glasses I've ever owned!
These are hands down the finest sunglasses that I have ever owned. The are so lightweight that I completely forget that I'm wearing them... which I do every time I step out into the Florida sun. The polarization lets me see clearly into the water and the laminate on the back of the lenses really does keep the glare from reflecting back into my eyes. I've owned two pairs of these so far, and when these eventually have had it I will be buying another pair almost for sure. MJ's customer service is also fantastic, and I can't recommend these shades enough!
Good Value - Great Lenses
Maui Jim Lenses are my favourite polarised plastic lenses. The frames are light and perfect for wearing during sports - especially running or trail running.
I'm so glad to have Maui Jim's again. They are the lightest, most comfortable sunglasses ever.
Where can I find rubber nose pads for my...
Where can I find rubber nose pads for my Maui Jim's?Thanks,
, ☃bcs_badge_alumni_label☃
Backcountry.com does not carry replacement parts. I suggest contacting Maui Jim:http://www.mauijim.com/webapp/wcs/stores/servlet/LanguageSelectionForm_10001_10101
just visit your local Sunglass Retailer or eye Dr (that sells Maui Jim) and they can order replacement nosepads for FREE from Maui Jim. You do NOT need to mail them back to Maui Jim!
I called Maui Jim on their 1-800 number off their web site. The person I spoke to was very nice and helped me figure out the model of my glasses. They are shipping me out, free of charge, replacement nose pads. I did not need to send me glasses in. I'm not sure but have the feeling that the nose pad issue was a common occurance with the Ho'okipas.
Can you get them in magnifiers....I need...
Can you get them in magnifiers....I need 2.50
You'd have to order those through Maui Jim. They're great to work with though so it's not really a problem at all generally!
YES, they come premade with either a 1.50, 2.00 or 2.50 magnifier built in to the bottom of the lens! Just look for the "Hookipa Reader" rather than this regular "Hookipa".
Without question the finest pair of sport sunglasses I have ever owned. The lenses perform in every way. Lightweight, durable, and most importantly comfortable all day long. I wouldn't own any other brand.
Hey this is my second pair, I wear contacts and my eyes are very sensitive to light. You can't beat them and the service too!
Maui Jim Ho'okipa sunglasses
These are my second pair (I broke the first pair through my own clumsiness).

Anyway, I really like 'em because:

- excellent optics (no distortion, polarized so they cut glare, great colour transmission)
- they're very light
- the rubberized tips keep them in place, even while running in hot weather
- they're very comfortable
- decent sun protection from all angles
- cool-looking but not too "high fashion"

Bear in mind that "scratch resistant" coating doesn't mean "scratch proof", but with normal care they should last a long time. Just don't repeatedly drop them on rocks or in gravel like I did with my old pair.
Superb optics and quality--the only sunglasses I now own. Have used from the Canadian Rockies to New Zealand, from deserts to glaciers, from driving to ice climbing. Fairly priced. BTW, can use alcohol hand sanitizer to clean, as suncreen/grease can be hard to get off the inside of the lenses.