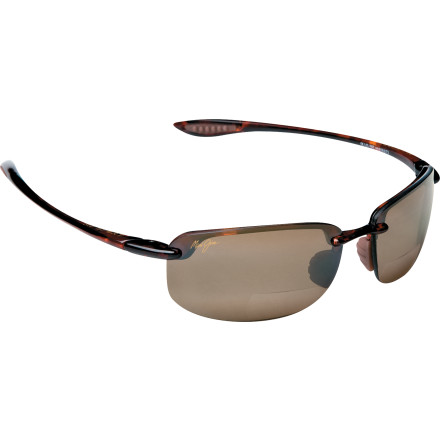 Colors

Detail Images
i bought these not long ago have a few pairs but when i got these i no longer need my others best i have ever owned and killer for the price!
I was not sure I would get comfortable using these and since they are not cheap I hesitated. Ok, I now have two pairs for different cars and got a pair for my wife who loves them also.
The magnification is low in the lens so reading a book on the beach might require a bit of "up" adjustment but since you are plopped in place it is not an issue.
I read my watch without thinking and same for other routine tasks.
What I don't like is I got SOOOO, used to these glasses that when I go inside and take them off, I now can't see anything close up! And of course the Maui Jim lenses are the usual outstanding lenses that I have gotten used to with my other pairs of non-readers.
If you need readers and are even considering these, make the investment, you will love them.
Well worth the price of admission for these glasses.
Just bought me a pair of Maui Jim, want...
Just bought me a pair of Maui Jim, want to know if I get change them to my perscription?

Mike
It depends on the style. many of them can be sent to Maui Jim to have prescription put in them.
I'd like to get these for my husband, but...
I'd like to get these for my husband, but he has a large head. He had a pair of Maui Jims that fit him, but all the ones we've seen lately have been too narrow for him. Will these fit a large head? (Of course it has to be large to house his huge brain!)
Yes, the Ho'okipa fits large heads!
Been buying cheap sunglasses most of my life. After catarac surgery I needed just readers. Until I found these I had never experienced how great they really are. So easy to get used to. fit so well, and light enough that I can use them for night driving to eliminate light glare.
These are great. Took them on a biking trip through France. It was wonderful to read the map without changing to readers. I first ordered the Mahala but found the overall lens small & the reading insert tiny. It would be nice to have option of low light lens or photochromatic lens also.
I waited way too long for these and finally got them as a gift from my wife for father's day. They are outstanding since they combine the best sunglasses with practical readers. No more taking sunglasses on and off to read things.
These Glasses have the wrap around style I was looking for with the tinted bi-focal lense that enables me to read my speedometer/odometer when I ride my Indian Motorcycle.
Auto Darkening would improve these glasses.
CAN YOU PUT PROGRESSIVE BIFOCALS IN THESE...
CAN YOU PUT PROGRESSIVE BIFOCALS IN THESE GLASSES
Sure can. Maui Jim do the lenses themselves and they're the best I've ever seen!
This is my second pair of Maui Jim sunglasses and these are ideal for people like me who can see distance, but need something to read up close. Great for checking out the roadmap while the wife is driving. Customer service for MJ is also excellent.
What strength is the bi focal? I need at...
What strength is the bi focal? I need at least 225?
Thanks
they come in +1.50, 2.00 or 2.50.
These glasses are perfect for those who need to read the GPS or maps while traveling. I never leave home without them.
Are these actual bi-focals w/close-up...
Are these actual bi-focals w/close-up reading at the bottom & distance at the top? I don't see a line in the pix. thanks, ma
, ☃bcs_badge_alumni_label☃
YESThese glasses do have a reading segment encased in the polycarbonate, positioned to optimize distance view while giving near power only when you need it.
The fact that you can't see the BiFocal is the best part! The Reader is on the back of the lens so you can't see it when you have it on...they look like regular shades!
These sunglasses are the perfect mix of style and function. The bifocals are easy to get use to and very handy for outdoor activities. I love 'em.
Finally, great sunglasses for baby boomers!
I used to buy Revo's with glass lenses, but the new polycarbonate lenses are now just as good. The Ho'okipa Readers not only have great clarity with no distortion, but I can now read while catching some rays.
Best Money you will ever spend on Sunglasses!
I love these! You can read your blackberry and iPhone with them on. I fly as well and these allow me to read maps with extreme clarity while flying.
what glasses will hold a perscription
what glasses will hold a perscription
Depends on your prescription. Check with your eye Dr and they will guide you to the best Maui for your Rx.