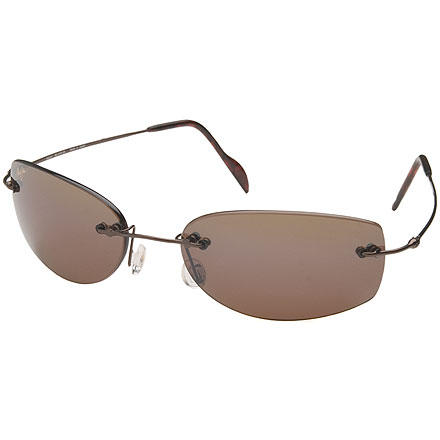 What do you think about this product?
Have questions about this product?
Who need's sunglasses that cost this much? I'm kind of rough on gear, from international flights to river rafting trips. The idea is that they're indestructible and worthy to the task. Hopefully, I can amortize the money over many, many years.
The Best, But Very Fragile
These are indeed the nicest glasses around and the price reflects this. The ultra-lightweight frames are very comfortable, but they need to be "bent" to fit your exact face. I own a couple of pairs of them and the newest ones were a little loose and fell off my face the first day I had them on. They hit the bricks on my sidewalk and a large piece of glass splintered off of them. I recommend making sure the frames are adjusted to fit properly prior to wearing them.
Love these sunglasses and agree that...
Love these sunglasses and agree that investment is worth it but this is the second pr (1st different style) where I have lost the nose pad...local eyeglass place says they can't replace-bummer-thoughts? Write your question here...
Call up Maui Jim and ask them how much it would be to send them to them to repair them or if you can replace the pads yourself ask them to send you some extra pads. I would send them in myself, it should be too much to replace pads. Alot cheaper than a new pair.
go to a different Maui Jim dealer because Maui Jim will send them nosepads no charge, not even for shipping!
Maui Jim customer service is by far an industry leader and more companies would be better off by following in their footsteps. If it is a part you can service, "Anonymous" is correct, they will ship it to you at no charge. If it isn't a part you can service/replace, you'll be asked to send it to them and only pay $8.95 return shipping. If it is out of warranty, the repair costs are minimal and often times you receive back virtually new sunglasses. Maui Jim customer service is in this business for customer satisfaction and it shows.

No, I don't work for them, I'm just a fanboi. :)