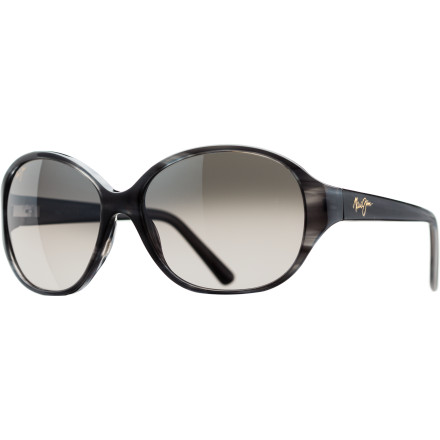 Videos
Relax pool- or beach-side with the Maui Jim Ginger Polarized Sunglasses comfortably on your face. The round frame, high-gloss finish, and stellar PolarizedPlus2 lenses offer vibrant color, premium eye protection, and a stylish look while you watch windsurfers or the cute guy swimming in the pool.
Durable high-grade acetate frame proves to be lightweight, extremely durable, and easily adjustable for a custom fit
Anti-corrosive springs provide flexibility and offer a secure, comfortable fit
Polarized lenses wipe out 99.9% of glare, block 100% of harmful UV rays, and boost color
Polarizing film makes it possible to see below the surface of the water and eliminates glare from any flat, smooth, or shiny surface for a cleaner, crisper view
Scratch-resistant ClearShell treatment adds durability
Waterproof and oleophobic lens coating sheds water and snow, repels grease, and makes smudges and fingerprints easier to wipe away
ST glass lenses are durable, scratch-resistant, and 20% thinner and lighter than standard laminated glass lenses for long-wearing comfort
Bridge features a fixed saddle-style design
Round frame complements a range of facial shapes
Neutral Grey lens tint provides the highest available light reduction, enriches color and contrast, and is best suited for bright, direct sunlight
HCL Bronze lens tint is best suited for everyday variable conditions and provides superb contrast
Maui Rose lens tint offers a subtle rose hue, is best suited for everyday variable conditions, and provides the highest contrast available
Included hard case for storage and transport and cloth for cleaning
What do you think about this product?
Have questions about this product?
Maui Jim Ginger Sunglasses - Polarized