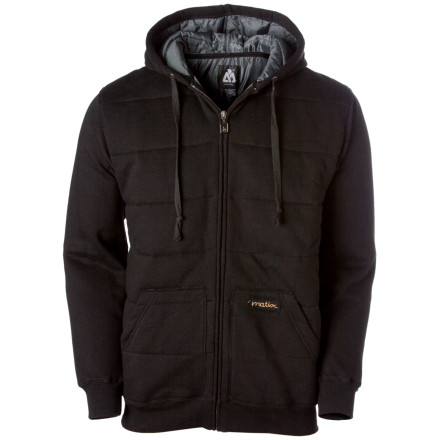 Detail Images
Exactly what I thought it was.
Bought it for warmth, and in spring conditions, this thing makes you sweat! The insulation is great, I just wish there was some in the arms of the sweater as well (its insulated on the torso and the hood). Een with that though, you don't get cold. So a great buy.
Unanswered Question
I'm looking for a wind resistant/proof...
I'm looking for a wind resistant/proof hoody. Does this one break wind? Ha Ha Are there any others that you might recommend? I don't want a softshell, and I'm not looking for anything too technical. Something comfy to lounge around in and walk to the store/school. Thanks!
Matix Asher Full Zip Hodded Sweatshirt
I live in Boulder, CO. It keeps me warm on cool mornings and very comfortable. I've received comments on how its a stylish hoodie too.

The only thing I wish it had is pockets on the inside of the jacket, but other than that , its all good!
Bought one of these a few months ago and it kept me warm throughout the winter. The sweatshirt's actually a little large I am usually an XL but a L fit me fine.
what size should i get for it to be steezy...
what size should i get for it to be steezy during spring skiing. i'm 6' 170 pounds
I like this hoodie because it's warm & very light. It's warm enough to survive 45 degrees weather walking to class but I rather not wearing it for an extended period of time (ie. going to football game). Great design, simple and likable. Would highly recommend it.
I loved it!
Awesome coat
perfect price
A mid-weight hoodie that won't steer you wrong. This thing keeps you warm when you need to be! It's made by Matix so I expected awesome quality and that is what I received.

I worn this on super cold days and mild breezy days its kept me nice and mellow throughout. You can not go wrong with this one!

Plus the pockets are like hand warmers. All around awesome sweatshirt!
Kind of a puffy jacket but not really. Good fit and construction. Nice insulated jacket.
, ☃bcs_badge_alumni_label☃
mcShiznizzle
This hoody rules. I love the quilting, the heavy weight, the hood size is just right - not too big, not too small.
nice hoody that has a little poof to it. stylish for sure. warmer then the average zip up
Remember in Batman Begins when Batman gives his coat to the homeless guy cause he can't be seen in it?

Well if he was wearing the Asher Full-Zip Hooded Sweatshirt he would've risked it and kept that sweet hoodie for himself.

Seriously, I live in this thing.
Most sweatshirts seem to be thin as the advertising behind them, this one is an exception. The padded lining provides warmth in the right places and enhances the comfortable feel of this well made sweatshirt. I like the low key look as well, no need for flashy crap that will go out of style by next wednesday. The look, feel and quality of this hoody make the Asher a sweatshirt to stand the test of the elements and time.
Best hoodie ever. I have the black one, and you can wear it anywhere. It is well-made, I think it will stand the test of time, but, in case it won't I've already ordered a second. It is comfortable, it looks good with everything. I want more. Please order more!!!
Bought this hoodie a month ago, and haven't taken it off since. It's amazing, I love it. I want to marry it. It is warm enough to almost be a jacket, yet not so warm you can't wear it inside. Buy this. Oh, and ORDER MORE OF THESE IN BLACK LARGE!!!!