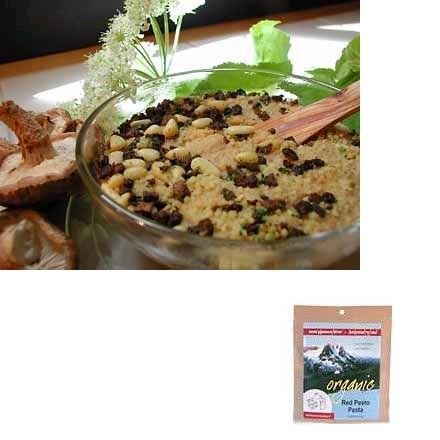 This brothy dish tastes and smells like you've simmered it all day. Here, mushrooms combined with miso and pine nuts create an earthy healing dish. Lovage leaves add piquancy to this dish.
Tastes great but I'm not very picky.
I thoroughly enjoyed this meal, slightly salty (but what dehy meal isn't?) but very tasty. CAN be runny but, I would recommend going a LITTLE light on the water OR let it sit longer after finished with the bag OPEN to let off some excess moisture. This is fairly typical of couscous if over saturated. Other than that, GREAT food, way better than the other leading brands.
I guess I'm the exception here; I don't agree with all the negative reviews, but I do understand that everyone's tastes are different.

My caveats up front: I love the Mary Janes Farms foods (my favorite brand for backpacking chow); I think it's great to have organic vegetarian and vegan meals available for backpacking, and in a flat-packet that is burnable no less, and secondly, I really like couscous.

On to the review...It was a bit soupy when I made it as directed with 1.5 cups of water, even letting it sit longer than the recommended five minutes (which is quick for a backpacking meal, I might add). The second time through, though, I used 10 ounces instead of 12, and it was much fluffier and more couscous-like.

All in all, I liked the flavor and texture, I will pack this one along an another trek. I'm giving it four stars out of five, as the Black Beans and Rice, Bare Burrito, and a couple other MJF meals are better and deserve the 5-star rating. Give it a try...
Couscous is always interesting, this was actually pretty good. Hit the spot up in the Wind Rivers last weekend.
Organic Wild Forest Mushroom Couscous
This particular type tasted truly awful, in my opinion.
I wasn't as fond of this as with some of the pasta dishes, but it could have been because I added too much water. I had to eyeball the water and ended up with soup! Probably worth another try.