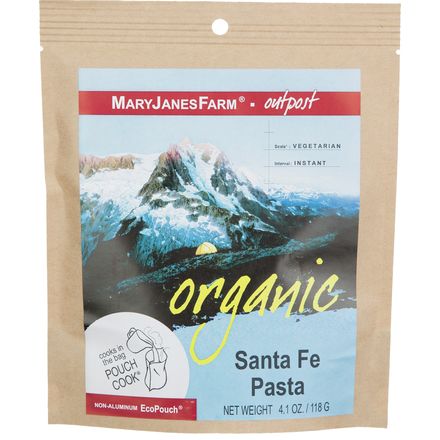 In the mood for "south of the border?" Corn and black beans have a natural affinity for chili peppers and jalapeños. Here, Mary Jane partnered them with pasta for a gastronomic delight that has just the right amount of hot fiesta seasoning. Just add boiling water directly to the pouch and wait seven minutes.
Share your thoughts
What do you think of the
Mary Janes Farm
Organic Santa Fe Pasta
? Share a...
One of the best Pasta Meals out there. It's awesome to go out in the middle of nowhere and have what tastes like a home cooked meal in a matter of minutes. On top of that it's all organic. It is definitely on my list for future meals.
Very Yummy and Satisfying Pasta Meal
Familiarity:

I've used it several times
We had this for lunch two days on our Havasupai backpacking trip. It was very flavorful and good texture. More flavorful than expected. I used a bit less water than it called for as the first time it came out runny. Overall everyone was quite pleased.
Unanswered Question
expiration date on this and the ChiliMac...
expiration date on this and the ChiliMac?
Definitely my favorite MJF pasta meal. It's got flavor of its own so you don't have to worry about a bland tasting dinner, and it's a great portion size too. I will most definitely be getting this one again, yum!
One of the best MJF pasta meals...
I thought this was an excellent meal with great flavor and texture; the corn, black beans, chili peppers, and jalapeños kick this up a notch over the MJF Alfredo Pasta meal, and thus the 5-star rating. I recommend using a couple fewer ounces of water when preparing it; it keeps it from being too soupy. Eating the whole packet put me at 435 calories, which is about right for a solo meal, which is something I like about the MJF "1.5 serving" "Outback" size. It's not huge like the 4-serving meals designed for families or groups, but not too small like some of the single-serving packages. And as always, I love that I can get an organic, vegetarian meal in the backcountry...Thanks, Mary Jane! :-)
Mary Janes Farm Organic Santa Fe Pasta
I've heard wonderful things about Mary Janes backpacking food and was excited about trying this. Thankfully, I reread the ingredients before packing and this flavor does have cheese an an ingredient. I gave it to a non-lactard friend who loved it though.
Backpacking has many delight's. Food however, has not been one of them. For me one of the great things about backpacking is eating something that does not taste like cardboard while enjoying the wilderness. Well now you can eat your cake and taste it with Mary Jane Foods. These foods just taste good and are generally easy to prepare. There are some foods that you have to pan fry but with most of their products you can just add boiling water.