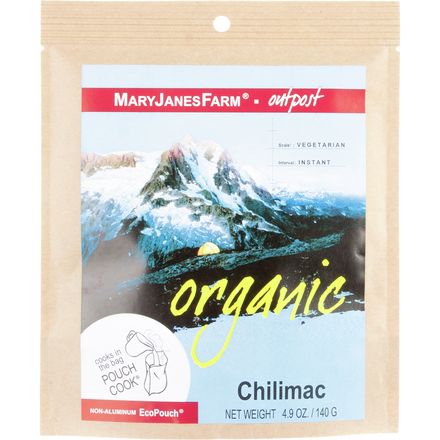 Two American classics come together. Vegetarian chili and macaroni and cheese combined create a pasta meal that bursts with flavor. Everyone loves chili. Everyone loves macaroni and cheese. Wondering what to whip up for that potluck dinner? Try Mary Jane's Chilimac. It's a crowd pleaser. Just pour boiling water directly into the pouch and wait seven minutes.
what is the expiration date on these?
what is the expiration date on these?
Best Answer
Hey there, thanks for your question. According to MaryJanesFarm, the package has a two year shelf life if stored dry with low humidity. Hope this helps
By far, my favorite backpacking meal yet. I love how Mary Janes stuff is 1.5 servings- great for yourself if hungry, or perfect for splitting with another person as a quick snack. The taste on this was great- didn't need anything extra. Water ratios were great as well. Overall, very easy to pack, very easy to make, and leaves you with a happy tummy.
A staple for all my backpacking trips
Organic ingredients that don't make you feel like a fat slob after you consume them, yet filling enough to reward yourself after a day of hard charging. I've tried their lentil bisque and lentil curry, both of them were disappointing....In fact one of them was pretty bad....I can't remember which....but just disjointed favors and weird texture. The only downside with the chilimac is it comes in a non resealable bag....I like those bags for cleanly stowing my trash away in my food bag to minimize the smell and remaining bits/liquids from getting out.
Simple to make, taste yummy, easy to pack!
Super tastey but the price...
It is a very good dinner meal. Probably my favorite. My only gripe is that these things should not cost as much as going out for a meal in the city.
Over a recent 3 day trip with 8 people this was the favorite for for just about everyone. This will be on the menu every time from here on.
Rather than write a small review for each individual item I recently purchased I thought I would share it all in one concise review. (Note with most Mountain House I add 2-3 oz less than it recommends)

Recommend:

Breakfast:
Backpacker's Pantry Granola with Blueberries and Milk – Favorite :) (serve warm)
AlpineAire Strawberry Honey Granola With Milk – healthy and good! (serve warm)
Backpacker's Pantry Denver Omelet (needs pan) – best quick eggs I have tried.

Lunch/Dinner:
Mountain House Chicken Ala King – Favorite :)
Mary Janes Farm Organic Chilimac - Favorite!!!
Backpacker's Pantry Katmandu Curry - Yum
Mountain House Macaroni And Cheese – Oh to be a kid again!
AlpineAire Chicken Gumbo – Delicious

Sides/Deserts:
Mountain House Potatoes And Cheddar With Broccoli – Favorite :)
Mary Janes Farm Organic Garlic Pesto Fry Bread – I love bread! (bring oil)
Mountain House Peas – Eat your veggies! Add 1-2 oz less water
Mountain House Corn – Favorite, Add 1-2 oz less water :)
Mountain House Green Beans – Add 1-2 oz less water
Mary Janes Farm Organic Brownies – Yes really good!
Mountain House Ice Cream Sandwich – Don't get the Neapolitan, this is much better.
Mountain House Blueberry Cheesecake – Nice size berries, make in a bowl NOT the package. (Note it will NOT keep
Overnight).

Pass:
Backpacker's Pantry Garlic Herb Mashed Potatoes – The Mountain House Potatoes and Cheddar with Broccoli are MUCH
better even the resident mouse in our cave didn't like it.
Mountain House Scrambled Eggs With Bacon - Backpacker's Pantry Denver Omelet is much better IMO but requires a
pan.
Mountain House Scrambled Eggs With Ham - Backpacker's Pantry Denver Omelet is much better IMO but requires a pan.

Neutral:
Mary Janes Farm Organic Couscous And Lentil Curry – Not bad but I like my curry with more curry!
Mary Janes Farm Organic Black Bean Corn Bread – Not bad but NOT cornbread just a bread with some cornmeal in it.
Mountain House Noodles And Chicken – Yet to try will update
Mountain House Pasta Primavera – Yet to try will update
Mountain House Mexican Chicken With Rice – Yet to try will update
Mary Janes Farm Organic Alfredo Pasta – Yet to try will update
Backpacker's Pantry Chana Masala – Yet to try will update
It's a bit pricey, but it is good. I had to bring a dish to potluck night on a backpack trip. I combined this with a package of spanish rice. It was a hit and many were able to get a good size sample. I would buy this again.
Wow this stuff is good, I found myself SCARFING it down and wanting more. I like Mary Janes Farm and all but it was really good, not just for Dehydrafood but good... period. Like, I would eat this at home if I wanted to also, because it's that good, so just get some, and you'll see!!! Plus, you can burn the bag, the foods organic, and really Delicious... Seriously. My new staple.
I've never had a better backpacking meal in all my years!!! I'm an organic vegetarian and, even if you're not, this will be the tastiest backpacking meal you'll ever have that'll give you so many needed nutrients! Three cheers and five stars for MJF.
This is about the best pre packaged camping food I've had. I'll be taking this on all my trips.
The Best Trail Meal I've Ever Had
I haven't had 'em all, but I've had quite a few. MJ's Chilimac is by far the best, making this one destined to be a part of every backcountry expedition. It's kind of expensive, but it tastes so good you'll know why. A satisfied belly is a priceless commodity after a hard day on the trail. The burnable packaging is the icing on the cake--no waste to carry out. Give it a try. If you don't like this meal, you won't like anything.
Tried it on the trail for the first time. This stuff is ULTRA convenient and tasty as well. Cooks in the pouch, no fuss no muss. I agree though, the 1.5 serving ('Backountry' I believe) is a little small if you've been going at it all day. I'm 6'3" 190 and I ate a 1.5 c-mac and a 1.5 mashed potatoes. Dehy-food has come so far since the sawdust of the 70's.
Gotta love the chilimac. This stuff is a great meal all by itself. Combines the fun of having chili before a night in the tent with the taste of macaroni and cheese. The 1.5 serving size must be for midget people though because that just barely feeds me, and I'm a fairly average sized guy. Great food…and the pouch cook is awesome.