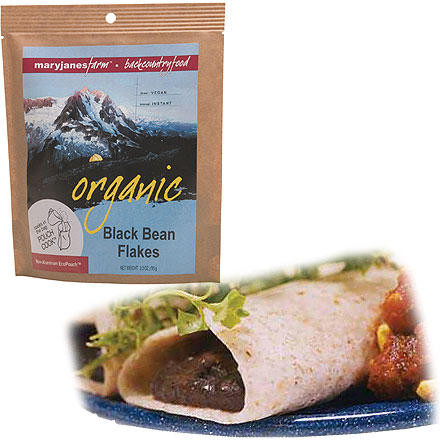 Community Images
Round out any meal with organic black bean flakes from Mary Jane's Farm. Grown to be taken out camping or cooked in the kitchen. These easy to prepare black beans are a filling addition to any meal. Just add water and follow the directions for a great tasting alternative to traditional camp food.
Used this to make chili because I didn't wanna add heavy regular beans. Turned out super! I love these for taste and weight.
My caveats up front: I love the Mary Janes Farms foods (my favorite brand for backpacking chow); I think it's great to have organic vegetarian and vegan meals available for backpacking, and in a flat-packet that is burnable no less, and secondly, I really love burritos. :-)

On to the review...As with some of the MJF (and really any backpacking meals), it was a bit soupy when I made it as directed the first time, but letting it sit longer than the recommended time produced a better texture. As I do with some of the other MJF meals, I spoon it into a La Tortilla soft wrap, top it with Cholula from the packet, and make burritos out of them (each packet makes two nice, filling burritos).

All in all, I liked the flavor and texture, I will pack this one along an another trek. I'm giving it five stars out of five, as it ranks up there with the Black Beans and Rice, Bare Burrito, and a couple other MJF meals that deserve the coveted 5-star rating.Give it a try...
Its in my Top 5 dehydrated foods for me. Good source of protein. I'm surprised that the country of origin is China though.
Watch out for the fiber content
With 94% of your daily fiber requirements in one serving (NOTE: There are 1.5 servings per pouch) you may want to be careful when eating this around friends. This meal tasted great, and no doubt it would make a great burrito filling, but the after effects caused some bio-warfare problems the following day.
Although the specs here indicate that you cannot cook in the pouch, you can. Instructions clearly state for you to add boiling water, fold over top, and let sit..in the pouch. Nice portion size and good flavor. Nice that pouch can be burned as well. Good product.
Fills up all the protein you burnt off earlier that day, tasts great!!
One of my favorite backcountry meals to have is bean and cheese burritos, lots of calories and protein and they taste great. I used to bring canned black beans and tried some other brands but these ones are the best by far. Take them with me on nearly every trip now, I have even used them at home for dinner.