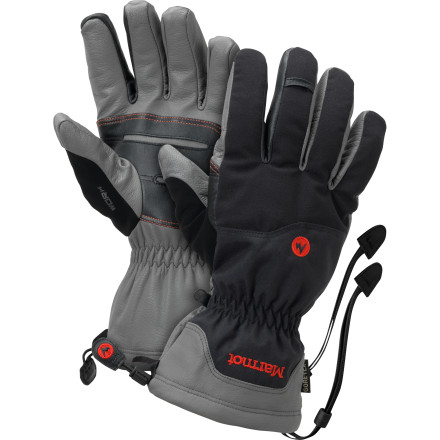 Detail Images

Community Images
The ever-popular, multi-function Marmot Work Glove thrives on the slopes, in the patrol shack, and in the backcountry. The Work Glove brings years of proven performance and reliability, all thanks to its heavy-duty, waterproof breathable MemBrain stretch fabric back and reinforced goatskin palm. The DriClime 3D wicking lining keeps your hands dry, while Spirafil 150 insulation keeps them toasty warm with minimal bulk.
Really comfortable and warm
Gender:

Male

Familiarity:

I've put it through the wringer
marmot always makes really warm gloves that are comfortable. They suffer a little in dexterity, but besides that they hold up really well, and aren't too expensive.

Disclaimer: I tested these for Gore.
Unanswered Question
Will you be re-stocking this glove? Or is...
Will you be re-stocking this glove? Or is there an updated version of it?
these gloves kept my fingers toasty on a brutally cold day on the slopes...17 degrees and windy, but they did the job! the only thing they lack is a cool loop at the bottom of the cuff to help with pulling them on...(my buddy's OR gloves had this advantage)
These gloves are the best!
I have used these gloves the past few years and they have been bomber. Super warm and waterproof. Used these on a stormy ski day that turned to rain and my hands were completely dry inside the glove. I highly recommend these to anyone who skis the resort or backcountry... Buy them and enjoy!
These are the best gloves i have ever owned. my hands used to get cold easy so wore mittens. i bought these off of recommendation and i love them. gone night skiing on the east coast and idaho at temps under 0 and my paws have never been cold. also used them for a home made ropetow and they held up where others tore apart. love these gloves
I bought these gloves in search of the skier's Holy Grail: Gloves to keep my fingers warm, no matter what. Sadly, these don't do it, even with glove liners. I'll be sending them back.
Best Glove I've Ever Owned
This is my second pair of Marmot Work Gloves. My last pair were black and started losing their colour after 3 full ski seasons, long before any of the stitching came undone. In between, I was given a pair of the Marmot Randonee gloves which I didn't find as warm or as durable (the grip material wore quickly), so I'm back to the Work Glove this season.
I picked these to replace the pair I left on the top of my car. The old pair was last year's Work glove and frankly I liked the older style better. The differences are subtle, but this is still the best pair of ski gloves out there. Plenty warm, waterproof and durable. My only grips are the gauntlets are little awkward because they are too small to fit over most jacket cuffs and almost too big to fit under.
fantastic gloves for skiing - have had them out a few times this season, in weather ranging from ~20-35, and the hands never got too cold or too hot. look like they have the typical marmot bomber construction and should hold up well for years. highly recommended.
Gloves are impossible for me to find and I've used the same pair now for sixteen years!

For Christmas I asked my wife for a pair of brown gloves that match my new brown NF parka. My wife gave me a pair of somewhat generic black XL gloves that did not fit (I couldn't get the wrist of the glove over my palm), so we returned them. Then I started looking for a differnt pair. I found these, read the reviews and thought they would be perfect for my use, which by the way is not working outdoors.

I measured my hand around my knuckles less my thumb and came up with 10.25" (ref size chart) and thought that I really should order the XXL gloves and did so. The new gloves arrived and well they were ENORMOUS! The gloves were of good quality that is for sure. One of the thumbs were tight at the palm with the fingers fully forced to the tips of the gloves. But, I had to send them back because they would surely fall if I swung my arm and I found them to be a bit cumbersome and bulky with in the bigger size.

Disappointed I started the return process only to learn that now the XL's were out of stock and I could not get a smaller pair in exchange! I ended up finding the right size from a differnt vendor and will hopefully have gloves that fit for once!
I bought these gloves last year for a season in Colorado. My hands were only chilly a few times, but given the howling wind and low temps, I was impressed. I've also used these in the rain and my hands stayed dry, so the Gore Tex definitely does its job. The only thing holding them back from five stars is the gauntlet length: too short in my opinion. However, Marmot makes other snowsport specific gloves with this feature and this was more a rookie mistake on my part. All in all, if you're using them for the intended purpose they should be great.
Does anyone know if this glove has a...
Does anyone know if this glove has a removable liner? The description here says it does, but other sites say it does not.
Best Answer
Hi there cha2995938,

These gloves do not have a removable liner - we just checked on it and corrected the technical description. Thanks for the heads up! Enjoy!


I've had my work gloves for 4 winters now which is amazing in itself. Sure the insulation is a little packed out as you'd expect, but these gloves rock. I worked as a pro ski patroller and totally blew out the seams of two sets of Black Diamond gauntlet gloves in short order. These Marmots are super durable! As far as warmth, I admit they will not keep your hands toasty if you're gripping cold snowblower handles at 10 below for an hour, but nothing will. I was out 2 nights ago snowshoeing for an hour at 5 deg F gripping poles and my hands were toasty. The only winter gloves I'd buy! Definitely too warm for spring skiing.
Can anyone tell me what the little elastic...
Can anyone tell me what the little elastic band on the back of the middle finger is for?
Best Answer
Clip them by that to carry them wrist-down so they don't get crap in them (snow, dirt, whatever).
to dry them...so the water will drip down and not inside
It's for easily pulling them off
You can secure your secret decoder ring here so that you can see it without taking your gloves off.
I use it to open cans of beer without taking my gloves off. Just slide it under the tab and enjoy cold sudsy deliciousness.
Great Glove for working in the Chicago weather outside. Seem to take a beating so far, lets see when it deops to 10 or 20 below
What are the main differences between the...
What are the main differences between the Marmot work glove and the Marmot Exum work glove?
the exum uses membrain and fleece lining and the work uses gore-tex and spirafil insulation. also, the way the leather is worked around the glove is differently in both.
Super warm, almost too warm above 30, perfect out sledding, shoveling, snow blowing and working in the bitter Syracuse cold. Great price on Backcountry.com and we have a five star product!