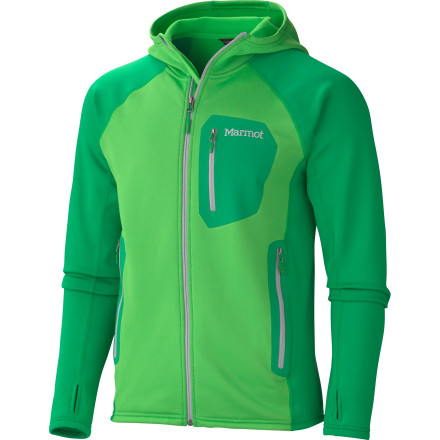 Community Images
Wind and your sweat will rob you of your warmth fast, and the Marmot Men's Vars Hooded Fleece Jacket uses Polartec fabric to combat both. Polartec Power Stretch Pro fabric has a hard face that resists the wind while synthetic fibers not only give this top supreme breathability but also help move sweaty moisture away from the surface of your skin so the moisture can evaporate. Whether you're skiing, hiking, or trail running in the cold, this stretchy, athletic-fit top offers warmth and comfort without the weight.
Polartec Power Stretch Pro fabric provides plenty of warmth in cold weather, breathes to help regulate temperature, and helps move chilling moisture away from the surface of your skin
Elastane fibers allow the Power Stretch fabric to stretch and flex as you do so you maintain full range of motion
Athletic fit keeps this top close to your body for warmth but still allows for light layering underneath
Elastic-bound cuffs seal around your wrists to keep chilly drafts out, and thumbholes on the sleeves keep the sleeves in place
Elastic drawcord hem lets you cinch the hem of this top so you can keep the cold out
My favorite, go-to hoody.
Familiarity:

I've used it several times

Fit:

True to size
This is an amazingly warm hoody, even in freezing conditions. It blocks the wind, dries very quick, and the polartec fleece feels super soft against the skin. -sometimes i sleep in it. I started with just one, (basing that purchase on other customer reviews), and i was so impressed, that i purchased 3 more. Only two were from BC though, as i wanted to track down some color combos from earlier seasons. I also love the fit, snug athletic fit, yet very stretchy. I have no complaints about this product, i used to be all about TNF gear, but Marmot has a far better quality, especially with the details, then TNF. ie. - Marmot puts zipper pulls on EVERY zipper, and embroidered there logos on this hoody, while a comparable one from TNF merely prints their logo, and only puts pulls on the main zipper, and has less pockets, and costs more! 5'11'' 150lbs, size Med fits perfect. -Marmots newest fan
This isn't a review, it's a eulogy
Familiarity:

I've used it several times

Fit:

True to size
This is an incredible jacket. When it was younger (2008-2011 or so), its design was sleek and its colors earthy and proud. But Marmot kept screwing with the seam patterns and color schemes. I now refer to the 2012-2014 seasons as "the dark times" for Marmot, in which they inflicted upon the world clothing in color combinations that no self-respecting designer would want attached to their name.



But I digress.



I put off buying one of these for far too long, and ended up with one of said late-model crimes against color theory. If I close my eyes, it's the best fleece midlayer I've ever owned. It fits like a glove, the sleeves are actually long enough to make the thumb holes usable, and the material feels like magic lined with kittens. Whoever is on the tech end of this thing should be proud. They've created one of the only hoodies I've ever found worth wearing.



Sadly, Marmot has decided to put this model out of its misery and replace it with something even uglier - the Thermo Stretch Hoody. The design of which reminds me a lot of a windbreaker I wore to second grade in the 80s.



I'm glad I got a Vars before they were discontinued, and it looks like this season Marmot has discovered that orange and red actually don't look that great together, and has backed off some of the more atrocious color combinations.



Who knows, someday the late, great Vars may even be resurrected.
Awesome hoody
Familiarity:

I've used it several times

Fit:

True to size
For reference:

6 ft, 170 lbs, mid layer: Size L
High Expectation/ Just Adequate results
Familiarity:

I've used it several times

Fit:

True to size
I used this jacket in Coyote Gulch, Utah. Temps range from 70 degree's during the day and 40 degree's.



Pros: The jacket cut in the torso and arms are long and lean. So for my body type it is perfect. I am 5'11 and 140 lbs. The fabric is light and soft but durable. It is not a knit fabric. So it does not get snag on branches.



Cons: I was expecting it to be a little warmer and little more wind resistant. For what ever reason the sleeves are drafty but the torso seems to block the wind better.
Unanswered Question
Hi, I'm 5'7" and I have 19+ inch arms and...
Hi, I'm 5'7" and I have 19+ inch arms and larger than average shoulders and was wondering if any not so slender men have tried this jacket on? I'm thinking a large thanks guys!
Best gift ever
Familiarity:

I gave it as a gift but have feedback to share

Fit:

True to size
I gave this to my brother for his birthday. I gave him a Marmot fleece for his birthday last year too, but it got pretty tore up from campfires and other expeditionary wear and tear. He is 6'1" and a climber with a very lean build. I agonized over the size but the medium ended up fitting him perfectly.



My brother has told me that he LOVES this fleece and that he has gotten more compliments on it than any other piece of clothing he has ever owned. He wears it while working and bumming around at the gym and while climbing outside. Great purchase and great product!
Awesome!!
Familiarity:

I've used it several times

Fit:

True to size
I bought this for my husband for Xmas. It fits really nicely, has a little thumb slot, material is really nice, and fits him well. He is 6 feet tall and slim and the medium fit him perfectly. Sleeves were the perfect length his long arms!
Dries super fast
Familiarity:

I've put it through the wringer

Fit:

True to size
This jacket might not be the best "bargain" as it's super pricey. It certainly is NOT a wind layer. That said it dries INCREDIBLY fast, works really well over a merino base layer and is super comfy. I even wear it AS a base layer sometimes. While I'd say it is especially useful in a full on layering rig for high output activities, there are probably more wind proof options available for a cheaper price point. But you'll be hard pressed to find anything that breathes, wicks and dries better than this jacket.



In regards to fit, it's true to size but very slim fit. The forearms are tight and you can't fit much underneath it besides a baselayer.
The best fleece hoodie!
Familiarity:

I've used it several times

Fit:

True to size
This hoodie is perfect! Smooth outer finish, longer sleeves for mobility, hem cinch, and thumb holes. Plus, Polartec Powerstretch is amazing. It's a tad heavier than a 200-weight fleece, but it breathes well and has some decent stretch to it. I originally bought this as a mountaineering layering piece but find myself wearing it very regularly just for casual wear. It's warm and light and does a decent job of blocking light wind will still remaining breathable. One thing to note is that this has a trim fit. It fits very close to the body and runs quite narrow in the forearms (if you have thicker, muscular arms I don't think this will fit you very well). Overall: a great all around piece for many applications.
Great Jacket!
Familiarity:

I've used it several times

Fit:

True to size
It's hard for me to find a jacket that is not only functional but fits someone of my build. Currently, everyone here on the west coast is feeling those nasty arctic temps/wind but this jacket has kept me warm and happy as a clam. This is the first jacket I've purchased that has the Polartec material and so far I'm impressed. Very elastic, compressible, and a little more comfortable (to me) than the traditional fleece. I'm 6'4, 195lbs 34 W and the Large fits me perfectly. Snug enough for me to label it an athletic fit but without feeling suffocating at all. The long arms with the thumb-holes are an added bonus. Already have the cinder/slate and just ordered the cobalt/azure. Have washed it about 5x and haven't experienced any "piling" so far. Highly recommended!
College life saver
Familiarity:

I've put it through the wringer

Fit:

True to size
I attend college in north western pa and we get some pretty rough winds. But luckily my marmot hoodie is always there. This is my go-to hoodie/jacket for just about everything. I wear it from class to class and frequently take it out hiking and bouldering with my girlfriend. I love this hoodie and would recommend it to anyone. Right now I am looking for a better winter jacket that isnt going to be two heavy to use as a rain jacket when spring rolls around. Recommendations would be appreciated.
The fabric is piling up like crazy.
Familiarity:

I've put it through the wringer

Fit:

True to size
This is definitely piling up on me. There are many different types of fabrics involved. Some are made of nylon, and they are quite durable and fantastic. Some fabrics are cheap polyester, and these pile up.



Also, the forearm is a little tight, and the arms are a little shorter for me, given that I have longer arms than normal (5'9" with 26" arm lengths).
I bought one from you guys 2 months ago...
I bought one from you guys 2 months ago in Medium. I was wondering if this integrates with other Marmot products?
Best Answer
If by integrate you mean does this zip in or snap into any shell then unfortunately it does not. Also, you might not want to post your email into community formats like this so that anybody and everybody can see, you might want to edit your post and remove it.
Great Fleece
Gender:

Male

Familiarity:

I've used it several times

Fit:

True to size
Bought this fleece for a lighter jacket to wear during the fall/early winter months, in Montana. I am 5'11" 175lbs with an athletic build (42 inch chest & 33.5 arm length) and the large fits perfect. Seems that many people wrote reviews about the forearms being too tight, but I don't find this to be the case. Fits comfortably even over a long sleeve shirt. I like how Marmot lengthened the arms, a few extra inches for the thumb-holes, but kept the jacket shorter up around your waste. Also, the elastic string that allows you to tighten the jacket around your waste is nice for when the wind picks up. Overall this jacket is just what I was looking for. Hiking is a big thing for me, but its a little warm still to be wearing this type of fleece jacket. Looking forward to cooler weather so I can wear this on the trail!!
Awesome
Gender:

Male

Familiarity:

I've used it once or twice and have initial impressions

Fit:

True to size
Recently I re-geared for the cooler months. I bought a Marmot Quasar Down Jacket, Front Range Fleece, and Vars Hooded Fleece all on sale at Backcountry. Since everything I have to comment on is common to all ... I'm being lazy and writing only one review. First, I love the jackets. Quality as usual with Marmot is awesome. The Quasar is extremely lightweight and warm, and eminently compressible. The two fleeces are very very comfortable ...



My only "issue" is sizing. I like the athletic fit, however, I seem to be in between sizes. I'm 6 feet tall, 190 lbs, 34-inch waist, 46/7 inch chest. Before I ordered, I went to a retailer and tried on Marmot gear. Although the larges fit great in arm and jacket length, they were so tight across the chest, under arms, and across the shoulders that I couldn't wear them. When zipped, they had the typical "spider" creases of something too small, even stretching the stitching around the zipper. Very uncomfortable under the arms. So sized up to Extra Large. Sleeves and jacket length a bit long now, but so much more comfortable. But I don't mind. In the winter I anticipate wearing them under my shell. A little extra length on the chair lift is kinda nice. I'm 50 years old, so maybe I'm just an old fart ... Hah!



I've had so much good luck with Marmot over the years I don't hesitate to recommend the jackets. The Vars hoody is pretty damn cozy, and I like it. The Front Range does stop wind! And the Quasar, well, I can't wait for the weather to drop below zero.


Rad Fleece!
Familiarity:

I've used it several times

Fit:

True to size
I love this fleece. It is so warm and comfy I feel like I can use it for basically any cool conditions. Plus I love the snug fit which seems to be a complaint with some people. But the athletic fit looks really good. The thumb holes are great to. I wear a M and am 5 8" and have a thin build.
Like it, love it, gotta have it
Familiarity:

I've used it several times

Fit:

True to size
I have a TNF Power Stretch hoodless pullover. I really dig the material but was looking for another hooded piece to casually wear alone. The material is as good as it gets IMO. Warm, light, durable. I love the fit on this thing. Its a performance fit and many might complain about the tight wrist and forearm area but I prefer this over bagginess.



Con: I'd give it 5 stars but on numerous occasions ive been pulling it on or off or fiddling with it and have heard stitching rip. It is so overly stitched though that its not even noticeable nor has washing it affected it. It was just an ugly sound when it happens and a difference between this and my TNF of the same material.



6'1" - 170 - Medium has a good technical/alpine fit.
I love this hoody. I bought it to replace my 2012 model of the Canyonlands hoody by The North Face, as the 2013 model is different and I don't like the fit.



This is leaps and bounds better than the North Face one. Love the fabric and the fit, and the sleeves are longer so you're not stretching to use the thumb holes. I highly recommend it for everyday use. I'd buy it again...in fact, my better half just got the women's version after experiencing mine (different color and slightly different pattern, thankfully).



I'm 5'11" and 160, and the medium fits great. Note that it is a slim fit...e.g. I wear a small in the Precip jacket, but a medium in this.
I was looking for a good fleece layer for my minimalist jacket that would be light weight and this was the perfect match fit right into my minimalist. I ordered a medium for both my Vars and Minimalist jackets I'm 5'8 135 slim build and everything fits great! I went on a night hike to watch the meteor shower it was 35F and I was very comfortable and it could have been colder and I would be fine I also plan on ordering a Marmot light weight down jacket for ultimate warmth! I live in Maine it gets cold!