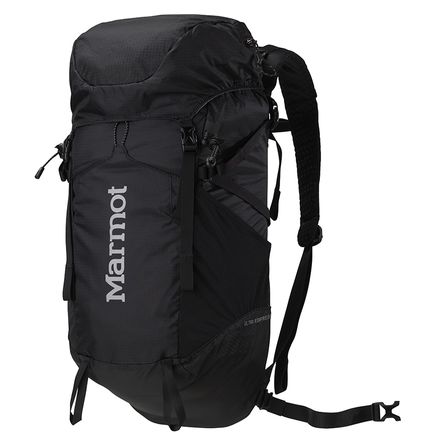 Detail Images
Description
Light, lean, and capable.
Hike light with everything you need to gain the summit with the Marmot Ultra Kompressor 1350cu in Backpack. Compression-molded Airmesh shoulder straps and a removable closed-cell foam back sheet add padded comfort and support. A sternum strap and waist belt transfer the load to reduce back and shoulder pain and strain. If you want to go ultra-light, leave the back sheet and waist belt at home. Use the compression straps for a lean profile meant for speed, and keep up the pace up by staying hydrated with your reservoir nice and snug in its designated sleeve.

Removable, closed-cell foam back sheet
Airmesh shoulder straps and back panel
Top access
Removable waist belt
70D nylon ripstop fabric
Hydration port
Water bottle/gear pockets
Front mesh pocket
Compression straps
Dual ice tool/trekking pole attachment points
Daisy chains
Hands down most versatile pack I've used
Familiarity:

I've used it several times
First I was looking for a bag that I could use as my daily bag for running shoes and discs and snacks and drinks and layers etc... I also wanted that pack to be my technical pack as well. Hence the Ultra Kompressor. After exhaustive research and wanting the most bang for my buck I settled on this exact little beauty. I bought the black model.



I've had it about a month and a half. It's my daily carry. I'd be lost without it at this point. It carries exactly what I need and is very asthetic and streamlined not seeming bulky at all. This pack always finds a way. It's incredible. When I need just a little more space it has it. It duals as my diaper bag as well which looks much more hardcore than my florql design actual diaper bag. Fits all mine and my sons stuff for zoo trips and jogs.



Then the weekend rolls around and its time to hit the trails. This bag converts flawlessly. It's slightly more robust shoulder straps have no trouble handling a 15-20lb load. The shoulder load stabilizer straps make all the difference in the world, conforming the pack for your back for the most stable possible carry. The removeabe waist belt stops the side to side sway combined with the perfect sized sternum strap turn this pack into an extension of your body.



Every review mentions if you're a minimalist you might be able to use this pack for an overnighter. This is seriously underclassing this pack as a daypack. I hardly consider myself minimalist and this pack handles everything I need perfectly. Marmot summer synthetic bag, grand trunk skeeter beeter, warbonnet superfly, imusa pot with titanium mug and plastic pudding tub inside, extra shorts and shirt, down hoodie, an entire extra bugnet for my buddy, a few mountain house meals, some trailmix, coffee, muffin mix and some tuna and noodle packets........ ::inhale::.... My wallet, phone, charging stick, socks, sandals, BUG SPRAY, tent stakes, headlamp, biofreeze stick(like bengay), collapsible half liter canteen and 1 quart of water. All of that inside this "daypack".



I've had it out 2 weekends so far and its been incredible. My shoulders and back haven't been strained or ached at all. It carried the load flawlessly. Well, well thought out pack. I just keep thinking bang for your buck with this pack. Oh, to boot even the laptop sleeve pad came in useful to sit around the fire when I didn't feel like sitting in the dirt or retiring back to the hammock. This pack always comes through.



If you want a one pack option for school, diaper bag, gym bag yet be technical enough to tackle rugged terrain or climb, you will not find a better pack, especially not at this value. It's a no brainer if you're even considering buying it, buy it.



I bought this pack myself and no one paid or asked me to write this review. I just love this pack this much and there isn't a ton of practical in use information on this pack. I hope this helps.
I just bought this and I cannot see any way to remove the closed-cell back sheet -- there is no opening or slot to pull it out. Is this really removable or is that a typo/missing feature?
So usually its found inside the pack and not on the outside, not sure where you are looking. Sometimes it can be very tricky. Once Marmot opens up, Ill give them a call and find out for you.



You can call or email me directly. 801-736-6398, or bporreca@backcountry.com
It's the laptop sheet pad not the actual back pad. It's about eighth inch thick, about the length of the pack minus q few inches.
mine just arrived today and it doesn't have the removable laptop sheet pad, anyone know if I received an updated or older version?
@j4e4882503

You have the latest model; the sheet is not removeable. I continue to contend that this product is falsely marketed as a compression sack; it most definitely is not, especially compared to earlier years' models that had removeable foam and much longer straps for real compression of clothes and/or a sleeping bag. This is a good daypack regardless.