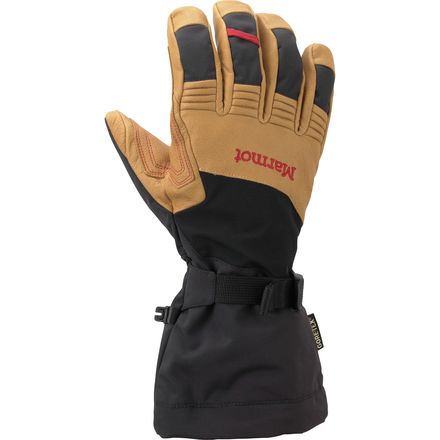 Community Images
Description
Stay warmer and go longer in the Ultimate Glove.
Stay out on the slopes longer with the help of the Marmot Ultimate Ski Glove. Even if it's stormy or wicked cold, this glove's waterproof breathable Gore-Tex insert and PrimaLoft insulation keep you going long after the competition for fresh tracks has thrown in the towel and taken refuge in the lodge.

Waterproof Gore-Tex Active Shell laminate offers outstanding breathability keep your hands from becoming a wet or sweaty mess
Pittards washable cowhide leather offers serious durability and improved dexterity
DriClime lining wicks away moisture and prevent clammy hands
Low-bulk PrimaLoft One insulation ensures warmth on frigid days
Full-length gauntlets with drawcords keep the snow out
Handy nose wipes keep the snot off your face
Safety leashes make sure you end up digging around under the lift for a dropped glove
Marmot Ultimate Ski Glove is Excellent
I have been using this gloves for the last two seasons. I used Alaska, Girdwood & Valdez with great results. Is warm under severe weather conditions. I also used them in Las Leñas for almost two months, facing all kind of temperatures and variable weather conditions too.
Im diabetic and I really take care of mi fingers and toes. I highly recommend these gloves

Huge fan
Familiarity:

I've put it through the wringer

Fit:

True to size
I bought these gloves last January for New England skiing. I spent more $ than I typically do and I have not been disappointed. They kept my hands warm on single digit days, even on the chair lift. Also, the construction is top notch and I think they are even better after a few dozen days of use.

They also came in handy during the 10 ft of snow that fell on Boston. I never had to worry about cold or wet hands while digging out or commuting.

Likely too much glove for spring conditions.
Very, Very Dissappointed with Gloves
Familiarity:

I've used it several times

Fit:

True to size
I figured if I bought a glove called the "Ultimate Ski Glove" that is what I would get, but this is definately not the case. I decided after many years of using a Gates glove I'd spend a significant amount of money on the Marmot gloves and upgrade. Unfortunately, I switched back this past weekend to my old Gates gloves and my hands were warmer. The Marmot gloves are definately well made and sharp looking, they're just not warm and there is no where in the glove to add heater packs.
Calling them the Ultimate Ski Glove is very misleading and the name should be changed. I would say the gloves are good down to 20 degrees and nothing lower.
Just ski gloves
Familiarity:

I've used it several times

Fit:

True to size
I bought these for the frigid cold of the northeast and those zero degree days at Jay Peak. Tried them out this week in around 0-5F and wind. Happy I had hand-warmers in them. My fingers would have frozen. Even with the warmers I had to ball my fingers up often to defrost them. Guess I'm disappointed given their reputation. Maybe I should have gotten mittens.
Are these really sold out in the on sale large ones? I just looked Friday and they were in stock, added them into my cart, and now I go to pay and there gone? Do you have any more LG in a discounted size? That's Frustrating....
Just checked for you and unfortunately they are sold out. When a popular glove like this goes on sale they sell out really quickly, especially popular mens sizes which are M-XL. Check back in the Spring we will have more in stock then and probably on sale.
The problem with spring is that it is snowing now and ski season is now, spring time is past due for what I will be using them for.. Thank you anyway for the timely response...
Well Worth the Price
Familiarity:

I've put it through the wringer

Fit:

True to size
When I got these gloves over 12 years ago for a climbing trip to Kilimanjaro I thought spending $150 on a pair of gloves was ridiculous. I now realize I was wrong. Since then they have helped me reached the summit of Kili, some 14ers, Ranier, and Denali as well as worked perfectly for they yearly ski trips to CO. Not only are these gloves tough and warm but they also have great dexterity. Only "problem" I have had is the need to retreat the leather after about 7 years. Highly recommend these gloves.
Trying to compare and decide between the Marmot Ultimate Ski Glove and the Marmot Big Mountain Glove. I like the looks of the big mountain better. The Ultimate advertises a DWR coating where the BM does not but I'm sure I can just apply DWR to the BM's myself. Also, the Ultimate advertises 7.4oz/yd nylon vs only 4.4 in the Big Mountain. The Ultimate also advertises 0.8 - 1.0mm cowhide leather vs the big mountain only having 06. - 0.8mm. I don't know what any of these units are. Do these number variances make a big difference to the gloves durability and warmth? Is it too much a trade-off to go with better-looking Big Mountain gloves?
The numbers are millimeters. A millimeter is smaller than a 1/16 of an inch. 10 mm to 1 centimeter, 2.54 cm to 1 inch. These are units in the Syteme Internationale (known as the Metric System), used by just about every country in the world except the United States. Strange that they flip to Imperial on the weight of the insulation.



Roughly speaking, the Ultimate has 75% more insulation in it than does the Big Mountain, and thicker leather by about 0.2 mm. Not a lot of difference on the leather, but you'd be surprised how much difference that makes.



That said, I haven't bought these gloves (yet).
Jump off the chair if you lose a glove!
So hard to dazzle my son with a Christmas gift...he texted me after a day on the slopes of Vail raving about these gloves. He's impressed with all the technical qualities, warmth, flexibility and light weight, even loves the stylie looks. I'm kinda proud of myself.
You get what you pay for!
Familiarity:

I've used it several times

Fit:

True to size
I ordered a pair of Burton AK Yeti gloves and my hands were cold with anything under 30 deg F. I sent them back and the Ultimate Ski glove was on sale so it was a even trade. So far I have been out in low 20's F and my fingers were toasty and dry!I went sledding with my daughter with these, dragging them to steer and stop and they show zero wear. So far they are warm, dry and not bulky. What's not to like?
Amazing Gloves
Familiarity:

I gave it as a gift but have feedback to share

Fit:

True to size
These were a birthday present for my nephew who works ski patrol. He said that they are amazing and the best gloves that he has had. This birthday present earned me favorite Aunt status.
Eh
Familiarity:

I've used it once or twice and have initial impressions

Fit:

True to size
Have had my eyes on these gloves for 2 years and finally pulled the trigger. Normally ski in Swany's but my fingers occassionally get cold. Wanted something super warm since I'm going to JH this January. Skied with them on Sunday and temperature was only 29 degrees. No warmer than my old Swany's. Fingers got cold at the tips just the same. Can't say it's worth the premium pricing.
I still don't need a new pair.
Familiarity:

I've put it through the wringer

Fit:

True to size
I have had mine for a decade +. The palms and fingers look like some haggard old ladies face who used a cheese grater to give herself facials. They look like they have been well used and they have.. I just can't see getting a new pair yet. I believe they are the ultimate ski glove.



I have given them for X mas gifts through the years to the people in my family who ski.. Everyone loves them.
these gloves feel super cozy the first time you put them on. it's easy to feel that there is less bulk on the palm(better grip) and more insulation between the fingers(better warmth). and after just a little packing down in the fingers, it's a perfect fit. they're made with gore-tex xcr wix gore says is supposed to maintain comfort at a higher range of levels: should breathe better with high aerobic activities than other gore-tex fabrics but maintain warmth and fend off moisture during colder activities.



the wrist cinch gives a more secure feeling fit that i prefer, and the leashes are the easiest system i've used. really quality glove.
Truly the 'Ultimate Ski Glove'
Perfect gloves for on-hill, or the 'down' part of backcountry.



I'd recommend looking at these plus the 'Basic Work Glove' as the perfect uphill/downhill combination if you do lots of backcountry in colder climates.



Warm, dry & breathable. Comfortable, great dexterity. Worn in temperatures down to -18 deg C, and my hands stay warm. Surprisingly never too hot, even at 0 deg C.



Perfect gloves. Marmot have got it figured out, and this is their best
One of best ski gloves in the market
Gender:

Male

Familiarity:

I've used it several times
It has almost all advantages of ski gloves. 100% waterproof, 100%warm,100%windproof,100%high rate of breathable,light, nice design, and fit very well in small size for me (173cm,75KG)