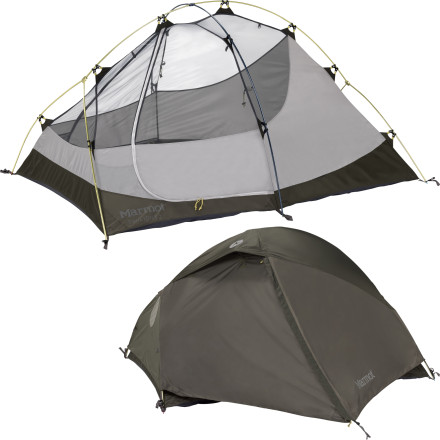 Marmot Twilight Tent with Footprint and Gear Loft: 2-Person 3-Season
View Larger Image
Community Images
No matter how close you and your backpacking partner are, sometimes it's nice to have a well-ventilated backpacking tent with dual doors and vestibules like the Marmot Twilight 2-Person 3-Season Tent. A two-pole design makes for quick setup at the end of a long day, and the full-coverage fly and bathtub-style floor keep both of you bone-dry when it rains. Marmot even saw fit to include a gear loft and a footprint with this highly packable suite.
Bare Bones fast-pitch option lets you carry just the poles, fly, and footprint to save extra weight on trail (footprint included)
Polyurethane-coated floor and fly repel rain so you and your gear stay dry inside
Fully taped fly and floor seams prevent water from sneaking in through fabric joints
Catenary Cut floor means the floor material curves a few inches up the tent walls to reduce direct seam-to-ground contact
Two doors and two corresponding vestibules give you and a partner easy entry, exit, and pack storage
Mesh panels and a fly vent fight interior condensation to help you sleep during times of muggy weather
Clear window on the fly lets you check the weather and features welded seams to prevent leaking
DAC Featherlite poles are easy to assemble day or night and save weight without sacrificing durability or strength
Included gear loft holds your nightly essentials within reach
Reflective detailing helps you identify stealthy guy-lines at night
Noise-free zippers prevent waking up cranky trail partners
Good day!

What is the reason of such high discount.
I like it
Gender:

Male

Familiarity:

I've used it several times
It's a decent little tent, i hate how its so hard to put up, when i went backpacking last week i was by myself and the thing took so long to put up/ take down..Kinda thinking about buying a bivy and selling this
Between this and the MSR hubba hubba? Which...
Between this and the MSR hubba hubba? Which one would you guys buy?
I own the Hubba Hubba and have spent one night in the Twilight. Overall, they are very similar and you would probably enjoy either one, but my preference is the MSR. I have used it in up to 8 inches of snow and have not had any issues. MSR warranty department is also very helpful, which I appreciated.
hey guys i'm looking for a lightweight but...
hey guys i'm looking for a lightweight but sturdy tent that handles wind and rain well


With a low profile and wide vestibules this tent will withstand winds and keep both you and your gear dry. That said, I am a huge fan of the Marmot Limelight, you can't go wrong with dome construction.
Wear a wetsuit for this one.
Familiarity:

I've used it once or twice and have initial impressions
I've been hiking and camping in the mountains of West Virginia for 30 years and NEVER had condensation issues. I bought this "upgraded" tent to replace my older tent that was developing holes in the tarp. There were two other 2-person tents in the group and they stayed totally dry each morning as I had checked their tents myself. My wife and I had to hang out our sleeping bags every morning for three mornings in a row to dry off our sopping wet bags and pads. Oh, did I mention that it never rained during this whole time? Too bad Marmot I absolutely LOVE your sleeping bags, however, back to the drawing board with this tent! The only bright side to this tent was that it was a breeze to set up and take down.
we hitchhiked around Iceland for 1 whole month, slept in it every night, in many different ground and weather conditions, it was absolutely amazing. seeing all the tents in the campsite bend in the wind except for ours was a pride. getting out dry in the morning after a rain storm, getting out warm when there is ice all over the tent, and setting it up quickly and even alone in harsh wind and rain conditions, this tent really gave us what we payed for.

posting a photo at the Landmanalaugar base camp after a night with minus Celsius degrees and ice on the tent in the morning.
Has been all over the world and hasn't let me down! Never used it in the snow, but every other condition and hasn't leaked, broke or torn yet.
i like everything about this little tent. the vestibules provide ample room for anything you have, set up is a cinch and the stash pockets are handy, along with the included gear loft. that does sit a bit low but i am an average 5'5" gal so it didn't bother me much. easy enough to pack bare bones and i like the way the screen covers up the bottom half, for privacy. the little window is cool too, i am a geek what can i say.
Marmot Twilight 2P Tent Setup Video
Im 6'5 230 and I slept in this recently while my buddy tried out his new Home Alone. After the little excursion I ordered one of these for myself. It will be my one man tent. As far as some of the comments about size. You'll fit. Trust me. So will you a pair of size 15 boots and an Atmos 50. It started raining and I dozed off for about 45 min, woke up looked out the window and saw that it had stopped. All in all if your an oversized person like me this is a good one man tent. Whats great is that two people will also fit. Im sort of claustrophobic so I dont dig those little tents. I also dont like sleeping with anyone when Im camping. My girlfriend likes to carry her own setup with girly colors so I just got the green one. I like the color. The advertised features are good/great on this tent. The rain fly and bathtub bottom are designed so that no rain came in. Some manufactuers blow it when it comes to rain protection even though they might advertise it. Oh yeah, this thing fits in my pack like a charm.
Cold and rainy in Richwood.
Spent two days in a nasty rain. Couldn't keep the fire lit, but was able to stay dry in my new tent. Very good product.
I am looking for a roomy two person tent...
I am looking for a roomy two person tent to replace an old two person tent that tapered from 52 inches wide to 42 inches wide. The floor of this tent is quite roomy at 60 inches wide, however, it appears that the wall are not very vertical. Has anyone encountered an issue with the slant of the walls? I am concerned mainly about sleeping space. Thanks.
Best Answer
I don't have any experience with the Marmot Twilight, but I have to recommend the Big Agnes Slide Mountain 2 in this category. The Slide Mountain has nearly vertical walls and around 40" of height. I have comfortably slept two adults and a 50 lb. dog in this tent (I'm 6'3"). It is a little bit lighter than the Twilight and I think the Big Agnes tents use better materials and construction (no offense to Marmot). The Slide Mountain has been discontinued and is on clearance, which makes it $20 more than the Twilight with the footprint. The Slide Mountain also has four mesh pockets built into the corners and an additional two mesh pockets beneath each door. The Slide Mountain uses a BOA system for tightening the rain fly from inside the tent. While a nice feature, it is a little bit gimmicky and was likely the downfall of this tent due to the added cost. I think if you are comfortable with a 2 person tent, and want one with vertical walls, then you can't go wrong with the Slide Mountain 2. You could also look into the Big Agnes Gore Pass 2 which is the same tent minus the BOA rain fly system. It also has a fast pitch option which the Slide Mountain does not.
I have a Big Agnes tent similar to the Slide, however, the 52 inches wide is just to narrow for my comfort. Hence, I am seeking a wider option.
The Twilight is 60" wide at the head, but tapers down to 49" at your feet. Aside from tapered tents, there aren't many out there that are wider than 52" (in the two man category). There are a few at 54" (e.g. North Face Rock 22 Bx) and Big Agnes makes the Salt Creek 2 and Lynx Pass 2 which both come in at 58" wide (although without vertical side walls). You may want to look into three person tents if you think that 52" is a little too narrow for comfort. You may be able to find a two person if you don't mind it tapering down at your feet so that you get a little more width for your torso. Good luck!
While this tent is advertised as a 2-person, I have found it to be a bit cramped for two men with just bags/pads and some clothes. It works fine for my wife and I, but not so much when backpacking with a buddy. I'm 6'1", 170 lbs, but with fairly broad shoulders. I'm seriously looking into moving to a 3-person Marmot as there isn't really any weight gain over this tent.
Is the floor of this tent square? It is...
Is the floor of this tent square? It is hard to tell from the photographs and Marmot does not provide a diagram of the floor plan. Thanks.
more of a rectangle, but it has right angles
The floor dimensions are 60" wide (tapers slightly) X 88" long.
Has anyone used this tent in the snow? I'm...
Has anyone used this tent in the snow? I'm looking for a tent that I can use in late fall/early winter without having to lug around a ten pound four season tent.
Best Answer
I used this tent on a 3 day 2 night camping trip to northern north carolina in late December of 2010. There was over a foot of snow on the ground, but there was zero precipitation while we were camping. The temperatures ranged from 25 during the day to 12 or so at night. This tent held up very good for me and I only developed a tiny amount of moisture on the inside of my rain fly. Besides that I stayed bone dry and warm.

This tent, although advertised as a 3 season tent, can be used in winter. Just make sure you have a decent zero degree sleeping bag and you'll be fine.
I have used this tent in cold weather conditions and it does very well. It is never going to replace a four season tent but it will work if you have other quality gear to compensate such as a quality bag and pad.
just got back from a 3 day winter backpacking trip in mi on the north country trail temps at night were 5 to 10 degrees the most snow we got was 2 in. never been wet in this tent does well in the wind also 25 to 30 mph in the sand dunes
I just purchased this tent (first tent bought in about 10 years) after seeing it on sale on Backcountry. I set it up at my house once when it first arrived, and it's very easy to do so based on the colored poles. You can't mess it up.

2 days later I took it car camping at the lake, and we got torrential rains for two nights in a row. The rain fly kept me 100% dry, and the footprint worked perfectly. Tons of mud and soot run-off from the rains, and I was totally clean and dry inside. The vestibules seem decently big (although I don't have much to compare to.) The only negative that came to mind was the inside space. I'm about 5'10" 160lbs or so, and it would be pretty cozy with two people the same size in there at one time. Based on the previous reviews, I thought it would be a little bigger inside, but for my intended uses, it'll be just fine.

The orange color looks really cool in person, and it was nice being able to open the rain fly at the top to get some additional ventilation when I wanted. If you find it on sale, definitely worth picking up if you're looking for a simple, lightweight, quality tent.
Love this tent! Almost half the tent is mesh and has great air flow. Included gear loft and footprint is a nice plus. Very pleased with the two shades of green. Very easy to setup. Im 6'2" and about 215lbs. and I fit perfectly with easily enough room for another person.