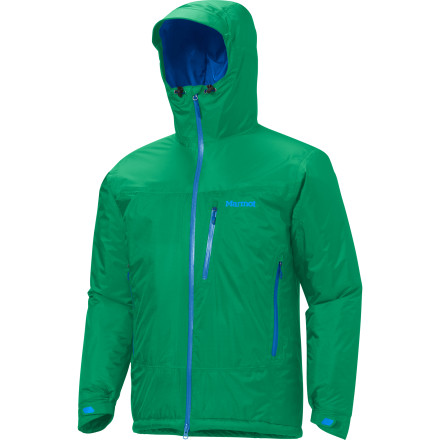 Community Images
Don't sweat it if you get caught in on the ridge in a snow squall while wearing the Marmot Men's Trient Insulated Jacket—the jacket's lightweight MemBrain waterproof breathable fabric and fully-taped seams provide excellent protection from the elements. The 100 grams of efficient Thermal R insulation also stand between you and the chills. Whether you wear it on its own or layer it under a shell in the harshest alpine conditions, Marmot's Trient delivers.
Attached storm hood includes a laminated brim for extra protection
Water-resistant zippers on the pack pockets and chest pocket won't let your energy bars and tissues get soggy
Elastic draw cord hem cinches to keep out drafts
warm, nice fit, solid

only thing is the zipper treatment, not very smooth because the zipper will stuck sometimes
Love It
Familiarity:

I've put it through the wringer
I replaced my Patagonia Micro Puff with this jacket and I'm so glad. This jacket sheds wind, rain and the shell/hood are exactly what I was looking for. Hood is totally adjustable with toogle cords on the sides and back of the hood. I've worn it in ranges from mid 30s to high 40s with just a light fleece or long sleeve tshirt.



Fit is true to size
Unanswered Question
Would you recommend treating the Marmot...
Would you recommend treating the Marmot Trient with any kind of water repellency solution?



I know it is billed as waterproof, but I have yet to test it on a really wet day.
warmest jacket ever.
Gender:

Female

Familiarity:

I've used it several times
I'm a taller girl (5'9" 135 lbs), bought the small and I love the slightly baggy fit. Plenty of room to layer, although I haven't needed much more than a long sleeve wool shirt underneath cause this jacket is WARM. The zipper was a pain at first but after use it loosened up a bit. I recommend.
I'm about 6 feet and 200 lbs and most of...
I'm about 6 feet and 200 lbs and most of my weight is through my shoulders and back and most large sizes are too tight around my arms and back. How does this jacket fit? Does it have room for layering or is it pretty tight?
I'm 6'3+ 195lbs and purchased the size L. I wanted a minimalist fit and could have gone for an xl, but the L is ideal for my needs - a lightweight next-to-skin layer followed by a polartec jacket (with hood) and the Trient jacket. I have long arms and these are short by maybe 1/2 inch. Also the torso length is righ on. And the hood is awesome. I do get the zipper stuck, but it has been improving with age.
The medium was perfect for me at 6'3" 180 lbs. Perfect sleeve length and not baggy. Love it!
Love it to death but the insulation in the back is rather thin compared to the rest of the jacket it seems.

Can't seem to find a jacket anywhere in this great style in any brand that is any thicker.

I do love the water proof though
Can somebody suggest a size? I haven't got...
Can somebody suggest a size? I haven't got a place to try the jacket on locally. 6'3 and 160lbs here, tall and lean. Normally wear an M in most tops and sacrifice some sleeve length. I'd like to layer underneath, but probably won't wear anything super puffy. Marmot seemed to do okay with sleeve and torso length when I tried on some fleeces, so I'm not sure I would size up only for those specs.
Best Answer
Medium should be great, especially with layering. Marmot stuff is always sized generously. I'm 5'8" and 165, and I have room in all my medium sized Marmot stuff.
Thanks! Always on the lookout for a good fit.
Is there any way to cinch the bottom or...
Is there any way to cinch the bottom or tighten with a drawstring or skirt?
It has a draw string hem, you're good to go!
How does this jacket compare against the...
How does this jacket compare against the Arc'Teryx Kappa SV (I know the prices are significantly different)? This one doesn't seem to be vented, how big of an issue is overheating (though I haven't read anyone complain of that yet)? Thanks.
Best Answer
You will find that Marmot is a great brand and offers great reliability. Save yourself the extra cash and check this one out. You wont be disappointed.
As far as overheating it shouldn't be much worry. If you get to the point of overheat you probably shouldn't be wearing an insulated coat.
Is the trient hood helmet compatible?
Is the trient hood helmet compatible?
I just got this jacket and haven't tried it on with a helmet yet. I put the hood on my head to see if it would be big enough for a helmet and it doesn't seem like it work. The only down side that I can see for this jacket.
I just got the jacket so I haven't worn it out in the cold yet, but heading up to 12,000 ft. next weekend to find out. Everyone seems to indicate it's rather warm so I'm not too concerned about that. Everything on this jacket is well thought out and done well. First off the pockets are all great. Waterproof zippers and the front pockets are high to stay out of the way of a harness or pack hip straps. The inner mesh nalgene pocket was a nice surprise. It allows you to keep a nalgene or gloves stowed close to your body to keep them warm. There is one smaller zipper inner pocket. Waist cinch keeps wind from blowing up your coat. The hood adjustments are well designed. The cuffs are comfortable and secured with velcro. I got the red because it was cheaper and to be more visible when I'm out in the snow this winter. I'm 6'3" and 190 lbs. I got size XL to fit over layers and it seems like it will be perfect to fit over my lightweight puffy and softshell if I need it to. I plan on using this quite a bit as a belay jacket so the ability to fit over these layers well is rather important. I could probably go with a Large and still fit a light puffy underneath. Torso and sleeve length are perfect. It's a little longer than my other layers, which will work well. A 2nd zipper from the bottom will allow access to a harness or lower layers. Overall this is a really well made jacket and a great buy, especially if you can pick it up on sale.
I use this jacket for cool weather (0+10C, around 30-50F) and it is keeping me warm. It's totally waterproof, ample pockets, packs nicely, is styled for street wear and is super light. In fact, it's so light that I found there is no good pocket in this jacket to carry a wallet - my wallet is too heavy for such a light jacket, I can feel how it pulls one side of the jacket down.
I'm 5"11 (180cm) and about 180lbs (82kg), ordered Large size as per Marmot's size chart and found it more than comfortable. It offers plenty of room for layers underneath for colder climate. Since we don't have much colder weather here in Australia, I don't need to put multiple layers under the jacket, so I could've got a Medium without feeling tight, I have a feeing it would've accommodated for one extra layer, but sending it back was not worth the trouble.

Bad sides - I would've preferred more pockets for iPod. Also mesh pocket inside is not zipped hence as stuff will pop out of it as soon as you bend. Not a good place for a wallet or a phone.
Overall - very happy with my Trient.
I was looking for a jacket that would do two things, keep me warm and not make me look like a marshmellow and this jacket fits the bill perfectly. It's definitely not too bulky/puffy, it's comfortable and super warm. And waterproof, a great perk of this jacket not found on others especially for the price. I was originally thinking of the Arc'teryx atom SV, and another poster pointed me to this jacket and I'm grateful. Not as pricey and I think probably just as good. The zipper can be a pain, but just concentrate on zipping your jacket instead of being mindless about it. I'm 6', 155lbs and a Large fits perfect all around. Attached hood is a plus for me. The jacket will also fit under a shell if need be--overkill? I can't speak of it's durability yet but I think it will be alright. If you are on the fence, just go for it. It's hard to find a better jacket, it's the best that I've owned. Oh and I have the blue color. It's not too much or overly drab either.
How small does this jacket pack down?...
How small does this jacket pack down? Compared to the Patagonia nano puff for example...
Also how puffy is it when wearing?
It should pack down pretty well and similar to the nano puff
although it wont be like a full on 800fill puffy coat it will certainly be pretty puffy when you wear it
I just got this jacket in xl, I am 6', 185lbs, and have longer arms, and this jacket fits great, the arms dont pull up when extended, the fit on this jacket is overall slender fit. It is very warm, I had tried a few others, and this is the warmest. The hood is awesome, too. I got it in the red, and its a great looker, not too bright, just rite. Really glad I ended up with this jacket! Dealing with Backcountry has been a great experience, too. Very Happy! :)
could there be a more comfortable hood? Not sure. Agree that this jacket is plenty warm, light weight, and packable. I got this and a Cloudveil Enclosure at the same time. They are similar, like wearing a sleeping bag, but I like the slightly beefier shell and hood on this. I find myself using the adjustable hood way more than I ever have--feels like a down baseball cap. At 190 and 6'1" the XL fits great. Will say that the Trient XL is smaller, less bulky in the gut than the Enclosure seems to be. I also like that the Trient has wrist velcro, not just elastic. Great deal at SAC!!!
Perfect amount of insulation and wind/water proofness so as not to be bulky and packs down tight. I am able to stand out in negative degree windy weather waiting for Denver light rail with only a dress shirt underneath and still stay toasty. The insulated hood means I don't need to wear a wool hat to work also.
Is the gargoyle colorway more of a gray...
Is the gargoyle colorway more of a gray or a silver? Is it shiny at all?
At first, I was worried that this jacket might be too puffy but once I opened the package I was relieved! It is not puffy at all! It has the right amount of insulation to keep me real warm, lots of pockets (it has a giant mesh pocket on the inside) and a hood that doesn't droop down over my eyes.