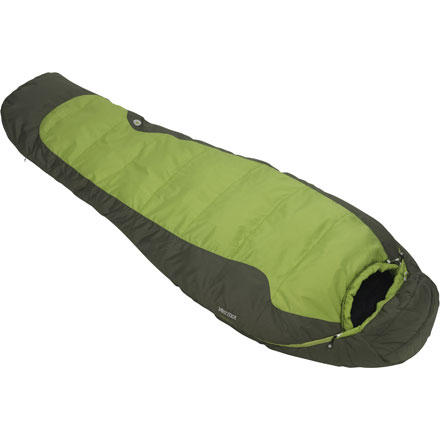 The Marmot Trestles 30F Spirafil Synthetic Sleeping Bag is a staple for summer surf trips, backpacking, and humid climates. The Trestles' Spirafil insulation and wave construction provide excellent protection from moisture while keeping you roasty-toasty. You'll be hard-pressed to find a better bag at this price.
Share your thoughts
What do you think of the
Marmot
Trestles 30 Sleeping Bag: 30 Degree Synthetic
? Share a...
Unanswered Question
I know that stuff sack size is 8.5" x 18"...
I know that stuff sack size is 8.5" x 18" but to what size it can be compressed?
Perfectly designed for it's purpose
This bag is ideal for mixed conditions and use. The synthetic fill and DWR coating are a killer combination for wet conditions where down could get wet and fail. I've had this bag for 3 years and have used it in alpine environments above 10k feet and in the high desert. The 30 degree rating stands true if you don't run abnormally hot or cold. When the mercury is right around 30 degree I normally sleep in my socks, a light hoodie or t-shirt, and run-of-the-mill sweatpants.
Great bag! It was my bag on a cross country cycling trip, and it was light enough and warm enough. If you want to get caught up in constantly looking for the next lightest, warmest thing, go for it. Or you could stick with a slightly heavier bag which performs perfectly well, for a great price. It went as low as -7 and I was still cozy. Keep a wool hat and extra socks in your tent just in case.
Good 3 season bag, love the compression sack. Watch out if you plan to zip two of these together - the zipper does not curl fully under the foot basin like you'd find on a rectangular bag. I think it would make a strange bloated-mummy shape with two independent foot areas.

But I do like the bag. Seems pretty tough and has a canvas zipper guard to prevent snags.

5 stars because I have no complaints.
What is the pack size of this bag????
What is the pack size of this bag????
The stuff sack size is 8.5" x 18"
It's a good bag, the synthetic fill makes it heavier but that's not always a bad thing because you do get the ability to dry the bag fast and it will keep you warm when it gets wet, which is a big boon when you get caught in a summer thunderstorm. The shell is a kind of ripstop material which seems fairly durable. In usual Marmot style, they paid attention to the details and it has nice zipper pulls that don't get caught and the build quality in general seems to be very high. It's not perfect, but it does the job well.
couldnt ask for more for the price; all around a good bag, stash pocket is uber handy.
When Marmot says thirty degrees, Marmot means thirty degrees. I've taken this bag on summer, fall, and winter trips, to West Virginia, Arkansas, Maryland, and Kentucky, and any temperatures below thirty-five degrees require a warmer bag! For summer and fall trips, though, the Trestles 30 will keep you warm and dry even in damp conditions. After collecting water from the wall of my tent all night on a backpacking trip, the foot of my bag was completely soaked on the outside, but remained bone dry inside. The bag is a little bulky when rolled, but still fits in the sleeping bag compartment of my pack.
Will a left-zip and a right-zip of the...
Will a left-zip and a right-zip of the same length zip together?
Is this bag good for a Boy Scout like me?...
Is this bag good for a Boy Scout like me? How small does it get when in the stuff sack?
It's a good entry level bag. The stuff sack size is 8.5" x 18"
I really like this bag so far. Went desert camping in Feb. and woke up with a good layer of frost all over but I was warm and dry. I've never been too hot or cold in this bag. Very comfy. It is a bit bulky when packed but it fits in my pack just fine. All around, I think it's a great 3 season bag and a good price.
Great bag! A little heavier than my older model but it has more loft IMO. Good for keeping a newbie like my girlfriend comfy and warm. Again, great 3 season bag.
This bag is perfect for a budding camper/backpacker. It comes with a compression sack, so that eliminates an extra purpose. This is a 3 season bag in most climates, however I live in Mississippi and have used it year round with plenty of comfort. It is a bit on the heavy side, but that's not too much of a problem. The synthetic is much easier to take care of and get wet, however if the weight or warmth becomes a problem, I would recommend investing in a down bag.
This is a functionally good bag, but is a bit heavy and bulky (even in compression sack) for extended backpacking. I usually use down bags for backpacking because of the weight and compression. This bag has good features, and would be great for short trips in warm to cool weather.
How good can this bag be for this price?
How good can this bag be for this price?
Best Answer
For the price, I think it will perform as expected. It's an entry level 3-season bag, without a doubt. Depending on how you take care of it, it could last a good number of years in good condition. Don't purchase this bag thinking it's something more than this, however. Hope that helps!
I saw the same bag at Sport Chalet for cheaper. Around $64.