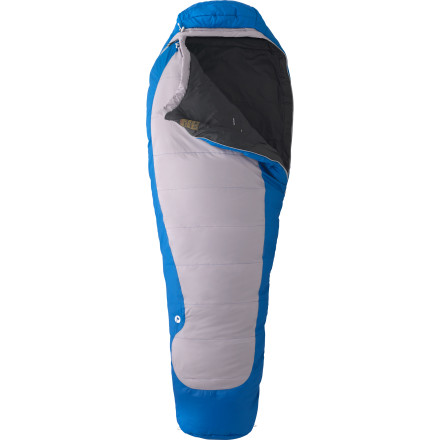 After a long day of hiking along cold, damp trails, unroll the Marmot Trestles 15 Sleeping Bag and snuggle in for some well-deserved rest. This reliable, all-purpose bag is packed with Spirafil 120 insulation that blends three-denier spiral hollow fibers for loft and one-denier polyester fiber for warmth, softness, and compressibility so you stay warm in the dankest conditions. The Trestles 15's Wave construction combines the advantages of both traditional blanket and shingle construction to eliminate cold spots without adding a lot of extra weight to your pack.
Nautilus hood wraps around your head to reduce heat loss
Dual zippers allow you to open this bag from either side for excellent ventilation when you don't need quite as much warmth
Large trapezoidal foot box to decrease constriction at the bottom of the bag
Zipper guard prevents the draft tube fabric from getting caught in the zipper
Stash pock holds your headlamp in easy reach
Took it to Glacier NP in August last year for a 5 day solo backcountry trip. Coldest it got about 30 degrees one night, so I didn't test the temperature rating. Was very comfy and I slept well. Perhaps the best part of the system is the compression sack. Built like a tank, you can really compress the bag down.
Unanswered Question
How durable is this sleeping bag?
How durable is this sleeping bag?
Unanswered Question
What is the stuff size of this bag? I am...
What is the stuff size of this bag? I am looking for a sleeping bag that compresses well.
Unanswered Question
What is the stuff size of this bag. I am...
What is the stuff size of this bag. I am looking for a sleeping bag that is compresses well.
I have the LONG/left zip version of this...
I have the LONG/left zip version of this bag. If I get my wife the Regular/right zip will they still zip together? WIll the long size zip together with the regular size?
They will zip together, but there will be a bit of a difference in the zipper's length.
Marmot Trestles 15 Sleeping Bags
On our annual backpacking trip we normally take our 40 degree bags. With the long winter/spring we have had in the Sierras this year, we knew that we needed a warmer sleeping bag. These bags fit the bill! I worked with Pat in customer Service and found the perfect warm sleeping bags that zip together for my hubby and me. Temperatures at night hit in the low 30's and we were very warm and comfy! Backcountry.com did their best to find a product for us and then ship it in time for us to use. I highly recommend the Marmot bags. I have Marmot clothing that I love, and now I have gear, too.
I have used this bag since 2004, numerous times, 60 plus nights.

Very soft and comfy, durable, easy to wash and dry. I am 5'9" 150 lbs and love the tight fit of this bag. Helps to eliminate cold spots.

Good at 50*F, not too hot, Too warm(?) above that.

In the winter of 2005, on the Current River, Christmas, it got down to 5*F, snow on the ground. I slept very well with an R 4.5 pad, long johns and a 200 weight fleece top for three nights.

Many nights spent on snow at 20*F.

This bag cannot be beat for the money.
Great bag, a little heavy
Love this bag! I'm 6'3" and the long gives me plenty of room. It's super comfortable and warm. For my uses, though, something a bit lighter would be ideal, as I usually go backpacking when it's well above freezing. As long as you open it up though, you won't have any troubles when it's warm.
I bought 4 bags in this temp range. All were from different manufacturers. I went nuts trying to make sense of all the reviews out there and finally decided I had to see for myself. After visiting my local stores and ruling out several bags, I bought the 4. My requirements were, machine washable (ruled out down) in the 3lb range for at least a 15 degree (verifiable) rating, less than $100 with compression sack, full length 2-way zipper, compressing down to 100 cu inches or less. While I won't knock the other brands, I must say the Trestles was absolutely the best of the bunch. It packs smaller than the reviews lead me to believe, was priced right in the middle of the bunch, excellent temp, handled washing well, and with just a little care didn't snag like several reviews said it would do. I'm returning one of the other bags as it was junk all the way around and donating the other 2 to my local scout troop. (Part of the plan to donate all along)
I tried to also buy the Eco 15 from marmot which appears to be very similar to the Trestles but a bit lighter. Unfortuantely EVERYBODY was out of stock on the regular.
i used this sleeping bag in Kodiak, alaska for 3 weeks while building trails , the sleeping bag worked perfect keeped me warm ,and comftable. it did get wet and still keep me warm and since it only got wet in the outside , I dint wake up and was still dry when i did , i had some papers in the stash pocket which were also dry and the stash pocket was good enough to put most of the thing i usually had in my pocket or things i need to keep with me like a pill bottle , pocket knife , headlamp
Hi, I am almost 6ft tall and I was wondering...
Hi,
I am almost 6ft tall and I was wondering if I should get a regular size or go for the long one instead.
Any suggestions?
Thank you!
Go for the long. I went for the regular and find it hard to get comfortable. It juuuuust fits me so there isn't a lot of wiggle room. Drives me crazy! Go for the long.
For those of you who own this bag, have...
For those of you who own this bag, have you compared it with a similar down one side by side? I have the Marmot Never Winter 30* down bag but I like the double side zip on this so you can fold the whole top over. This one is quite a bit heavier than mine so I was wondering how much "loftier" would this be, as in fluffy? Would it be quite a bit bigger in compression size also?
Synthetic insulation is generally warmer per inch of loft than down, so you'll find that this bag will be about as thick or slightly thinner, but warmer, than your Never Winter.

Unfortunately, Synthetic insulation is also significantly less compressible. Therefore, this bag will pack down about the size of a Watermelon, while I'm sure your Never Winter is closer to a football.
Marmot Trestles 15 sleeping bag
This is a great bag for the money. I really like the double top zipper design for allowing more freedom and venting when it's not frigid cold out. The zippers work well and seem like they will last. It packs small and light with the included compression sack. The compression sack is cheap and not the best, but works adequately. The shoulder width is great on the long bag for my 52" chest. I'd definitely recommend this bag again.
The bag itself was fine and kept me perfectly warm (although it never dropped below forty outside). However, I didn't like the cinch system at all. Because of the half zip on the side, the cinch system has two draw strings, one on top and one on the bottom. The bottom one has an elastic pullcord, so no matter how hard you yank on it, it just stretches and doesn't actually cinch down much. The top pullcord isn't elastic, so it doesn't stretch, but whenever i moved, the cord slid through the draw-pull (the little cinch button thing wasn't strong enough to hold the cord tight). So I ended up sleeping with the top un-cinched.

However, it is a pretty good price for a 15 degree bag.

Also, only comes with a compression stuff sack, you have to buy a bigger storage sack separately.
Ok, I suppose. I bought this for 20-40 degree temps and I have been quite cold, wearing clothes 20-30 degree nights. As other reviewers have stated this will compress to about the size of a basketball, maybe a little bigger even. It's not a bad sleeping bag, but for me I wouldn't use it below 30 degrees, and there are lighter sleeping bags out there. Marmot down insulation ended up being the solution for me. Good luck!
I am interested in this sleeping bag and...
I am interested in this sleeping bag and will be using to backpack, but does anyone have a picture of how small it will compress with the stuff sack. Just want to make sure it will fit in my current backpack Thanks
Hey there,

Stuff Size: 10.5" x 19"
works great, super comfy.
A nice bag that gets the job done comfortably. I've pushed this bag to it's normal limit (23 degs F) with clothes on and stayed warm enough for a good nights sleep. The included stuff sack packs the bag down to the approximate size of a volley ball. I stand at 6' 2", and the long bag offers plenty of room, plus extra in the foot box to keep your clothes warm for the next day. A very good deal.
Tested out this bag in December. No tent. Temp got down to 30 degrees. Wore regular socks ,long johns, fleece shirt and warm beanie. Stayed completely dry and toasty warm . My toes did get a little cold tho. Will try thicker socks next time. The hood and draw cords work well. You can almost completely seal yourself in the bag if needed for more frigid temps. Very comfortable. At this price you cant go wrong . Perfect for car camping and light and small enough for backpacking. Marmot makes good stuff folks.