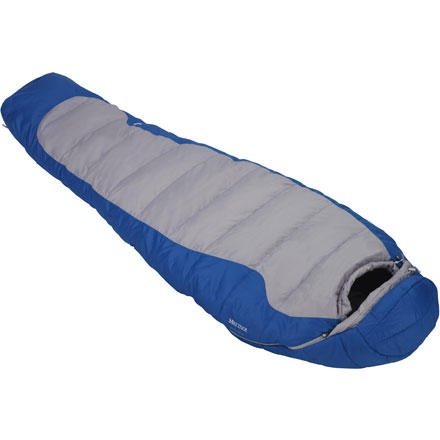 Share your thoughts
What do you think of the
Marmot
Trestles 15 Sleeping Bag: 15 Degree Spirafil
? Share a...
Unanswered Question
Does anyone use this sleeping bag with the...
Does anyone use this sleeping bag with the granite gear nimbus meridian backpack? How do you pack it? Thank you!
This bag is plenty light, packs down well with included compression bag, and so far has kept me warm in 10 degrees yet hasn't roasted me on a few 40 degree nights. Full zipper on one side with a half zip on the other, interior stow pocket, and draw strings on both the top and bottom of the hood provide for lots of options regarding comfort. The price is extremely reasonable for the overall versatility, just another great Marmot product.
AWESOME BAG FOR THE MONEY. INSULATES WELL, GREAT 3 SEASON BAG, BOUGHT A LEFT ZIP FOR ME AND MY GIRLFRIEND HAS A RIGHT ZIP TO PAIR TOGETHER. IT IS A BIGGER BAG (SYNTHETIC) BUT WILL WORK FOR BACKPACKING IF PACKED CORRECTLY. COMES WITH A COMPRESSION BAG, GREAT VALUE.
I bought this bag 3 years ago and I wouldn't take another for it. When we pack or boat in real cold weather we use a sea to summit liner (Reactor Max) and sleep like a Babe in The Woods. Best bag I've ever owned. For the price I don't think it can be beat. Layered construction and stays warm even when damp to wet-Ish. The wife and I both have one.
What is the size of the compression sack...
What is the size of the compression sack that comes with the regular sized sleeping bag?
This comes with a sack to compress the bag to 10.5 x 19 inches
Warm, Relatively Light, and a Great Price
Just came back from a trip this past weekend where it got down to about 25 degrees.. kept me warm! I wore base layers of thermals, sweats, and a sweater. I move abouts a lot in my sleep and there was plenty of room inside for that. I'm 6'0" and 170 pounds. And really, you can't beat that price..
Used this bag on top of Mt. Leconte in the Smokies this past week at around 18 degrees one night. Kept me warm. I am very pleased with this bag, and at the price, it is a sweet deal.
Very Satisfied
Familiarity:

I've used it several times
I've used this bag twice now. The first time was in the low 40's. I tend to get cold when I'm sleeping, but this bag kept me extremely toasty. I just got back from a 3 night canoe trip. We had two nights below freezing, and I was again very comfortable. I think I easily could have handled 5-10 degrees less without being uncomfortable.

The bag is relatively big and a bit harder to get into the stuff sack than my previous bag.

Update after 4 years: I am still very satisfied with this bag. One of the buckles on the compression straps broke which makes it a little more work to pack down. The stash pocket is fantastic for a headlamp. In case you need a short late night walk.
I bought 2 of these with different zips so I could mate them when needed. I have used these bags individually and mated with great results both ways. We spent 5 nights in Glacier and the the lows where in the 30's. Woke up hot the first night and shed some clothes. We normally car camp, so weight issues are not a major priority...being warm is... and this bag handles that superbly!
Will this fit into a sleeping bag compartment...
Will this fit into a sleeping bag compartment of osprey packs 3500 cu +?
Best Answer
I have a High Sierra Naja 70+10. It is a tight squeeze to fit this bag in the 10L sleeping bag compartment. This is mainly due to the huge 10" compressed dia. of my Long X-Wide bag.
One of the best deals around
Solid all around bag! I've had mine for going on three years and probably have spent close to 150 nights in this bag. It's a bit bulky, but thats expected from synthetic. I've woke up in this bag on the side of El Dorado in the North Cascades soaking wet after the mid blew away in the middle of the night and managed to stay warm. Climbing, river trips, backpacking, car camping this bag has done it all with me. Best hundred dollars you'll ever spend on gear!
Great bag. Kept me warm in cold colorado weather and I wasn't sleeping in a tent. Dried quickly after the late night frost. Great deal.
Anyone know what kind of stuff sack this...
Anyone know what kind of stuff sack this comes with? Is it a compression sack? And does it have a storage sack too?
Best Answer
Yes, it does come with a compression sack but no additional storage sack.
I love this bag. When my old bag failed me while abroad, I went for it and purchased this Marmot bag. It dries quickly, is ridiculously warm far below 15 (think sweating), compresses pretty well, and has served me well on many trips! Great price too.
This is a great bag especially for the dough. It's rated at 15º but can go well below that. It actually compresses well, a lot better than expected. Zippers don't have up at all so far. Doesn't snag easily and stayed dry even in a pretty damp tent. I'd recommend this to anyone wanting a really nice bag that is worth far more than they're charging!
Got this as a gift for a friend's wedding. We hooked them up with the ladies and the men's and they love 'em. If you think about it, get the left zip and the right and zip 'em together. That way, inter-tent coitus doesn't have to freeze your arse. Seriously, great bag for the price.
I'm 99% sure that you can't get a better bag for the price. I just got done testing the bag in my backyard here in duluth mn on an 8 degree night. I wore an acrylic stocking cap, 1 wool sweater with a thin polyester longsleeve shirt underneath, jersey pants with midweight fleece pants, and just my polyester hiking sock liners. (slept on a prolite thermarest). The only reason why I didn't sleep well is because I was stressing that I would wake up in the middle of the night without feeling in my toes but I slept comfortably warm.

All 4 summer trips i slept with the bag totally zipped open.
what are the dimensions of this bag after...
what are the dimensions of this bag after compression
Best Answer
Write your answer here...I got it down to about 5 x 8 inches.
I have the Long X-Wide and the best I can get it down to is about 10" x 10". It comes with a Marmot size L compression stuffsack that measures 16"L x 9"Dia. before compressing.
This is a great sleeping bag. It is super warn. It's nice to have the option to zip half way down the left side. The stash pocket is also great for keeping a headlamp in for the night. This is a great bag for those chilly nights on the trail.
Will this bag mate with the women's...
Will this bag mate with the women's version?
Best Answer
Yes, as long as you get the opposite zip. (one is a right zip and one is a left zip) Also, a long will mate with a women's reg or long, as the zipper lengths are the same. And as long as the zippers are compatible.