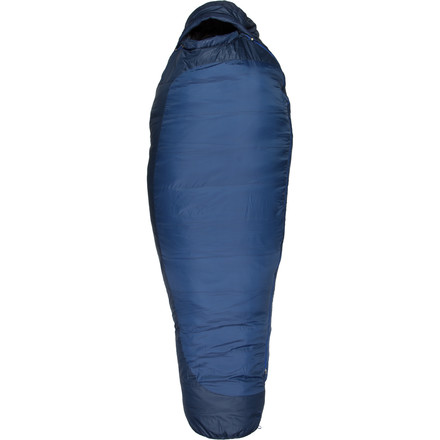 Detail Images
Description
A synthetic mummy bag you can count on.
Variable shoulder-season weather requires a reliable sleeping bag that can handle it all. Unroll the Marmot Trestles 15 Sleeping Bag after a long, cold day pounding the soggy trails. SpiraLoft synthetic insulation isn't threatened by wet weather and feels extra-lofty in comparison to your older synthetic sleeper.
DWR-coated shell material fends off light rain and moisture so your bag and insulation stay drier in inclement weather
Lofty SpiraFil insulation combines hollow fibers and denser, solid synthetic fibers in order to offer a balance of warmth, softness, and compressibility
Nautilus Hood shares the same construction as Marmot's expedition-worthy 8000m jacket so your head stays nice and toasty
Insulation fibers are thermally bonded so the insulation maintains its loft and shape longer, meaning more warmth and a better performing bag in the long run
An overlapping series of internal insulation shingles creates the Wave Construction, which allows for more efficient use of insulation so you stay warmer without additional insulation that would add weight
Easy to reach drawcords make adjustments easy when you're bundled up
Trapezoidal footbox matches the shape of your feet: wider in the toe area and narrower in the heel so you have more foot room and warmer feet
Zipper garages cover up the two-way sliders from the elements so they operate smoothly every time
I'm 6 feet tall, so right on the border for the regular size, what length of bag would you recommend? The regular or the long?
Best Answer
Always err on the long side. If it's too short, you'll compress the insulation in the end and your feet will get cold, but if it's too long, you can always wad up some long underwear down there and fill the dead space.
Great bag
Familiarity:

I've used it several times
I love this bag. I stand 6' so I ordered the longer and wider bag. Not a fan of mummy bags, but this one, with the little bit of extra room allowed me to snuggle in AND could contain my clothes for the next day. I am always a happy camper in the early morning after sleeping in this bag. It definitely kept me warm, plus there is more room to add a liner or additional blanket if necessary.
Unanswered Question
MAR2274...I'm interested in purchasing 2 sleeping bags but would like to know if the two can be attached
Surprisingly awesome!
Familiarity:

I've used it once or twice and have initial impressions
After freezing my buns off in an early spring camping trip, I decided to up my bag game for a fall trip to Vermont. I prepared myself to be cold, packed extra clothes and blankets, and even bought a box of hand warmers to put on my feet because I really wasn't sure how great this bag would be.

Holy cow, it was great. SUPER warm within a minute or two of crawling in. I'd be shivering around the fire, run into the tent and into the bag immediately, and found myself toasty within minutes. Definitely recommend this to anyone on the fence, I'm thinking of picking a second up for my fiancé because she needs a new one, too.
Cars, couches and camps
Familiarity:

I've put it through the wringer
This sleeping bag has seen me through all of my adventures for the last three years and I have never had a problem. I made it through some sub 10 degree nights, though it required extra layering inside the bag. It's been perfect for all of the 25+ nights though, nice and cozy. If it packed a bit smaller I wouldn't complain, but hey that's not the reason I bought it, I bought it for the cheap and bombproof bag it is. I am 6'2 and I ordered the long. It fits with a little extra room in top (or bottom).
I havent bought a bag in 20 years and needed one for a 3 night presidential range hike. The price seemed too good to be true. My real concern was size. I'm 6'4" and a little claustaphobic in a mummy bag so i needed the long wide, but would it fit in a 5500" back pack? Answer is yes. Its a very snug fit, but worked out. The stuff sack is real key. Two nights were dry and in 40's. Toasty warm. Third day everything we carried got soaked thru. We forgot water proof plastic bags. Bag was wet but stayed fluffy and really got the job done with wind chills in the 30's. I think its great for short term backpacking. Just be sure of the size you choose and the pack its going into.
How big is the long sleeping bag when compressed in the stuff sack?
I have the long extra wide bag. It stuffs to 9.5" diameter x 14" long. It's a tight fit but it will fit in a 5500 cubic inch backpack
Through Snow and Rain...
Familiarity:

I've used it several times
I've used this sleeping bag for about four trips. Two of those four trips were in Utah at Zion National Park for a race I was running. The first year, it snowed. The second year, it was a monsoon. Both times, this bag wrapped me up, protected me, and kept me safe and warm. I will now officially ask it to be my maid of honor at my future wedding.

Wedding plans aside, seriously, this sleeping bag is awesome. It has kept me beyond warm in temperatures in the 20's (I have yet to get a really cold night in there) and it's very comfortable and functional. I'm 5'5" and I haven't had any issues with awkward bunching or the zipper not working because of extra slack. It's really easy to clean and it stuffs down fairly well. I see this bag in my future for a while!
saves wallet and butt
Familiarity:

I've put it through the wringer
Bought this for winter hiking in the southern portion of the AT on my thru-hike. When it got down to the teens and single digits at night I would cinch it up to block out the draft and wear my down jacket to keep me just warm enough. This bag saved my hike! It WILL snag if you don't keep the fabric taut as you zip.
Perfectly pleased
Familiarity:

I've used it once or twice and have initial impressions
I was looking for a solid bag to replace the old super heavy one that I own. I didn't want to spend too much money either. This bag satisfied everything I needed and wanted and more. I've used it a couple times and have never slept so warm in my life. (I have bad circulation to my feet so they are always cold, but every time I've used this I've not had any problems). Not super light so won't be perfect for extensive packing trips, but definitely my go to bag for the overnighters and traveling from now on.



I really like the material and feel of the bag. I was a little nervous with purchasing Marmot as some people have had issues with tearing, but this one feels like it will last. I also really like how they have glow in the dark tabs on the zippers, so much easier than fumbling around for it.



I'm 6' even and the regular size fits me with plenty of room to spare, so the bag is plenty large enough and doesn't run small.



Just wish we'd get some snow so I can go snowcaveing...
What is length of regular and long bag? Regarding the Trestle 15

Thanks
The regular is 6,0 and the long is 6,6
Great for spring and fall...
Familiarity:

I've used it once or twice and have initial impressions
I've only gotten to use this bag once, but I was impressed with it nonetheless. I took it out and temps got down to below freezing and I stayed cozy in my tent throughout the night, but I also wore baselayers while sleeping. The bag comes with a stuff sack that has compression straps on it, but doesn't compress well. It is sythetic so that is expected. I would recommend this for beginner or novice hikers that don't mind bulkiness and extra weight. Not for hikers who are looking to go light, but for the price it's a great bargain and well made.
best sleeping bag i've bought
Familiarity:

I've put it through the wringer
The photo above shows the length of the bag against my two person Kelty tent. Fits nicely inside.



I lived out of my car for three months in Jackson Hole to puruse all things nature has to offer as cheap as possible and used this as my covers/bed. It was fantastic. One morning I woke up and realized I had kicked over my toothpaste and it squirted all over the sleeping bag in the middle of the night I washed it and it was good to go. No rips, no tears, no damage after using it every single night for three months not to mention taking it on various camping trips. Very warm. When I had it zipped up all the way I never had issues getting cold.
Nice Bag
Familiarity:

I've used it several times
Kept me comfy and warm up high in Colorado and under the stars of the cold desert night in Utah road camping . A bit heavy and bulky for me personally for a backpack but that's just me.
Thumbs up.
Familiarity:

I've used it once or twice and have initial impressions
Used the bag in upper 20's and low 30's without a sleeping pad, was still very warm and comfortable. It packs a little big, but I had no problem fitting everything needed in my pack. I'm 145 at 5'7" and purchased the regular size - it was perfect, some room to spare.
Sleeps great, have used in warmer temps and have been fine. Cleans up well. Wish it would roll up smaller but that might be me. Also the zippers catch and have torn fabric on 2nd use, bummer. But overall I love the bag. Have one for myself and oldest son.
Does any one know if you can zip together the long version with the regular size version? I'm 6'4" and my wife is 5'2"
Best Answer
Hey Johnny,

Marmot says that you can zip together the long with the regular length and long as they are opposite side zippers.
Awesome bag
Familiarity:

I've used it several times
I've used this bag quite a few times and I love it. I've taken it down to -10c and stayed perfectly toasty and warm, even in a hammock. I would recommend this hammock to anyone looking for a solid sleeping situation
Zip-together compatible!
Familiarity:

I've used it several times
First of all, this bag is super comfy and warm. It's not TOO skinny that it's constricting, and it's not TOO wide that it's breezy. I'm 6'1, 180 pounds, and the Long XL-Wide seriously hits the money spot on size for me. I got the long wide, and my wife (like, 5'5) got the regular size- and they zip together just right- as long as you get one right zip and one left zip. Another nice feature if you're planning on zipping together these bags (even if you're not, for that matter)- is that each bag has about a foot and a half long zip down the opposite side of the main zipper- which is nice for temperature regulation. muy bueno!
Does this compress well. I want to fit it into the backpack sleeping bag area at the bottom of my pack with no issues. Thanks NES
Synthetic insulation will never compress as well as down but this sleeping bag is very skinny(mummy)so it will pack small. You will not have any issues getting this bag into a sleeping bag compartment but if you want to compress as much as possible check out some compression sacks.



Eric Watford

Expert Gearhead

ewatford@backcountry.com

800-409-4502

Ext. 6069

Instagram: @ericwatford