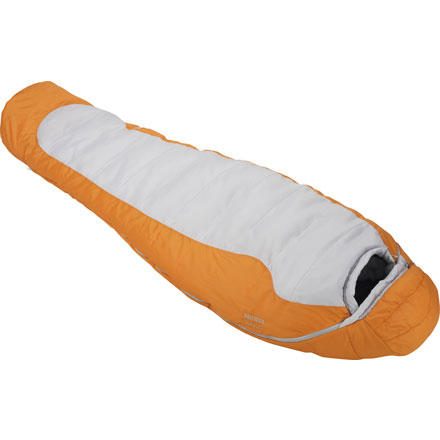 Community Images
No need to pinch yourself, you're not dreaming. The Marmot Trestles 0 Sleeping Bag is really zero-degree rated, and it really costs this much. Whether you're headed out for your first winter camping trip or your hundredth tour this season, the Trestles 0 is ready to keep you warm in the foulest of conditions with high-lofting, damp-resistant Spirafil synthetic insulation and bulletproof Marmot construction. If you're turning up your nose as you read this and fondling your billion-dollar down expedition bag, get smarter—the Trestles 0 is the perfect bag to have in your back seat when your Subie slides off the road mid-blizzard.
mmmm, ok bag
Familiarity:

I've put it through the wringer
bought the this bag in long and used it for a few trips. The bag is warm, no doubt about that. I slept on snow at 12,000 feet in kings canyon after an October storm with temps in the 20's and was toasty in my under-roos. Now for the bad, the bag is heavy...I mean really heavy. It is also very big and hard to pack into even a 65 or 75L pack (stuff sack used). After a few tries I think this bag is best relegated to car camping.



This was a good bag in that it taught me about what I want in a backpacking bag. Now I would go with something a lot lighter, smaller, and more versatile than the marmot trestles. The marmot plasma 15 will be my next purchase.....a little pricy, but surely a great investment......and with backcountry's amazing customer service why not give a killer bag a try?


Great sleeping bag!! This thing really keeps you warm, i had to shed layers!! awesome for cold weather i highly recommend and for the price you cant go wrong!!!
I bought three of these for my kids. They love them!! We have camped in 20 degree weather and they performed with great. The only issue is they take a few minutes to fit them completely in the stuff sack but even that is minor. For the price, these bags are stellar in performance. Highly recommend them.
As far as packing goes do you think this...
As far as packing goes do you think this would be worth the extra size for the temperature?
It depends on the temperature while you are backpacking. Assuming you are comparing this to the Trestles 15, I think it is worth the extra $20 dollars for a 15 degree difference. By no means is this an ultra light bag. Remember, the weather in mountains is unpredictable when a night is foretasted to be 20 it could easily drop down to below freezing temperatures. If a bag is too warm, you can always partially unzip the bag, you can't say the same if the temperatures suddenly decrease.
Unanswered Question
What size Sea to Summit Dry Comp bag does...
What size Sea to Summit Dry Comp bag does this fit in to?
I used this bag in 30 degree weather and was super warm all night. The only negative is how heavy and bulky it is in the stuff sack, but if you're car camping and want to be cozy without spending a ton of money this is the perfect bag.
Great Bag at a Great price
Spent last January in the back of a truck in Colorado and Wyoming. We saw temps hit -34 a couple of nights and I was still somewhat warm in this bag. The hard part was getting out to start the truck! But the bag will keep you toasty easily down to 0 degrees and then some. I'm very satisfied with this product.
Bought this on sale for a last minute snowshoeing trip to Bryce Canyon, UT. Got down to -6 F the first night and I was toasty warm. Second night was -4 F with the same comfort level. I've also carried this in the bottom of my backpack (sometimes a b*tch to get it in there) on numerous other trips, although it is bulky. But hey, what did you expect from a synthetic fill bag?
My advice would be to just get a good compression sack along with this bag....
Two other details:
1. Mine is a year old and has a small draft tube.
2. Mine has a full length zipper on one side and a 1/4-1/3 zip on the other side, a great detail that makes it easier to drink hot cocoa while still inside.
All in all, it's a bag that allows you to flip Santa the bird and go on that Christmas backpacking trip you've been wanting to take...
First of All GREAT PRICE, im very cheap.
But no Joke, this is a great bag and i definitely believe the 0 degree, even though it only dropped to low 30's when i used it but i couldn't be more comfortable.
So I'm trying to decide which bag i want...
So I'm trying to decide which bag i want to buy, and I'm between the marmot Never Summer and the Trestles 0. I've read reviews saying the trestles is bulky, but I've read others that say the never summer is bulky. Is it worth it to spend the extra money and go with the down or is the synthetic worth the warmth/size difference?
Hi Elliot. After I bought my first down sleeping bag, I strongly preferred them over synthetic. I believe they are way more comfortable and compact. In my opinion this is worth every penny. With down there is the issue of getting it wet. This is why I use the Sea-to-Summit eVent stuff sac which is waterproof. I also take an appropriate shelter based of weather conditions (you won't see me roughing it like some of these guys do, sleeping under a tarp in a downpour). The only reason I would choose another synthetic bag would be if I moved backed to the Pacific coast where it rains almost all the time. Another thing to consider is how often you will use this bag. If you plan on backpacking/hiking/mountaineering quite often, definitely go with the down bag. If you only expect a few outings, save yourself some money and go with the synthetic.
I'm 5"11 and 175lbs~ I like room when I'm...
I'm 5"11 and 175lbs~ I like room when I'm sleeping (as I move and sleep on my side a bit), but as warmth is a concern, I don't want to be flopping around in my bag. Should I opt for the Reg or the Large?
From a height standpoint, you can use a regular. I'm 6' and about 20lbs heavier, also prefer a slightly wider cut, and usually stuff my clothing into my bag with me, so I personally like longs. It's more air at your feet, but really not a huge difference in the circumference, and it might give you that extra bit of room you prefer. The extra length has never been a problem for me, and it gives me the room to really stretch out before I get out of my bag.

Hope that helps.
Will this bag zip together with another...
Will this bag zip together with another Marmot Trestles? What about a Never Summer?
Yes, it will. My wife and I both have one, and we go backpacking together and they zip together perfectly. Just get one left zip and one right zip. Mine is a trestles 15 and hers is this one.
Unanswered Question
How far down does the entry zipper go
How far down does the entry zipper go
This baby is warm! Im 6'3'' 280 and it fits like a glove. The spirafil gives the bag such a nice cozy loft. The only potential downside could be the zipper. But for the price you cant go wrong!
Does this bag have zipper access at the...
Does this bag have zipper access at the foot?
No zipper across the foot, but does have a second 1/4 length zipper at the top for venting the bag if it gets too hot.