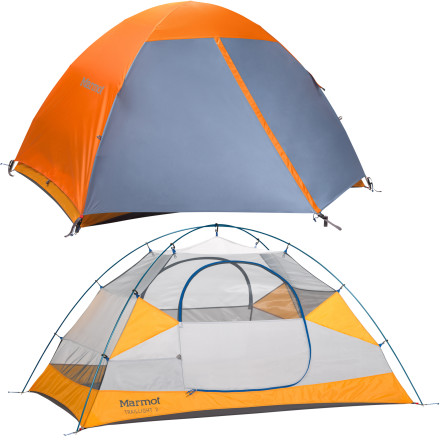 The Marmot Traillight 2-Person 3-Season Tent with Footprint is a lightweight, durable, feature-packed shelter for two with enough interior space to let you move around and get out at night without disturbing your buddy.
Polyester ripstop fly with PU treatment repels moisture to keep you dry if the rains come
No-See-Um-Net canopy panels keeps you cool on warm summer nights and let hot, moist air escape
DAC press-fit poles give you sturdy support without adding much weight to your pack
33 square feet of floor space leaves enough room for two mummy bags
Vestibule space gives you room to stash your packs out out of the weather
Bare Bones set up lets you use just the fly and a footprint (included) to create a super-light shelter
Jingle-free zipper pulls and a snag-free zip mean easy, silent exits and entrances
Reflective guy points make it easier to find your tent when you come back to camp after dark
Includes custom footprint that enhances your comfort and prolongs the life of the tent
I've used this tent several times now camping and it fits perfectly. It can hold me, my pad, and my gear. It's a little tight and compact but I like that cozy feel - especially because of how little it weighs and how easy it is to set up.



You'd be able to fit two people in here without gear - but if you're going to stash your gear inside the tent you'd have to cuddle up ;)



Can't wait to take this on my next adventure.
Home away from home.
Gender:

Male

Familiarity:

I've put it through the wringer
I've used this beast for almost two years now, mainly weekend trips with my dog. When backpacking in less windy areas, I keep the tie downs off and only stake the vestibule and back. This makes it much easier to pack, along with putting the poles in my sleep pad roll.

So far, it's been abused quite a bit with rough treatment, sparks, sloppy packing, and of course the dog. Only visible wear is the patched holes on the front mesh.

This tent is great for two cuddly people, or you and a dog (mine is 80lbs). I've done both before and wouldn't recommend it though.

Only complaint is that there's no easy way to determine which way the footprint sits until you have your tent on it (one side is slightly larger than the other, like the tent). Now I just remember that the tag on the footprint faces up and in the back.



Edit: I forgot to mention; I clip the rain cover to the footprint instead of the tent. The pressure keeps everything together without staking the corners.
Love It!
Familiarity:

I've used it several times
Amazing tent best I've used yet. I go hiking/camping a lot and for my needs this is perfect. Easy 1 person setup and teardown. Recently used this for a 1 nighter it got to the low 30°F with heavy fog and frost advisories. Completely dry on the inside and stayed plenty warm. The only reason for 4 starts instead of 5 is to me its not quite enough room for 2persons comfortably. I had me and my gear and it was perfect to still be able to move around a little bit without feeling crammed. Though two people could fit. Sleeping close. Very close. I hope this helps in your decision. I'm very pleased with my purchase and encourage anyone and everyone to get this tent as well.
Random question I'm sure but in my old MEC...
Random question I'm sure but in my old MEC Tarn 3 tent the actual tent bag is waterproof, is this the same for the Marmot Traillight 2?
The tent storage bag is made of water proof coated fabric, but the seams are not sealed, so it is water resistant, but not water proof.
Very Nice Tent
Familiarity:

I've used it once or twice and have initial impressions
The Marmot Traillight 2P Tent is easy to set up, only took a few minutes the first time I set it up, and very easy to tear down and put back into its caring bag. Its just big enough for one person and their gear or pretty cozy for two people. The only bad thing about this tent is it isn't the lightest tent you could purchase for the same purpose. But being around 5lbs it isn't too bad.
A great tent!
Familiarity:

I've used it once or twice and have initial impressions
I used it for the first time this past weekend. I hiked Mt. Shasta. It was really easy to set up and anchor. The main vestibule has plenty of room. The other one is pretty small. Good for your boots. I was able to fit my pack in there ( Kelty Redwing 50). I will call this tent a 1.5 person tent. It is perfect for a solo person. Plenty of room. If it is you and your significant other it would probably be fine. If it is you and your buddy, you are going to be quite cozy. It has 2 side storage pockets for miscellaneous small items but I would recommend getting a gear loft. My only complaint is that the tent is about 2 inches too short for me. I found my feet or my head would just barely be touching one end. I am 6'2 however.
Sturdy and Durable
Familiarity:

I've used it once or twice and have initial impressions
I brought this tent to Moab last weekend and there was an intense rain and wind storm all night into the early morning. Heavy downpours and 40mph winds. It was the Moab flash flood season so I was a little nervous about it staying dry and, well, on the ground. This tent could not have been more dry. I got out in the middle of the night to check on the stakes since the wind gusts were incredibly strong and they were just as secure as when I first put them in even though I was surrounded by ankle deep mud.



A lot of my friends had their tents collapse during this storm but the Marmot Traillight survived.



In addition to that, it's pretty roomy for a 2 person tent yet doesn't compromise the weight. It comes with a footprint as well which is unheard of.



Love this tent!
What is the difference between the packed...
What is the difference between the packed weight and trail weight? What exactly is not being considered or included in the trail weight?




The trail weight does not include the ground cloth.
Hey Paul,



To kinda expand on that the packed weight of a tent is typically everything that comes with the tent and can include stuff sacks, tent, fly, poles, footprint (if included), gearloft (again if included) and stakes.



Trail weight is just the essentials for setting up the tent: fly, poles, tent, and my exclude even the stakes if its a free standing tent.



If you come across a tent that list fast pitch weight then that is just the fly, poles and footprint.
In this category of tent, check out the Alps Zephyr 2. Lighter, cheaper, and still retains great features.
Awesome tent!
Familiarity:

I've used it once or twice and have initial impressions
I bought this tent for backpacking and car camping. I used it for the first time on a car camping trip to the Sam Houston National Forest this weekend. The set up is super easy! I was able to assemble it in minutes by myself. I got this tent because of the two doors, which is a huge bonus! There is a large vestibule big enough for two packs & a smaller one that actually fit my friends pack as well (although it was not very full since we were car camping). The color is actually much different looking for the hatch/dark cedar than it looks online. It's very light weight which will be nice for backpacking. Some other reviews complained about it being tight for two people, but I found it to be roomy enough for two of us. It's a great tent & you can't beat the price.
I'm a little afraid due to the price being...
I'm a little afraid due to the price being so cheap... do I have anything to be worried of?
Best Answer
Hey Adam,



This is a new item that happens to be on sale right now. If the tent meets your needs, you have nothing to worry about from it's performance or Marmot's guarantee. As far as Backcountry goes: their customer service is impeccable. You're not only making a purchase, you're creating a relationship. Without a doubt, the fairest and most customer focused retailer I've ever had the pleasure of dealing with. Put all your worries aside, and if this is the tent you want, go for it!
My other home...
Familiarity:

I've put it through the wringer
I lived in this thing for the past summer while working on the Colorado Plateau (ie Moab). It's a great little tent for the price. It stands up to pretty strong winds without a problem (if you have the guylines staked out) and has endured a few pretty intense late-summer thunder storms we get out this way. It has enough room for me and all my junk I like to bring along. I haven't tried to fit two people in it, but I imagine it wouldn't be too bad if they didn't mind sharing space. Like any tent, when they say two-person, they mean two bodies and no other gear. The rain fly is wide enough to let you store some stuff under it, but you could also get a pack cover and get along just fine.

Here's my list of negatives:

The rain fly can be a bit awkward. You have to stake it down by the doors so it won't flap around, which effectively cuts the opening for the inner tent in half. I usually load my gear in before I put the fly on, it's just easier that way. Also, to open the side that extends out further from the inside can be a trick since you have to reach to get to the zipper.

Ventilation with the rain fly on (when it's hot and the air's not moving) is limited.

It doesn't keep dust out at all (but what modern backpacking tent in this price range will?).

Zippers jam up sometimes (probably from dust, but that's all the experience I have with it).

Internal pocket organizer space is limited but good enough to get by.

I love that it comes with everything, including an extra stake and a pole repair tube and footprint. It's light enough that I wouldn't hesitate to take it backpacking (though I haven't had the opportunity yet).
Nice Tent...Great Value
Familiarity:

I've used it once or twice and have initial impressions
I just received this recently as a gift and have not had a chance to test it in bad weather however it seems good so far. First off, one of the things I love about it is the price/value ratio you get with this tent. You really can't ask for a better deal due to the fact that everything is included. One pet peeve of mine with buying tents, especially expensive ones is that once you pay the hefty price, you have to buy additional stakes, guylines, and footprint. Marmot includes everything you need to set this up in a full storm, once you pay for it, that's it. As others have noted, there are two vestibules for gear storage. The front is about average size and the second is only really good for storing a pair of boots. The second door is really nice to have, thus eliminating any need for climbing over one another. I have the Orange color which stands out, which might turn off some people, and the Marmot logo is made with a reflective material/paint making it easy to get back to at night with a headlamp. Inside is just enough room to fit two people comfortably, however you'll probably have to either leave your packs outside or sleep with them under your feet. The doors and zippers open freely and have soft tabs on them so they don't make a lot of noise. I think the doors are a bit small, but you have plenty of headroom to sit straight up. Nice tent overall, I'm going to take it out this weekend and am expecting bad weather so we'll see how it holds up. Guyed out it's a very study design, I'm pretty sure it'll hold up to some nasty weather, including moderate snowfall. Four stars only because I haven't tested it thoroughly in bad weather.
Great for price.
Familiarity:

I've used it once or twice and have initial impressions
Enough room for 2 smaller pp and packs and best of all it's very easy to assemble. Very small second vestibule but it's nice not to have to climb over someone.

Compared to others in same price range, weight and commodity are a plus.
why does Traillight packs 8 inches longer...
why does Traillight packs 8 inches longer than some of the other Marmot's 2P?
Best Answer
Hey Bonxie,



I was confused when looking at the specs of this too, however I just received this tent as a gift and found that the tent poles break down into longer than average sections. The stuff sack with the tent inside is pretty long but narrow. Hope this clears up the confusion.
In addition, if you're concerned about backpacking, this thing can stuff into a 8 liter compression sack with no problem!