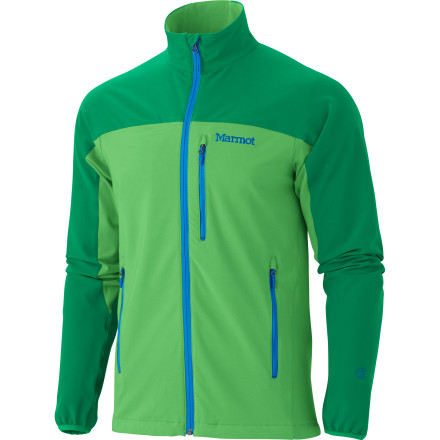 Detail Images
If you're looking for lightweight, flexible, and seriously breathable coverage for your torso during hikes, runs, rides, or simply during the daily routine, then you're looking for the Marmot Men's Tempo Softshell Jacket.
Marmot's M3 softshell material offers the maximum breathability and stretch with light moisture repellency, making it ideal for high aerobic activities in drier climates
Angel-Wing Movement shapes the jacket specifically for a wide, free range of motion at the arms and shoulders
Lycra Bond sleeve cuffs maintain a tight seal at the wrists to keep heat in and chilly air out
Reflective trim and logos help make you more visible to motorists in low light
Interior pocket features an audio headphone port so you can listen to tunes
Wrong size
Familiarity:

I returned this product before using it

Fit:

Runs large
Marmot's jacket size highly depends on where it is made. I personally prefer those form El salvador rather than China. They have athletic cut and fit better plus they are half size smaller than similar size of China made. I had to return this product cause it was too big for me (China made).
Great lightweight soft shell
Familiarity:

I've used it several times

Fit:

True to size
This softshell is perfect for active pursuits in cooler weather. I wore it on a quick hike with temps in the high 40's-low 50's and was plenty warm without getting overheated. The fabric breathes well and is water and wind resistant for light rain and slight breezes. Overall a great jacket for the shoulder seasons.
Wispy Thin
Familiarity:

I've used it once or twice and have initial impressions

Fit:

Runs large
Nice looking jacket, but really nothing more than an expensive zippered wind shirt.
I will need to return it. I got the Medium through recommendations from people who were around my size. I am 5'7" 167lbs and of muscular build with big shoulders. I usually buy a Medium in jackets but this one feels like a size Large on me. The sleeves extend around 5 inches past my hands. A size Small would have been perfect, I guess, but they are completely out. :(
versatile lightweight soft shell
Gender:

Male

Familiarity:

I've put it through the wringer

Fit:

True to size
Short version: a fantastic lightweight softshell, very breathable and able to resist light to moderate weather. Fits true to size.



Long version: I have lived in MI, KY, and TN over the past few years and this jacket has served me well through several seasons. The Tempo is very thin and lightweight, while also being very stretchy. This makes it great for giving you some wind or light rain protection when you are out and about. This jacket is not meant to shed the rain, but I have found it handles a light rain well and doesn't soak through.



How I use it: I very often use this jacket for some weather protection when its cool outside (45- 65). I reach for it when walking around town, walking my dog, or when on shorter bike rides (<10mi).



What I don't use it for: When it gets colder (upper 20- 40's) I reach for my Marmot Prodigy or Arc'teryx Gamma MX. If you are looking for something for rainy days or that is windproof, the Tempo isn't what you are looking for. I also wear this over a sweater or light fleece for a little added weather protection.



Fit: I am about 6' and 185 lbs and own both a medium and large (like the jacket so much I grabbed another one when a good sale came up). I find the medium has a more athletic fit that isn't too tight, almost feels like an over shirt more than a jacket. The large has enough room for use when layering, but definitely does not look too big or baggy when worn over a T- shirt.
Nice Jacket
Familiarity:

I've used it once or twice and have initial impressions

Fit:

Runs large
A friend had this coat, and while playing golf, it got cooler than expected, so i borrowed his marmot. Really liked it, so i ordered this one in cobalt blue (seems a little lighter blue than the pic on here). Ordered the large at first, and had to return for a medium. I'm 5'7" 150, and wanted something that was not skin tight for activity... The medium fits perfect. i can see this will be my go to coat.
my winter running jacket
Familiarity:

I've put it through the wringer

Fit:

True to size
I'll review it based on the sole purpose I got it for. I got it for winter running. Did a lot of research and finally decided on this because of breathability. My initial impression was that it was way too light and I almost sent it back. But I didn't, and I've used it down to probably 15 deg. F and it performed great. For the colder runs I wear a long sleeve technical shirt under it. For warmer runs just a short sleeve technical shirt. It blocks the wind just right for running. I'll wear it running night or day. Using it just as a jacket it isn't real warm. I'll wear it around casually in "hoodie weather" instead of a hoodie, but no colder. It probably looks like I'm always headed out deer hunting! (I have the sunset orange version). My first piece of Marmot clothing but definitely not my last. 5'7", 140 lbs, male, size M fits great
I'm about 6' and weigh 180 lbs with an...
I'm about 6' and weigh 180 lbs with an athletic build. I'm stuck between a medium or large. I want it to be somewhat form fitting yet not tight. Any recommendations?
Best Answer
You're almost the same size as me so if it were me I'd put you at a size large.
I am just about your size and have both a large and a medium. If you want to layer a fleece or anything underneath go large. If you really don't intend to layer under this, the medium gives me a great athletic fit that never feels too tight.
Its growing on me
Familiarity:

I've used it several times
This is by far the stretchiest and most pliable soft-shell I have owned. Not exactly what I expected and a little put off at first, but glad I gave it a chance. I find it great for running in really cold weather with another layer underneath. Breathes well and does a good job of cutting wind. Also practical under a bigger shell when out in the back country as you can shed the shell and just use this as an outer layer when the going gets warm. Also a nice jacket to throw on on a cool day when headed out to the store or around town. Besides the two zippered "hand warmer" pockets zippered chest pocket, there is an inside zippered pocket that is nice and practical. Other reviewers have noted the long long arms, but I find that feature nice - you can reach up and stretch out and the sleeves won't ride up on your arm. I generally find myself in between L and XL for jackets to get the length and sleeves right. In this jacket a L is plenty big.
WAAAY TOO LONG
Familiarity:

I returned this product before using it

Fit:

Runs large
I like the fabric for the weight and use it was intended for, but I don't know why Marmot would make a jacket soooo long when it is intended for cool temps - not the arctic. I'm used to jackets running a tad long when it is a parka or winter, insulated jacket and cooler weather jackets being cut higher.
Very nice jacket as a liner
Familiarity:

I've used it several times

Fit:

True to size
Not the warmest, but does good with wind, works great as a liner for a heavier jacket!
My most used jacket
Familiarity:

I've put it through the wringer

Fit:

True to size
I use this jacket more than any other piece of outdoor clothing because it is so perfect for a variety of aerobic activities when the weather isn't bitterly cold(snowshoeing, trail running, quick ascents). I don't have any great superlatives for this jacket because it doesn't show off. You won't find yourself bragging about this piece to friends, or wearing it to the Banff Film Festival, but it will find its way into your bag time and again.
I purchased this as a lighter jacket than my Sharp Point which I love. I got last year's model for $66 the fit in the body is about the same as the Sharp Point but the sleeves are 2" longer than the Sharp Point. Both are mediums.
Proud owner!
Familiarity:

I've used it several times

Fit:

True to size
1. The colors "pop" or are bright. I personally have the Cobalt/navy and the blues are just what I wanted.

2. Per usual, Marmot jackets have great range of motion in the arms.

3. Yes the sleeves are long. I have longish arms but the sleeves come up to my middle knuckle on each set of fingers. It is nice if you tuck them into a pair of gloves, you have room to tug them out a bit so you have some range of movement.

4. This is a M3 lightweight jacket. It is designed for light use in fall/spring/cool summer weather. I would use it as a layer during the winter, it is thin/breathable enough to use as a 2nd layer (the long sleeves tucked in would work well to keep snow out!). I did go for a short "lunch-break" hike today in it, 55F-slight breeze-2mi hike. It was perfect for keeping the chill out but not making me sweat.
Great Jacket
Familiarity:

I've used it several times

Fit:

True to size
Perfect weight for Pacific Northwest rainy season. Not so heavy that it feels bulky, just right for those 45 - 55 degree days with misty rain.
Great Jacket
Familiarity:

I've put it through the wringer
This thing fits great and is not bulky at all. I wore this sucker hiking Rainier the first week of September and it held up against the wind pretty well. Also wicks water better than I expected too and keeps you warm. The arms are a little bit long but the fit of the jacket helps combat that.



Update: the stitching on the wrist started to come undone after 6 months. Other than that a good jacket.
Overall great, but LOONG sleeves
The M3 fabric is unbelievable for windproofing, light rain/drizzle it stands up perfectly.



only gripe is that the sleeves are wicked long, while the chest seems a size down.

makes sizing an issue
love this jacket
Familiarity:

I've used it several times
I got one of these jackets and I love it. It keeps you warm without having to be big and bulky. It also just looks really nice.
I love it!
Gender:

Male

Familiarity:

I've put it through the wringer
This is my go to soft shell jacket. I have worn it during runs when the temp drops pretty low (20's-30's), I wear casually nonstop through winter, as a layer when I'm snowboarding, and you will always see it in my pack. It breathes well, durable, and doesn't impair my range of motion. The water resistance is just that, water resistant.. BUT I TELL YA WHAT! It keeps the rain out (unless you go swimming or you spend a long time out in the down pour, in that case you should be wearing a hard shell...) and it dries pretty quick! It is an awesome jacket, received many comments, and I wear it all the time. Definitely not a bad price, either. I would have paid more for this jacket, and you can bet I'll be getting another one when mine decides to wear out.

I've had it for about a year and a half and it doesn't show any signs of wearing out any time soon. The reflective emblems are even still in great shape! You really get a lot of use out of this jacket.

I'm 5'8", weigh 155-160 pounds, have a medium, and it fits perfectly, with enough room for a base layer and a fleece, maybe another layer.

Feel free to ask any questions about this. Like I've said, I have worn it a lot the past year and a half, so I know this jacket like it is part of my body. I never go anywhere without it.