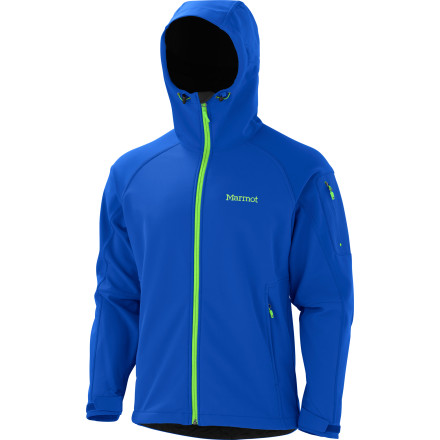 Detail Images

Community Images
The M1 softshell material goes the extra mile to provide protection from wind, wetness, and cold when you're wearing the Marmot Men's Super Gravity Jacket. Whether you're ski touring on a cold morning or snowshoeing into the backcountry in more mild weather, this versatile jacket lets you move freely thanks to it's flexible Angel Wing design. Marmot gave the Gravity Jacket a athletic cut and plenty of adjustable options so you wear it alone or as a layer.
M1 softshell fabric has a construction that's highly breathable and resistant to wind and water so you stay dry in light rain and intermittent snow
Core Venting Pack Pockets help exchange the hot air inside your jacket with cool air outside and give you a place to quickly store your skins
Angel-Wing Movement uses a gusseted design to give you a wide range of motion in the arms and shoulders
DriClime-lined collar and chin guard adds an extra touch of comfortable detailing
Water-resistant main zippers and accessory pocket zippers keep the elements from sneaking in
Unanswered Question
ROM or Super gravity ..heaviest and best h20 protection ???
Hi : do you have dealers in middle east if you have which country ? Thanks
Backcountry.com does not have dealers in the Middle East. If you had any friends or family here in the US, they could receive the items then forward them along to you.
I am 6'1" & 240 lbs. the middle is rounder than "athletic". Can i get into a XL Super Gravity with a thicker base layer? If not, what comparable jacket would you suggest that comes in XXL?
Impressive
Gender:

Male

Familiarity:

I've used it once or twice and have initial impressions

Fit:

True to size
I just received my jacket the other day and got to use for the first time. First impression, I'm very happy with my purchase. I used to work at a manufacturing plant that had lots of sewn products and can tell immediately the stitching is impressive on this jacket. Straight lines, evenly spaced, extremely low amount of loose threads (only managed to find one!), and generally well put together.



On my first outing with this jacket, I got to walk in 35degF weather with 25mph+ Kansas winds. Didn't feel a thing and was warm in a T-shirt while I joked with my friend as I watched him grimacing against the chilly wind. Can't wait to see how it holds up in the coming precipitation.



For reference, I am 6'3" and 220lbs and ordered an XL. It fits great and is plenty long in the sleeves and torso. The jacket is an athletic fit so it isn't super baggy which I like. I tried a sweater on underneath the jacket when I got it, and still had plenty of movement underneath.



I want to give a shout out to the Backcountry staff, thank you for you help in picking this out. They provided excellent assistance and made me make the hard decision between Marmot Super Gravity and Black Diamond Dawn Patrol LT. I went with the Marmot as I have seen their quality in the past with my tent, wanted a little heavier softshell, and the price was a little cheaper. I was able to buy with confidence knowing Backcountry's stellar return policy and I am extremely pleased with the input and help during my purchase!
good jacket
Familiarity:

I've used it once or twice and have initial impressions

Fit:

Runs large
I recently purchased this jacket to replace a Mountain Hardwear Soft Shell jacket. I'm 6'5 260 and purchased the XXL. One reason i chose the Super Gravity was the hood and it did not let me down. One thing i have noticed is that if you do not have a pack on the first place I get cold is my back. The jacket runs large enough for me that i can where a down jacket underneath and still be comfortable. I just purchased the Marmot Zeus Jacket to wear as a mid layer with this softshell, with the goal of not needing to buy an actual insulated winter coat. I will update when have tested this combo. The arm pocket is perfect for chapstick or a ID and Credit Card if your not going to carry a wallet. I have noticed a small tear in the stiching inside the right pocket along the fleece.
What is the center back length of a medium?
Unanswered Question
Does the hood have a bill? If so, about how far out does it extend?
I'm 5'10" 150#'s and I like a snug fit , what size should I get? How does this fit compared to the gravity jacket?


Hey There,



Most likely you are going to want to go with a size M. This jacket is cut for an athletic fit. Here is Marmot's fit guide for you to reference your measurements.



http://marmot.com/content/product-info/sizing



Also, the Gravity is a regular fit, and a much looser cut.

If you have any additional questions about jackets or other gear, please give me a call at 801-736-5313 or email at gconner@backcountry.com


Does this jacket have a lining in it at...
Does this jacket have a lining in it at all?
Best Answer
If you mean insulation, then no. This is purely a softshell "shell". It doesn't have a mesh liner or anything like that either... It's a little hard to describe what the inside surface of softshell usually feels like, I might suggest going to a local outdoors store and feeling it yourself to get a good idea of what it is. It's not soft to the touch like a fleece is, but it's also not cold/hard feeling like many hardshells can feel like... kind of in-between those to a bit?
hello, i know this answer is about 10 months late, but i have one of these, and it does have a lining. Its kind of a micro fleece lining, this jacket is very warm, great for activity in the snow, even with rain and wind. i wear it with just a Tshirt underneath, or sometimes a thin midlayer when temperature is less than 20 degrees F. This is a great winter jacket, very similar to TNF Apex Bionic. Having both, i can say that Marmot is a notch above, they pay more attention to the little details.
since this is an "athletic fit" jacket,...
since this is an "athletic fit" jacket, what size should i go with; i am 6'2.5'' and 210lbs..
I am 5'9.5" and 150lbs and the Medium fits me quite well. Given your weight and that you have 5 inches on me, I'd probably go XL
Hello, I was just wondering about sizing...
Hello, I was just wondering about sizing on the Super Gravity, I looked at the sizing chart and I think I would go with an XL (6'2" slim, long arms and torso) but I wanted to see if anyone had any more input. I know it is an athletic cut, but I am not looking for something too form fitting, and would like to be able to layer at least a hoodie underneath the jacket.
Hey Adrian, if its any consolation to you, I've been wearing Marmomot shells (and a puffy) for a few seasons. I'm 5'8" and always get a Medium. I find every time that they run true to size very well. I also prefer low profile stuff, but yes, need that athletic fit for layering. This hasn't ever been an issue for me, so I hope thats encouraging for you.
I have only tried on this jacket once, but I have worn the Marmot ROM on numerous occasions and it is a very similar softshell piece. I am 6'0" 180lbs and wear a large. With your height I would agree with your initial reaction of doing an XL.
another marmot jacket worth reaching for
Familiarity:

I've put it through the wringer
Perfect for fall and early winter. or anyone who is Active in such weather conditions. Has no skirt so not really made for the powder. This is where layering comes in handy. Shell material is durable/ stretchy/ and weather resistant. Only minus is.... Tends to bunch up base layer in the fore arms and somewhat in the upper arms too if you wear a fleece or long sleeve base layer underneath but it still works really well to help block the wind while still utilizing the angel wing feature of the coat not riding up your torso when lifting your arms. Just wish Marmot would make garments that took in consideration of those that have fuller arms whether it be Popeye or the occasional bingo wing :) core and or feature wise.... over all, nearly perfect for the price range.
Unanswered Question
Hi, I'm 6', 174 lbs - what size should I...
Hi, I'm 6', 174 lbs - what size should I get?
Excellent Jacket
Familiarity:

I've put it through the wringer

Fit:

True to size
I used this jacket for 120+ days of skiing at Alta last season and I was never disappointed by it. I was initially worried that it would not hold up well on the really cold or heavy snow days, but it went well passed my expectations.



I really liked the fleece on the inside of the jacket because on milder ski days you could wear it by itself and completely warm. The hood fits well over a helmet, which means its a bit large without a helmet, but it can be cinched to fit either way. The pockets covered all of my needs and velcro on the wrists was great. I also really liked the cut of the jacket, I bought it a size big to allow for layering underneath, but it fits great.



My main point against the jacket is that it doesn't have a powder skirt. This might not be much of a concern when using it on the East Coast, but the Utah powder was a completely different matter.


Pre/post training
Gender:

Male

Familiarity:

I've put it through the wringer
I race K1 sprint kayaks and train year round in the sate of Washington. During the winter months when it gets cold, having great gear is not just nice, it is critical to my training and development.



I chose this jacket to wear before getting out on the water when I wake up @ 5am and when I get off a couple of hours later. It is a great softshell that repels the Seattle water, comes with a great fitting hood and most importantly - allows warm-ups and stretching in comfort while keeping me nice and toasty.



Highly recommended for any athlete looking for performance gear that is warm, water resistant and doesn't get in the way of your training.
Which would work better for an all around...
Which would work better for an all around soft-shell, the ROM, Super Hero or the Super Gravity?
Best Answer
I've been looking at those jackets as well trying to find a good all-around softshell and can give you my observations.

The ROM is the lightest, most flexible jacket with almost no insulation (brushed material). The Super Gravity is the heaviest, most durable material with a fair amount of fleece lining. The Super Hero is right between the two with heavier fleece in the hood, shoulders, outside of arms and brushed material on the rest.

The ROM and Super Hero use Gore Windstopper, whereas the Super Gravity uses Marmot's proprietary laminate material. All are windproof and are water-resistant for everything but an extended downpour or sitting in the snow. The ROM is the most breathable with stetch panels on the side of the torso arms (that increase breathability, but don't block the wind or cold). The Super Gravity has no venting other than the pockets. The Super Hero is again in the middle with breathable panels under the armpits only.

Feature-wise, they're all pretty similar with an adjustable hood, velcro wrist cinches, waist cinch, handwarmer pockets, and interior pocket. The ROM and Super Hero have Napolean chest pockets whereas the Super Gravity has a bicep pocket. The notable exception is the removable hood of the Super Hero, which may be useful, but adds a bit of bulk around the collar.

They all have an athletic cut. The ROM and Super Hero seem to be cut long and straight, whereas the Super Gravity has more of a taper to the cut. The ROM is the longest, loosest fit and has the most stretch. The Super Gravity is the closest fitting, particularly around the bottom hem of the jacket, and the thicker soft shell doesn't stretch much (but I've read that eventually it will soften up a bit). The Super Hero is cut somewhere between the two with an athletic and slightly stretchy fit (but with surprisingly long arms). All have a collar that covers up the neck when zipped, but the Super Gravity has a really high collar which covers your mouth/nose and does a good job to seal out the cold when the hood is up.

All of the jackets look good and come in a variety of two-toned color schemes and monotone black. All of the labels/logos on the ROM are reflective stickers (not sewn in) which looks a little cheap. The Super Gravity's bicep pocket (in contrasting color) may look a little odd to some. Unfortunately, the contrasting zippers/logos on the Super Hero are very bright and spoil the look of the jacket (in particular, the blue jacket with the yellow accents).

I think either the Super Hero or Super Gravity would be the best choice for an all-around jacket, as the ROM seems to be more of a windstopper for aerobic activities. If you tend to get cold, plan to use it for cold-weather activities, or are looking for a thicker, more durable jacket, the Super Gravity might be a good choice (keep in mind that you may want to size up if you want to add a lot of insulating layers underneath). If you'll be using the jacket for high-energy/aerobic activities or if you want the flexibility to adjust the warmth by adjusting layers, the Super Hero might make sense.
Marmot Athlete and Filmmaker Brad Clement reviews the Super Gravity