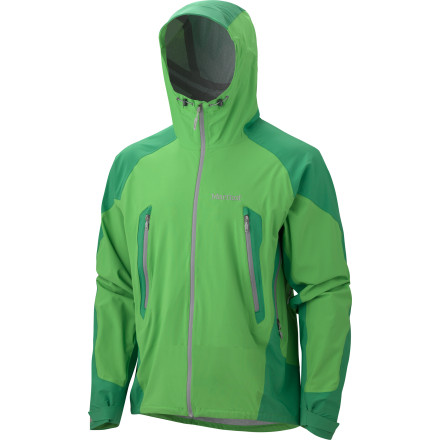 Marmot chose to craft the Men's Stretch Man Jacket with four-way stretch material because, in the vast number of storm shells in the world, you're rarely given freedom to flex freely inside your jacket. An array of weatherproofing features protect your from the foulest wet weather on the trail, and small details like core venting give you the control to achieve a comfortable temperature underneath. Believe in the power of a stretchy, technical shell and you'll discover an entirely new level of comfort when the sky opens up on your adventure.
Waterproof breathable membrane keeps you dry in the face of seriously foul weather and allows sweaty moisture to escape from underneath so you stay comfortable
Fully taped seams add to overall jacket weatherproofing
Four-way stretch construction gives you full, free range of motion
Adjustable hood has a laminated brim to keep rain and snow out of your eyes
Strategically designed core venting releases heat from the area where it most quickly accumulates so you can regulate temperature easily
Angel-Wing Movement lends the arms a cut that allows you to easily reach high or low without lifting the hem of the jacket away from your waist
Strata fabric has a soft hand and compresses easily to allow this jacket to fit inside a pack
I recently bought a Marmot Vars jacket....
I recently bought a Marmot Vars jacket. Could this jacket act as a shell which would go on top of the Vars fleece jacket?
When asking whether or not this jacket would be suitable for purposes of a shell, do you mean to ask whether the Vars jacket (or should I say, hoody) can zip into this jacket, or alternatively, would it layer well when using in concurrence with the Vars hoody/jacket? If you are asking from a layering perspective, I would say that yes, I do believe it would layer well. Just make sure that if you do buy it to layer, you are accounting for the slight amount of room you would need to have available to layer comfortably if intending on donning this particular model as your carapace. Conversely, to address the issue of whether or not the Vars would zip in to this jacket, I cannot speak neither firmly nor intelligently; a Marmot-based gear representative might be able to assist you in the fulfillment of answering that question.
I'm 6'4" and 215lbs, 37" sleeve, considering...
I'm 6'4" and 215lbs, 37" sleeve, considering this shell for hiking, backpacking, skiing, sailing... what size would you recommend?
Although you did not provide a chest measurement, considering the measurements that you did supply, it would seem that an XL might be suitable for your intended uses. However, that might make the sleeve ride a bit on the short side as opposed to being on the longer side - depending on your preference, that could be a boon or a bane if you did decide to settle with an XL. However, the chest on an XXL is for someone with a chest measurement of 50-53 in, whereas the XL chest measurement length is 46-49 in, so I would look into measuring your chest before making a decision one way or the other.
ok im 6 foot and 145 lbs what size do you...
ok im 6 foot and 145 lbs what size do you think would be best?
Medium with light layers - large for extra room with more layers.
Marmot Stretch Man Jacket
Miles Smart, Professional Mountain Guide and Marmot Athlete, reviews the Marmot Stretch Man Jacket. Learn more about Miles and the Marmot Athlete Team at http://marmot.com/athletes.