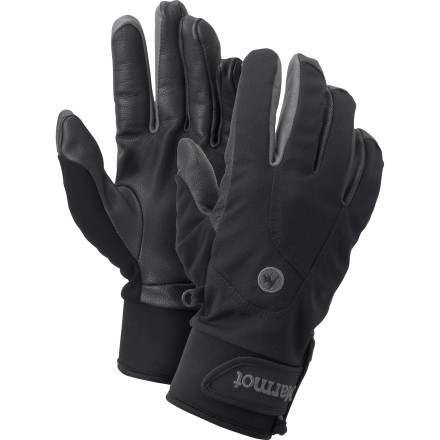 Like they say, these are spring gloves so not much insulation for colder temperatures. They're really thin, easy to grip & manipulate things and comfortable when touring in 30F temperatures. I liked them a lot - seemed to stay reasonably dry and were light enough to quickly dry in my sleeping bag overnight
The Marmot Spring Glove is my glove of choice for all the backcountry skiing I do. On all but the very coldest of days here in Utah it is more than adequate. I have been using my last pair for 2 seasons of pretty regular use (about 60-80 days a season) and they have held up very well. Now the waterproofing is failing and there are a few holes in the fingers. Time for a new pair.
Excellent glove. I use these for daily skiing and ski patrol.
Unanswered Question
in your opinion, are these better or worst...
in your opinion, are these better or worst than BD Pilots?
On beautiful blue bird days having hot hands sucks.
I don't take these out on big wet powder days (got uber-gloves for those days), but I do wear them if it is at all warm and sunny (generally at or above freezing) and really like them. Breathable. Mostly waterproof (like I said, not bomber enough for storms). Keeps my hands cool and dry. I often will bring along a pair of glove liners just in case it's colder up there than I anticipated- they layer well with the liners. I lost my last pair near the end of the season. I like them enough that I'll get another pair.
Generally, I have been very happy with Marmot products but this one I had to return after a single use because it didn't work as expected.
The gloves fit right, look nice, have just the right thickness and would have been perfect for what I bought them for except they're not waterproof AT ALL. After a very short contact with snow they were soaking wet (I could actually wring water from them). They were not much different from a pair of fleece gloves that I used before and was trying to replace with Marmot Spring Gloves because they were getting wet. I have to continue my search for a relatively thin glove that I could use in the snow and don't get it wet...
Not Waterproof, but Very Warm and Dexterous
The great is that they are really warm. They kept my hands warm while running in a light snow. They are very dexterous. No problem tying shoes, etc. The amazing thing is that the label says they can be machine washed and dried. I tried it; they can!

The bad: It says it has waterproofing on the web site here, but the glove label specifically states they are not fully waterproof. The latter is correct. I proved out in a soaking rain that they are not waterproof. That was the only disappointment. If anybody is aware of a really good waterproof light glove, please let me know. These are keepers, though, so light, yet so warm.
Used these for a Europe trip in March with plenty of hiking and warm temps. These are not heavy duty work gloves, but great spring skiing/lightweight gloves. Plenty tough as the edges of my skis didn't destroy them while waiting for the tram. Dry really fast too if they get wet. I even used them changing a flat while I was there. Got them in brown, great looking. Cheers.
I agree they are on the thinner side...they are spring gloves. The soft lining is very comfy. I use them for snowboarding on sunny days above freezing, driving all winter and on backcountry tours in all but the coldest conditions. I have the Marmot Ultimate glove for cold days. I do not think the "heavy duty all-around work glove" part of the description is accurate. Break out the Kinco 1927KW gloves for shoveling, snowblowing, trips to the recycle center, etc. No sense trashing these pricey beauties.
First Marmot Disappointment
I hate to say it, but these gloves just don't cut it. I had an older pair of the Spring Gloves and bought these anticipating replacement soon. I thought the materials looked good in the picture, and my old style gloves are the best-fitting gloves I've ever owned. Marmot made some significant design changes to this model, and most - if not all - of them seem to be misguided. The fingers are cut dfferently (ie, sloppy fit) and are longer, so dexterity is totally compromised. There are now seams located on the backs of the thumb and other fingers that rub your knuckles when you open and close your hand. No bueno for active use in the outdoors.

I returned these after one short use. If anyone knows where I can get size Medium in the old style of this glove, please pass the word!
They are on the thinner side.
They are on the thinner side.