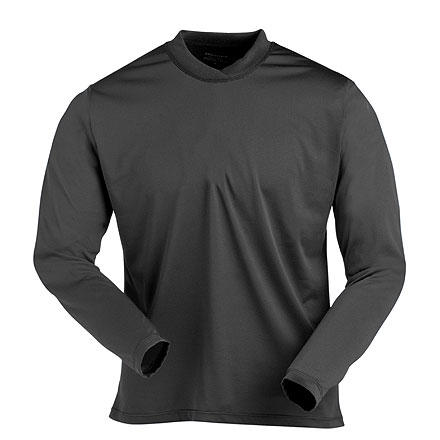 Have had the LS silkweight for 9 mo. now & the shirts have held up very well. i have not had any lingering stink problems like I've had with other cheap dept. store brands. The shirts always wash out fine even after 3 days of use, stains release too. Haven't snagged yet, but I was inside out every time. Wicking properties are great. Does fit a bit small, would order next larger size next time.
this shirt is perfect as that first layer against the skin, silky soft. good for a layer when the weather has the extra bit of chill in it, comfortable, and well fitting.
I got the Silkweight Crew for my husband for Christmas and he was so excited. He's had a lightweight Marmot crew for like 8 years and he finally wore it out, mainly because it was a size too small. Now he has one that fits properly and he wears it as his base layer on all of his outdoor gigs, and cold days in general. The Silkweight is very comfortable.
I bought both the crew and bottom and am very happy with them. Both keep me warm and dry for a full day of skiing.
Last winter, one of these great shirts was simply not enough. On really cold days, I wore it under a long sleeve pullover, under my Spyder ski jacket. When it was warmer (anything above 10 degrees) I wore it alone under my jacket. Still, I am hoping for one more for the coming season.
Good as base or just on it's own.
This works great as a base layer, but it is stylish enough to wear on the court or in the gym. Marmot products are better.
It's really a no brainier. Lightweight silk feeling first layer that you know performs. Complement this with a second layer and you're bulletproof.
I love it. Use it for Kayaking under a drytop and as a base layer for skiing. Very comfortable.
This base layer is really light. A bit too light to wear on its own in cold temps (<5 C / 40 F,) running. Hardly know your wearing it. Good for cycling as a base layer under my cycling top, especially in the bush where you are protected from the wind. Nice feel and comfortable to wear.
A good crew -- neck is a little tight
I really like the material and it looks cool underneath a fleece or jacket. The neck is tight, but by just stretching it a bit (vigorously) you can get it to give a little and be wearable. I like it enough to be willing to put up with a somewhat tight neck line.
I got these for snowboarding and after a whole day of sweating, I was sure it would stink but it didn't smell at all. Kept my skin dry and if it got wet it dried off really quickly. I was in low 30s and I only needed this and my jacket. Definitely worth it!
Silkweight Crew - Long Sleeve - Mens
This is a great base layer, and I've worn it every day skiing since I got it. The anti-stink technology does what it claims. One complaint; the neck is pretty small, and large heads will have trouble squeezing through.