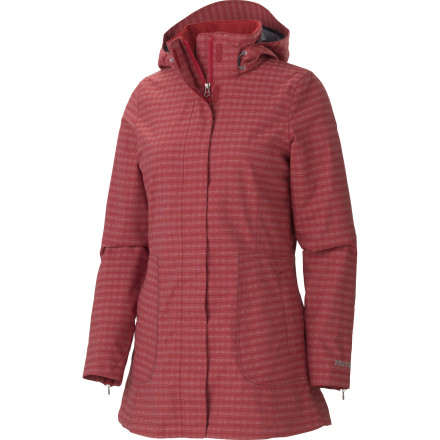 Zip up the Marmot Women's Sassy Jacket and cover your blazer or suit coat with waterproof breathable protection that keeps you cool and dry when the rain comes down during your travels. Added length covers up your hips and protects your butt in case you need to take a seat on a soggy bench. When the weather outside is frightful, a DriClime-lined collar keeps your chin comfortable, and when it turns delightful, the zip-off hood packs away inside. Ample pockets hold your daily sundries or plane ticket—take the Sassy around town or stow it away for a flight to a far-off adventure.
what is the length of this marmot sassy...
what is the length of this marmot sassy jacket? in medium and large?
Hey Carol,



31.5" medium and 32.5" large.
Unanswered Question
If you moved up a size, did the sleeves...
If you moved up a size, did the sleeves still fit?



I bought the small and it's a snug fit over light layers. I'm thinking of exchanging it for a medium so I can layer over a medium layer like fleece but am concerned the sleeves will become too long. It's current a perfect length (I'm 5'5" and 120 lbs with a boyish build).



Thanks
Get a size up!!
Gender:

Female

Familiarity:

I've used it several times
I'm 5'4, 105lbs and almost always get size xs for any brand including Marmot.

However, after reading reviews on this particular item, I ordered both xs and small and tried them over different layers underneath.

I was able to wear a thick fleece jacket under xs, but for better mobility and versatility, I decided to keep the small and am glad I did.
Beautiful, utilitarian jacket
Gender:

Female

Familiarity:

I returned this product before using it
I returned this size M jacket because it was very snug all over: shoulders and body. I usually wear a medium outer jacket, e.g.

LL Bean outer jackets fit me well in medium.

I am 5'6, 145 lb.

The color of the jacket is a lovely dark red.

I have the granite grey color in large, which is a little roomy; great for layering, but I wanted to try the medium for a more trim fit. I live in Florida so don't often need to layer. I wore the jacket in the rain and it was not "clammy" on the inside and kept me very dry.

Although it is a beautiful jacket, you may have to order up a size if you want to have the option to layer a fleece jacket or vest.
Knock out!
Gender:

Female

Familiarity:

I've used it once or twice and have initial impressions
Great jacket for rain or cold. Just wore it in a driving rainstorm with our dogs in FL. Worked like a dream-- breathable too. It looks superb and washed up well. Order a size up though if you like room for layers. I usually wear an 8-10 (M) but got a Large after reading reviews, and am very glad I did.
Bought this jacket for a recent vacation to Ireland
and it was PERFECT for the trip.
Typical weather there is 60 degrees and rainy
so this jacket fit the bill.
I am 5'7" around 140lbs and the medium fit perfect
but I did not have any bulky layers beneath.
I receive many compliments from other vacationers
and the blue color is a nice change from black/brown.
Are the upper arms tight or is there room...
Are the upper arms tight or is there room for bulky sweaters underneath?
it's pretty tight. i think the most you could layer underneath is a light fleece.
Does the black jacket cloth have those...
Does the black jacket cloth have those little squares or is it plain?
The black is just plain fabric. No squares of any kind.
I've worn this jacket for the last 2 months and it's been perfect for me. Overall, it's a great fit. I'm 5'9" and usually wear a size 8. I ordered the large so I'd have room to wear sweaters and fleeces under it. The sleeves are the perfect length for me.

The jacket is plenty warm for the Northeast. That said, it's been an usually mild winter. However, if it drops below 20 degrees or so, I just pop on a fleece underneath and am plenty comfortable.
Love it, but newer model not petite-friendly
For reference, 5'1" 95lb, boyish build. When this jacket first came out, I tried the XS and S, loved them both! The sleeves fit me perfectly, the chest did not poof, and the length was still in good proportion to my height. I would have opted for the S to leave room for a heavy sweater. Being a cheapo, however, I stalked this jacket for over a year and watched with disappointment as Marmot responded to buyers' comments to please lengthen the sleeves. (On the other hand, good on Marmot for being so responsive!) Hoping the sleeve adjustment wasn't too drastic, I finally ordered the Sassy in Granite and Black, size S. Unfortunately, the sleeves are much too long so I will return the jackets. I measured the sleeve (shoulder seam to end of sleeve)of the Small at 24.5".
I've been wearing this coat for a year now and love the styling, very flattering and it's the perfect length but the velcro tabs eat my knits, so I can't wear a scarf or knit gloves, and it's completely chewed up the left sleeve from wrist to elbow (the velcro is on the left side of the zipper). I also notice that when the fabric gets wet in the rain it wrinkles terribly! Looks cute on a sunny day, but for the price I paid I expected more performance-wise.
Marmot Athlete Heather Paul reviews the Women's Sassy Jacket. Learn more about Heather at http://marmotpro.com/heather_paul.
This jacket is pricey, but it's beautifully made and very nicely styled. True, the pockets are a little shallow and the arms could be a tad longer, but these are small quibbles. I got the deep blue, which is a lovely lapis blue and grey subtle plaid. Very similar to the picture. I'm 5'2" and around 117 pounds, and I got the Small, which fits great over a mid-weight layer. I wish I could afford to buy another colour in XS, as I think the smaller size would be perfect in warmer weather over thinner clothing. I chose this jacket instead of the North Face Stella Grace, because I don't like the prominent North Face logo emblazoned on the chest of the Stella Grace. The Marmot label on the sleeve is much more discreet and makes me feel less like a human billboard! Very happy with this purchase :)
I am a petite woman (5ft tall about 95lbs) and wanted a coat that fit me right. I have problems finding coats that the sleeves fit and are not too long on me, among other issues. This coat fit me great and worked fine for a while. I did find that it isn't 100% waterproof. I live in Portland, OR and we get a lot of rain - my clothing under the coat did get wet occasionally and I was really unhappy with that. Also, it seems to wear horribly. I say that my purse strap wore into the shoulder after a month or so and that wasn't the only place the fabric was starting to fray. For the money I was hoping it would last me a few years and it didn't even make it 4 months. Not happy and returned item.
Unanswered Question
How small does this coat pack? Weight?
How small does this coat pack? Weight?
does this jacket fit tight at shoulders/chest?...
does this jacket fit tight at shoulders/chest? I am athletic build with fairly broad shoulders, 5'4, 125 lbs, chest 35", waist 28.5", hips 35". Not sure whether to order a medium or small for a comfortable yet flattering fit. Thanks for your help!
Hi there - I am 5'2" and 116 pounds, and the Small fits me perfectly. The jacket is a trim fit, and it's not generous in the shoulder area, so maybe a Medium would fit you more comfortably? Hope that helps!
I am close to your size and have a medium.
I love this coat. I'm a small woman 95lbs and 5ft tall and the XS fits perfect. The arm length is great the shoulders fit perfect, it looks like it's made for me. I love the color as well. I first tried the light blue but I really felt that it was to spring colored and not what I was looking for. The med. gray is so perfect. It is completely waterproof as it says, my only concern with this coat is that it is not warm at all. I was only looking for a waterproof shell anyways but that is exactly what you are getting with this coat.
I really like the look of this jacket. It is really fitting and has a nice length. I'm 5'4, about 120 lbs. First, I got the xsmall in black; it looked really nice and looked really fitting, even a little slimming. I ended up exchanging it for a small, just because I got this jacket mainly for biking. The xsmall did not allow for a lot of forward or upward arm movement. The small fits well too and gives a little more moving room. The inside pockets are really nice, but the outside pockets are really shallow. I have to have my hands in a fist for them to be all the way in the pocket. As for biking, I've worn it in rain and it really is waterproof. However, the hood goes over my helmet only about half way. I've also worn it in near freezing temperatures and it does well with a base layer. Overall, it is a great jacket!
Wath is the back length of this coat?
Wath is the back length of this coat?
Center back on the Sassy is 30.5 inches.
Love my Marmot Sassy jacket
I purchased a Medium and knew that I was in the grey area as far as the size chart (between a M and L). So the Medium was returned for a Large and now I'm a happy camper. Absolutely love the jacket. Will be trying it out on a trip to Ireland soon!