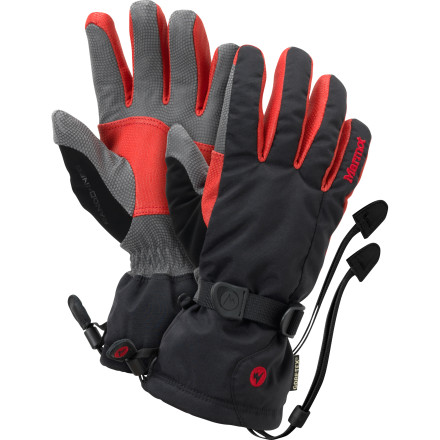 Detail Images
The durable, comfortable Marmot Women's Randonnee Gloves keep your hands warm during long, epic ski days. Their Gore-Tex XCR waterproof breathable inserts and MemBrain waterproof breathable shells ensure no moisture gets in to lessen the effectiveness of the PrimaLoft One insulation. The Randonnee Gloves' durable palms stand up to the abuse of 100-day seasons and provide excellent grip on your poles.
Hi,
I love these gloves, but had to return them because they were very tight across the back of my hand.
I have the same glove from 3 years ago and the small was perfect; so these must be a bit different cut.
Sorry to have to return. They are toasty warm.
These gloves are so warm/soft and comfortable inside.
Marmot is Top quality !! Well built and I love how they consider details. Marmot built a soft fabric on the outside thumb of the glove so you can wipe your nose for those freezing adventures.
Im about 5 foot, 110 lb and the X-small fits like a glove! Marmots Venus Jacket is also a Best Buy !
Thanks !!
What is the long strap that is attached...
What is the long strap that is attached at the cuff for?
They clip onto some ski jackets so you never lose your gloves.
Marmot's Curly's Clips - GORE-TEX? Gloves Tech Video
Marmot Wm's Randonnee Glove
Marmot Athlete Heather Paul reviews the Randonnee Glove. Heather runs Ultimate Grooves, a series of Telemark Ski Camps, and shot this video during an Ultimate Groove trip to Japan.
Glad the sales guy told me they run small. Bought my 23 yr old daughter x-small and they're perfect. She's only tried them once now, snowshoeing, and they were comfy and warm. Thanks!
P.S. you guys have the best customer service!
I usually have to wear glove liners in my gloves, but with the Marmot Randonnee, no liners needed. I even got a little snow in my gloves at the fingers while snowboarding, and when the snow melted the gloves were still warm and I had no problems. The leather on the gloves seem pretty durable, but I haven't worn the gloves enough to give them a durability test. Otherwise, these are easy on and easy off with convenient tightening mechanisms around the wrist and lower arms to keep the snow out. Definitely recommend.
Great for commuting in pouring rain and freezing (and warmer) temps
I love these gloves so much I just replaced a pair after I crashed on my bike and ripped up the old ones. The gloves have performed and lasted well during freezing temps and torrential downpours during half-hour and hour-long commutes in New England in winter, spring, and fall. Bought them slightly large because I find all gloves more comfortable that way on the bike.
P.S. Also, just want to say, Backcountry has ***THE BEST*** return policy and a great 2 day shipping cost!!
better than the older version
I still have the older version of these gloves, but it'll be hard to go back to them, considering that these gloves have some nice upgrades...the extra cinch strap at mid-palm...and the newer technology for cinching at the wrist. Also, these gloves are more form-fitting than the old ones...makes for better pole control.Lastly, they keep your digits warm...even when subjected to zero degrees in Vermont.
These gloves are super warm and seem to be a great product at first glance, however within the first day of wearing them on the slopes both gloves had tears where the finger portion meets the palm of your hand. After two additional wears the tears grew bigger and the entire index finger on one of the gloves tore open revealing the interior insulation.

I have been really happy with most Marmot purchases I have made, but I would not recommend this product to anyone wanting to actually use their hands while wearing gloves.
Unanswered Question
What's the temperature rating on the women's...
What's the temperature rating on the women's Marmot Randonee Glove?
Overall nice glove. The gloves are made well, are comfortable, and the price was right. My daughter's fingers still get a little cold on the slopes when it's below 20 degrees.
I bought these gloves according to the size guide. While they do seem very warm and high quality, but the fingers are way too long. They fit my boyfriend who has significantly bigger hands.

I wanted to return for a small( I bought a medium) but the price went up.

I'll continue my search for the perfect gloves.
Write your question here...What are your...
Write your question here...What are your warmest women's ski gloves?
If your problem with with cold hands, you should look into wearing mittens, they are much, much warmer than gloves. If you can cant deal with mittens, look into the mountaineering gloves. They are often much beefier than any ski glove. Some have removable liners, which you can take out on spring days or when it is warm, most are gore-tex to keep you dry and they have a large gauntlet to keep the snow out. Check these out, they are a bit much for skiing, but they are super warm.

www.backcountry.com/store/BLD0330/Black-Diamond-Enforcer-Glove.html

I love these gloves. I have had no trouble with wear and tear. My hands stayed nice and warm. The only time my hands got cold was when we were on the top of the mountain at 12,000 ft and it was -5F and snowing. They are really easy to get on and off and I love that you can tighten around the wrist, it kept them from ever falling off. Just don't tighten too much or you'll cut the circulation off to your fingers and then your hands WILL be cold. Thumbs up.
I wanted to get my teens gloves that were really warm and held up. Both of my teens had the rubber tip tear off within the first day as they tried to tighten them. They also wore inserts after the first day as they said their hands were cold. I thought if I spent the extra money they would get a really good product, but they were disappointed.