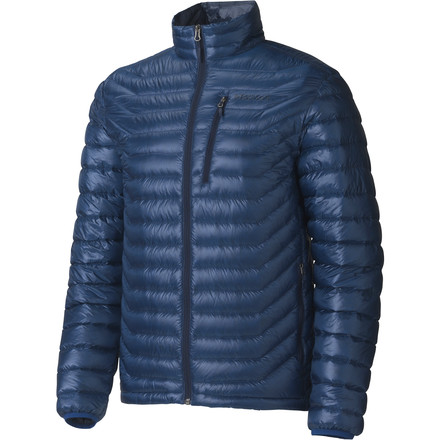 Detail Images
Description
900-fill goose down means you'll leave a fiery path in your wake.
The Marmot Men's Quasar Down Jacket uses 850-fill goose down insulation to cut through bone-chilling cold like a scalpel. You won't pay for this warmth in weight or bulk though, because Pertex Quantum fabric keeps the Quasar Jacket feathery-light and so packable that it can fit in its own pocket. If that isn't enough to make climbers and lightweight backpackers start to froth at the mouth, here's something extra: Marmot's Angel-Wing Movement fit that frees arms and shoulders for reaching and pole-planting without feeling the least bit restricted.
Pertex Quantum fabric is lightweight and highly packable
DWR fabric coating repels light precipitation and moisture so you stay dry
850-fill Power Goose Down insulation lofts up easily and provides superior warmth without the weight
Angel-Wing Movement gives this jacket a cut that means freedom of movement and full range of motion in the arms and shoulders
Elastic drawcord hem seals this jacket at the bottoom
really light
Gender:

Male

Familiarity:

I've used it once or twice and have initial impressions

Fit:

Runs small
living in the Texas, have not really got to wear the jacket much yet. size seems to run a little small or could just be my years of heavy weight lifting years ago has my sizing off.
Always have loved Marmot products. Their stuff fits me well, 6'4", 200 lbs, Large fits great, sleeves are long enough. Note that the picture they use for "Peak Blue" is off a bit. It looks like they're using the picture for this year's Cobalt Blue which is just a bit lighter and brighter. Peak Blue is a tad darker and more subtle than what is pictured...but not as dark as Blue Sapphire. Note that these are last years models too. One way you can tell...aside from the lower price...is last years model used 900 fill power and this years is only 850...which is still really good.
Super warm and really light
I love this jacket for bicycling in Winter. Layered up with thin thermal long sleeves it's perfect
Normal Marmot Quality, Normal Weird Cut
i tried this out for a couple days and had to return it as it just doesn't fit right. in my experience, marmot's angel wing has never given me more range of movement than other brands, but has caused the jackets to fit weird. in this case, my shoulders would catch on the jacket when i reached forward to pick something up like my baby out of his car seat or a back pack off the ground.

other than that, good construction, it's light and packs down well, it's got a good amount of insulation for cool days or layering without overheating. i'd like to see some kind of treatment to the down. and the pertex is supposed to be impermeable to down feathers, but i saw a few after just a couple days.

if the jacket fits you right, you'll be pretty psyched with it
heeey, i am looking for a light but really warm jacket for around town (montreal,QC) where the lowest temperature was -40degree Celsius...is this a worthy buy or should i go for a full on parka ???
Best Answer
Though the Quasar has a very high fill power (900), it's meant more as an insulating item. This would keep you warm if it was under a rain jacket or shell, but not as much as an outer layer. Also, doesn't cut wind much. If you are looking for a down for walking around town, this might work for you, but maybe also look at the Ama Dablam, Greenland Baffled, Hangtime, Stockholm (one of my favorites) or Mountain Down. Stay warm!
Spectacular!
Familiarity:

I've used it several times

Fit:

True to size
Surprisingly warm, and light as a feather...
Initial Impression and Fit
Gender:

Male

Familiarity:

I've used it once or twice and have initial impressions

Fit:

True to size
I just bought this jacket on sale and thought I would share my intial impressions about the jacket and some thoughts on fit.



I am 5'9", 145-150 lbs, 16.5 x 34 shirt (monkey arms), 40 regular suit, 33-34 inch waist. I am very lean (single digit body fat), with a marathoner's musculature (not much), a short torso, but with broad frame and extremely long arms relative to my height (74 inches finger tip to finger tip).



Normally, I get size large to accommodate my arm length, but since I was getting this primarily to use as an underlayer on really cold ski days, I got a medium figuring if the arm length was a little short, it wouldn't be that big of a deal and that I would be better off making sure it didn't take up too much room under a shell. As it turns out, it fits my arms perfectly. Also fits well across my chest . It has a touch more room at my waist, but it isn't too big, especially with the drawcords; it just isn't a superathletic cut.



From everything I read, this will be a superwarm jacket, but like others, I have to say that it seems awfully light. Also, being so thin and lean, I tend to run cold. I wore it sitting out on a friend's deck for a Christmas party in 50 degree weather, and was fine, but am not sure how it will perform as an outerlayer on the slopes of the Rockies. I guess the scotch on the rocks may have cooled me down some too.



I got this in Atomic Blue (sale color), and I would note that you can see the darker down feathers through the shell. That doesn't bother me at all, but some may find it to be a detriment.



DWR shed water when I tested it under my bathroom faucet, but not as well as my wife's RAB microlight did. I think it would be absolutely fine with flurries, but you would obviously need to throw a shell on in rain. Haven't tested it aginst wind, but if that holds up, I could see this being my outerlayer on bluebird ski days for sure, and even on overcast days as long as I have a shell in my pack.
Not so athletic fit
Familiarity:

I've used it once or twice and have initial impressions

Fit:

Runs large
I haven't owned this jacket long enough to give a full review, so this is just a note on it's fit. I saw this jacket listed other places as an "athletic" fit. Thankfully that's been corrected above. But I ordered it from another site thinking it was an athletic fit. I'm 6'1", about 190, and my jean size is 33". I've got long arms so I opted for the large (my shell is a Mammut large that fits me well). Boy was I wrong, when I tried it on there was TONS of excess fabric around my waist, so much so that the jacket would occasionally fold over itself when I moved.



Exchanged it for a medium, which I'm much more satisfied with the fit, although it could be slimmer and I'd be ok with it. The arms are fairly long (even in the medium) so my monkey arms stay warm. I'd recommend going down a size when buying this jacket.



Another initial impression: this thing has great range of motion in the shoulders!



I'm surprised Marmot wouldn't cater their fits to a slimmer crowd... I haven't seen many beer bellies on the Haute Route or climbing in Yosemite.
Unanswered Question
Hi...I'm an athletic fit with a 43" chest, 33" waist and am looking for a trim/slim fit jacket. Between the Marmot quasar and the Arcteryx Cerium LT. I seem to be in between sizes however (med/lg) Any guidance you can provide wrt sizing? Thanks
How shiny is this jacket? Not too crazy about that look (like with the Mountain Hardwear Ghost Whisperer)
I have the womens Quasar version and it is just as shiny as the ghost whisperer. I'm Ok with it. I have the Patagonia down but the Quasar fits better and is less boxy.
Marmot Down Is My Favorite
Familiarity:

I've put it through the wringer

Fit:

True to size
For years, I've used Marmot exclusively for all of my down sleeping bags and jackets. Their consistent high quality, high loft and durable products are the reasons why, and this jacket is no exception.



I've taken this jacket on several backpacking trips and have not been disappointed in the least. Early evening, this jacket is all you need and when temperatures plummet at night, combine it with a good baselayer and hat and you're toasty warm. Not to mention it's extremely light weight, and stashes down into it's own pocket for packing. Oh, and it fits great underneath an outer shell or rain jacket.



Fits true to size. You won't be disappointed.
With 900-fill goose down What temperature ranger is this jacket designed for. I am looking for a good insulated layer for ice climbing. I have the Patagonia Mixed Guide Jacket for a shell and want to know if this will be a good layer for underneath...
Best Answer
Hey Michael



Unfortunately there are no temperature ratings as it will be subjective to the user but this jacket will work great as a mid layer for ice climbing. It uses the highest quality down and matches it up with Pertex Quantam fabric which is a lightweight, compressible, durable fabric and it also helps keeps the down from coming out.



I hope that helps!
TWO QUESTIONS: #1) I currently have the...
TWO QUESTIONS:



#1) I currently have the Marmot Ajax for which I really like with the exception that it doesn't stuff into its own pocket. How valuable to people think it is to be able to stuff a jacket into its own pocket similar to how the Quasar works?



#2) I recently ordered an Arc'teryx Beta LT jacket (size XL -- I am 6'2", 195 lbs) to use as a shell over the Ajax. The Ajax is very comfortable and fits well but is obviously a little heavier/bulkier than the Quasar. I am concerned that the Ajax will be too bulky under my new shell and was wondering if anyone out there has experience combining these two clothing pieces (meaning either the Marmot Ajax + Arc'teryx Beta LT ... OR ... Marmot Quasar + Arc'teryx Beta LT). I will be using the combination for alpine skiing, alpine touring, and potentially cold weather backpacking.



Any thoughts, comments would be appreciated!
Best Answer
1. To me stuffing it into its own pocket is great to pack into the back pack but, it really only matters to me if I need to put it on my harness. Being able to just stuff it in itself and then clip to the harness is a pretty great feature for an insulating jacket.



2. The Ajax is still shorter than the Beta LT so it will "work". Is it going to be bulkier than the Quasar, yes. I wouldnt worry about it too much, unless you have the want to spend some extra cash and jump into a lighter weight layering system all around. The Ajax is not a low end jacket, it is still 700 fill and has its place in the layering world. It is also going to be warmer than the Quasar which is great for general alpine skiing. I say try out the system with the Ajax if you cannot bear it then its time to move into an ultra light option such as this.
Amazing Jacket
Familiarity:

I've used it several times

Fit:

True to size
This jacket is not to be believed! It's light, it's warm, it covers your waist and lower back; it's beneficial in a wide range of temps. It also seems to be durable -- at least the way I'll be using it. I walk in my neighborhood almost everyday, and I can work up a sweat if my gear isn't right. This jacket really helps me regulate my body temp on those days from 20 -45 degrees. I know it's built to be a more technical piece, but I can love it, too.
The perfect down layer.. Enough said
Familiarity:

I've put it through the wringer

Fit:

True to size
This jacket is truly incredible. When I first bought this jacket, it was on sale and didn't have a single review.... I took the gamble because I trusted the Marmot brand name. The first trip I brought this jacket on was a 20 hour overnight hike of Mt Washington and the Presidential Range where we were hit with 70 mph gusts of wind in temperatures around 15 degrees. With a merino wool base layer, a thin fleece, and a rain jacket I honestly could not have been more comfortable.



I just got back from doing the W Trek in Patagonia (known for having some of the most volatile weather) where we encountered everything from 70 degree days of sun, sleet and hail, and constant 50 mph winds... yet again this jacket held up flawlessly.



I have found that with the following setup I can handle any weather from 10 degrees and up (and bring on the wind)- stoic merino wool base layer, Patagonia R1 hooded fleece, this down jacket, and my EMS ascent rain jacket (completely under rated).



Summary- Buy this jacket. It packs up extremely small in its own pocket, it is quite durable (still looks brand new), little bit long which I find to be a must, the red color looks amazing in pictures, it is VERY warm, and it layers perfectly. I am 6ft 2 and 185 lbs. The Large fits great as I can add the base layer and R1 fleece underneath. This is the perfect size as I find other lighter down jackets to have little effect and heavier down jackets to be too large to layer without looking ridiculous. Buy this jacket!



*I cannot speak to its ability when wet. I am religious about keeping my down items dry and therefore I have not been lucky enough to test this out :)
Ultralight with no sacrifices
Familiarity:

I've used it several times

Fit:

True to size
Got this to replace my Montbell Plasma 1000, whose quilting doesn't keep the down distributed well.



Pros: The Quasar's construction is more solid. It's warmer overall (and more evenly). It has warm pockets, a better collar, and a drawcord hem. It stuffs into its own pocket.



Cons: Weighs a few extra ounces (worth it, no doubt). Takes up 75% more space when stuffed, which is still tiny, but a consideration if you're hardcore ultralight.



I vastly prefer the Quasar over the Plasma.
love this jacket
Familiarity:

I've put it through the wringer

Fit:

True to size
everything they say is true. this jacket packs down super well. its lightweight and super warm. it will get wet (not waterproof) but it also drys super quickly. all in all it is just awesome!

COMPARISON:

had the patagonia nano puff before this and it was also all of the above. the marmot seems to control temp better. the nano puff always kept me warm but almost too warm sometimes (primaloft vs. down?). i find myself wearing this one and forgetting that i'm wearing it. i also find that the marmot is more of a fitted cut. the patagonia seemed a bit boxier and this seems slimmer.
Odd fit around shoulders
Familiarity:

I returned this product before using it
Really disappointed when it arrived. Obviously well made and great weight for insulating under a shell for alpine touring, but the cut around the shoulders is noticeably puffy and uncomfortable. I'm 5'8"/150lbs and small was too small across back/under arms (but still puffy around shoulder seam), and medium was ridiculously puffy so I returned them. For the most part other reviewers don't seem to have a problem but I spoke to a large retailer (after I'd returned it) who sells the jacket and he agreed it's a weird cut around shldr and steers people to alternate makes.
Which jacket is warmer - this Quasar or...
Which jacket is warmer - this Quasar or the Zeus?
Best Answer
They are pretty similar as far as warmth is concerned. This jacket is 6oz lighter then the Zeus, and uses 900 fill down, as opposed to 800. If you don't know why you would spend the extra roughly hundred dollars for this jacket then I'd say it's probably not worth it for you, go for the Zeus.