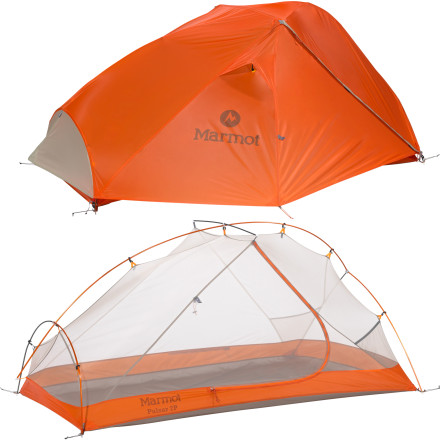 Community Images
Traveling light is best done with a traveling companion. Aside from the conversation, it's nice to have someone to carrying half the tent; although when the tent is as light as the Marmot Pulsar 2, it really isn't even necessary. The Pulsar 2 weighs less than four pounds fully kitted out, so you can pull the old 'you carry the food, I'll carry the tent' trick and come out way ahead.
Tough, waterproof breathable 40D nylon ripstop fly with 1800mm polyurethane coating
20D No-See-Um mesh canopy for cooling ventilation and bug protection
Ultra-durable 40D nylon floor with 3000mm waterproof coating
Lightweight DAC aluminum poles
Single door and vestibule for light weight
Plenty of room for 2 sleepers and a vestibule for wet, stinky gear
Maximum weight is 3 pounds 14 ounces, so it won't weigh you down, especially if you split it up
Bare bones setup is just fly, footprint, and poles for light weight
Color-coded Easy Pitch clips and poles
Great first trip
Familiarity:

I've used it once or twice and have initial impressions
Just used this tent on a three-night trip in the Sierras. Setup was a breeze (I had set it up once at home); the color-coding and configuration of the stake loops make things more obvious. I didn't expect to need the rain fly but set it up anyway for privacy purposes and was glad I did, as it hailed our first night. The fly had no trouble weathering 1/2-inch hail and gusty winds, and the dripline meant we (and our stuff in the vestibule) stayed 100% dry. The fly also strikes a good balance between maintaining air circulation (it's not stuffy) and keeping wind out of the tent.



Size-wise, it's very comfortable for my medium-sized dog and me (5'11" and broad-shouldered) plus some gear. The pup's bed goes down by my feet, and she has plenty of room. I can sit up straight in the middle of the tent, though I expect that if I added a gear loft, that would not be the case.



I was continually impressed with the features Marmot included: well-placed reflective material on the outside (you can't miss the stake points), cinchable rain fly, plenty of gear loops in the ceiling, and a fly zipper that's placed so that you can fit more stuff in your vestibule and still get in and out of the tent comfortably while the drip line keeps everything dry. And it's all quite light, even including a footprint and a thin cover to keep my dog's nails from puncturing the tent base.



The one disappointment is that one of the velcro straps that secures the fly to the tent poles has already come unglued. I intend to repair it, but for how bomber the tent seems otherwise, it was a surprising (if minor) failure. On the bright side, the fly is so well secured elsewhere that I didn't notice that the velcro detachment until I looked up on the last morning and saw it.



Bottom line: I can't wait to use this tent again, feel confident using it in rough weather, and look forward to using it for years to come!
Very small, and that's good!
Gender:

Male

Familiarity:

I've put it through the wringer
First off, this tent rocks! It's super small in my backpack, it's very light, it's freestanding, it's very waterproof... and the stuff sack is WAY to big. To give you an idea of this, I can fit the tent, fly, AND footprint in the bag they give you for the poles! ...it is quite tight though. (Measures about 22 x 4.5 inches in the pole bag). All the bags marmot gives you are huge, and they give you 4 bags. I have been using them for other things because they're decent bags.

The tent itself is fantastic. It has a huge amount of usable space. About 89 x 50 (you lose about an inch and a half on each side because of the tent curving inwards and you gain a couple inches from the awesome foot box design).

I'm 6', 160 lbs athletic build and I have just enough space at the bottom for my backpack. My girlfriend is 5' 6", 115 lbs athletic build and when we both sleep in it I put my pack outside and she keeps hers inside. It's a little cosy (I would be uncomfortable if I had to sleep with another guy). You have to spoon/touch shoulders/arms the whole night.

If it's just me in the tent I can go spread eagle the whole night with plenty of room. If I lay down with my feet touching the left corner of the tent (which actually extends a little past the floor) I can comfortably raise my hands all the way over my head to the right corner (...Yes, I've been known to assume the diving position while I sleep). It is just tall enough for me to sit up straight. You can (sort of) comfortably play cards with another person if you're stuck in the rain.

The construction is excellent. The guy lines and stakes they give you are not though. Just buy some MSR stakes with the tent. The set up is a little finicky, but very fast (I know that's an odd combination, but it feels like the tent just doesn't want to be put up). I can set it up in about 3 minutes if I'm rushing (and not staking anything down). Otherwise it takes about 10 minutes to set it up for nasty weather.

UPDATE: I've had the tent for more than a year now and everything is still in tip-top shape. I've spent a little more than a month total sleeping in this tent and I still love it. It has stretched a little, but everything can still be tightened up nice and taught.
Very little not to like
Familiarity:

I've used it several times
I have used this tent a few times so far. It's a two person tent if one is a child or the two adults are intimate. It is a tight fit, and the max height is a bit low for me (70"), but I still really love the tent. It is so well constructed. There isn't a detail that Marmot has missed. you don't notice it in your pack from the weight, easy set up, super sturdy. I haven't used it in high and or pouring rain, but I wouldn't even worry a moment about that it is so well constructed. If it's hot without really any breeze, you need to be careful how to pitch the fly to get a breeze in the calm right before a storm. That said, I look forward to using the tent again because it is so light and easy.
Great backpacking tent! You can wake up to views like this! Really easy to set up, recommend setting it up before you are out in the wilderness as I struggled with the rain fly for the first time in the dark, completely my fault. Once you get the set up it is super easy. I got the two person and it fits me and my black lab perfectly. Pockets are great on the sides for storing a whatever you need. Vestibule has plenty of space for your pack or anything else you don't want in your tent. Highly recommend this tent, sets up pretty bomber as well.
Great tent.
Familiarity:

I've used it several times
I used the Marmot Pulsar 2 tent on couple multi-day backpacking trip in the Manistee National forest. I love how light and easy the tent is to setup! I have yet to use this tent in any heavy down pours, so I'm looking forward to seeing how it will hold up. I picked up the footprint for this tent and I always use it when I take it backpacking. The footprint provides great-added protection to the underside of the tent and keeps it clean and dry from the morning dew. I love the vent flap by the vestibule, provides great circulation for those warmer nights. My only complaint with the tent is the rain fly. I have notice that it does NOT have clips or a slot to secure the rain fly, by the T-bar on the top, to the poles! I find this to be a design flaw. Although it appears to be reinforced around the area were it's supposed to be, it's still hard to properly align the rain fly to the tent poles at this area. I'm not sure if my tents fly defective or if Marmot failed to think of this. Overall a great tent and I still recommend it to a friend.
Pricy But Worth It
Familiarity:

I've put it through the wringer
As a generally frugal person, when it came to updating my tent, prices were a tough pill to swallow. I wanted something lightweight enough that I could carry for solo trips and large enough for two person trips.



This, and BC's awesome price match guarantee (got it over $100 off) lead me to the Pulsar. Used on a two person trip in Glacier National Park. Worked well. Gave amazing views of the stars without the fly, and actually had more space that I was expecting. I'm 6'2" 140 and my dad is 5'10" 200 and we fit nicely. Although I expect the vestibule space would have been on the tight side. And it was light enough to not even notice on a solo trip to the Holy Cross Wilderness and gave more than enough room to hang out during storms.



Held up to 2 solid days of rain in HCW, even with water getting in between the footprint (doh!) so I wouldn't hesitate to go without, I'm just generally cautious when it comes to my gear. Seems durable even with the thin material, and the reversed foot box did a good job with ventilation.



In summary, would recommend to people looking for a lightweight tent for 2p and solo use, especially if you can get the price match. Although it is slightly heaver than BA tents, its cheaper and the 40D material, to me, makes it seem like it will last for years to come.