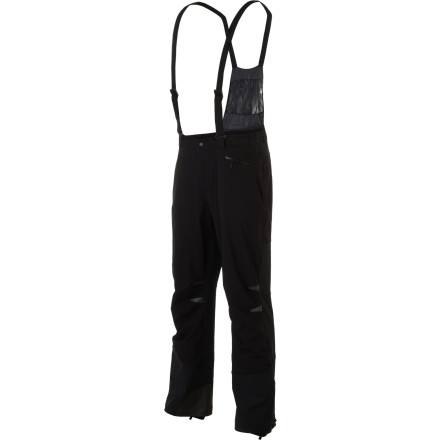 Detail Images
Description
Made for the long haul.
Reach for the Men's Pro Tour Softshell Pant when your day on the mountain involves miles of skinning and plenty of hot, sweaty bootpacking. Windproof M2 softshell material also resists water, stretches for mobility, and breathes to help you stay comfortable during highly aerobic winter activity such as skiing or mountaineering. Removable suspenders offer support to keep your pants in place on the deepest days or through the toughest alpine routes.
M2 Softshell balances weather resistance with breathability and warmth for moving fast in moderate conditions
Shell fabric is water-resistant and windproof for protection from the elements
Suspenders are adjustable and can be removed when you don't need the extra support
Articulated knees allow for superior range of motion
Zip leg cuffs give you access to boot buckles, and internal gaiters help seal out deep snow
Bonded scuff guards protect the pant legs from damage
Bibs are the only way to go when touring
Familiarity:

I've put it through the wringer

Fit:

True to size
Super Breathable for those warmer days , but keep me plenty warm in the super cold days , with plenty of room to layer without that baggy look, have used these for skiing , touring , and ice climbing , and they never let me down the flexibility is amazing and as for the straps i have never had an issue , but im also a liitle bit shorter so i dont have to max them out .
Wow. Great pants.
Familiarity:

I've used it several times

Fit:

True to size
Put these to the test hiking, ice-climbing and skiing. Amazingly versatile pants. Comfortable all the time, flexible enough for serious climbing, and highly breathable. Used them in temperatures as low as -22 F and as high as 35 F and never had a problem. They are roomy enough to layer under but don't feel baggy when you wear just them. I'm impressed. Some people's comments mentioned the straps slipping...I just made them a little longer and then crossed them over, never thought about them again.



Dear Marmot: Why can't we get these in any colors other than black? Live a little...
Money
Gender:

Male

Familiarity:

I've put it through the wringer

Fit:

True to size
I have been skiing with these pants for three seasons now. They have certainly made me reevaluate my choice of fabric for "normal day" resort and side country skiing. Marmot's choice to use Polartec Power Shield (Marmot M2) was brilliant really, and I would have argued that just a few seasons ago. Being a life long skier (I'm 50) and having a job where I work outside all day everyday in what can be some knarly conditions, I would have advocated the durability, flexibility and weather proofness of a hard shell all day to anyone who asked. I think technology has marched inexorably forward and Polartec has changed the game. These keep me warm on normal ski days, they keep the snow out, and allow me to stay dry and comfortable on the inside. My internal "micro-climate" is very happy.



These Marmot pants are softshell and really REALLY! comfortable. Durable for the long haul and not surprising for a soft shell very breathable. Other reviewers have commented here and elsewhere, that these pants do not have side zips. I"m not sure these pants "missing" side zips (extra venting) is even an issue, they just breathe that well. If you are a hiker/backcountry skier that is in need of copious extra zippers to open the pant legs up then you can look at the Marmot Misto. For the rest of us, all those extra zippers can complicate things in my opinion. They add unnecessary durability issues (breakage, snagging, etc), waterproofness issues (zippers can leak, especially with age and wear), insulation problems (zippers do not insulate and allow the cold in), and worst of all, for me anyway, they add to the manufacturing cost of the garment (passed on to you and me). So, at the end of the day these are simple pants with an advanced construction and fabric choice. The price and functionality have served me well. I have no real "brand loyalty" and tend to flow with what works the best for me. That said, I think Marmot has done an amazing job keeping up with the latest tech and not busting our wallet too badly.

Also, one may ask, do I really need a breathable softshell for resort skiing or sidecountry? For normal days I say yes, and yes. When your fancy, expensive hard shell doesn't breath you sweat and then get on the lift and freeze. When your fancy waterproof, insulated pants don't breath you sweat and then freeze when your activity level slows. Add to that, insulation not drying very fast makes multiple continuous day usage a smelly and icky affair. Don't get me wrong, hardshell and insulation have their definite applications and can save the day in in extremely cold, or wet, or high wind conditions where you don't want to miss the slide, but If you can afford to have a little flexibility in your garment selection, then these will not disappoint.






Not messing around
Familiarity:

I've put it through the wringer

Fit:

True to size
These pants are awesome. I got them as all-around ski pants, with a focus on backcountry skiing and long tours in all sorts of weather. They have performed every time I have taken them out.



They are super warm, but breathable. The fabric is tough and durable. One issue is that there is no side zips for the legs, but if you're not a super profuse sweater I think you'll be ok!
"Size" lists only numbers from 30 to 40....
"Size" lists only numbers from 30 to 40. Is that inseam or waist? Thx. Philip
Best Answer
The size is for the waist. The ones that Backcountry carries are the Regular-length inseam versions of the Pro Tour. See the Marmot sizing chart here: http://www.backcountry.com/Store/content/sizingChart.jsp?chartId=554&categoryId=bcsCat1111028
I'm wondering whether the whole pant has...
I'm wondering whether the whole pant has the Polartec Shield membrane or just specific parts, knees/seat. It's difficult to tell from Marmot's description. Thank you.
Hey Ryan,

The whole pant has the Polartec Shield material.