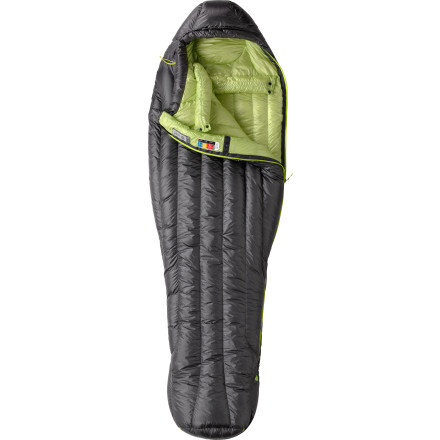 Description
Whew, there it is.
Don't panic—you didn't forget to pack a sleeping bag. The Marmot Plasma 30 Sleeping Bag is just so compact and lightweight that it may feel like you left it at home. It's not designed for Arctic expeditions, but for summer and moderate shoulder-season trips; its super-high-loft 875-fill down will keep you plenty warm without slowing you down or taking up space in your pack. The insulation's also been treated with Down Defender to improve its water-resistance, and the tough-but-ultralight Pertex Quantum shell has internal and external DWR coatings as well, to shed water and keep your down as fluffy as the day you bought it.

It would be tough to make a bag with a traditional design this light, but the Plasma uses Insotect Flow vertical baffles, which help direct heat to the wrap-around footbox, keeping your toes warm without the need for extra down. Leaking and drafts are minimized, too, with help from the insulated draft tube, collar, and face muff, so you don't have to deal with cold air sneaking into your bag and ruining your night.

30-degree rating
875-fill goose down with Down Defender water-resistant treatment
Mummy bag with Insotect Flow vertical baffles
10D Pertex Quantum nylon ripstop fabric
Ultralight
Drawcord hood with insulated collar and draft tube
Wrap-around footbox construction
Two-way zippers with garage
Hang loops
Phenomenal Bag
Familiarity:

I've used it several times
I just wrapped up a 4 night Trans-Zion backpacking trip with this sleeping bag and thoroughly love this new piece of equipment. Marmot has designed a great sleeping bag for mid-spring to mid-autumn in the desert.



First, the Plasma 30 is extremely light. I knew this when purchasing but its ridiculous to feel it in hand. Historically I have strayed from going too light for issues of durability but....



Second, the Pertex Quantum this bag uses for its shell and lining is by far the most down-proof material I have ever experienced. After almost a week of use and compression I have yet to see a single down feather. I have never used a piece of down equipment that didn't lose at least one feather a trip. Not a hint of this bag giving up a feather yet which means its will keep its warmth rating much longer.



Third, the shape and features on this bag are perfect for my body and sleeping style. The zipper is long enough for ease of use while ending well above the toe-box for thermal efficiency. The draft collar came in handy for my first night when the temperatures dropped to 25F, which only required that add my down vest to keep warm (this bag is accurately labeled at 30-32 for my body temp). And the hood is well designed as well: it has the proper lanyards for cinching while also being fashioned in a way for me to open it up and breathe when side sleeping. I move alot while sleeping and found this bag worked perfectly on my side or back.



All-in-all.....I can't imagine a better design coming from a major company for a lightweight summer and shoulder season sleeping bag. Compressable, proper EN temperature rating, durable and comfortable. And I really can't provide enough praise for the Pertex Quantum they chose to use.



(Per the zipper issues...they seem to be a thing of the past. Never had a problem with the new 2014 model.)
I like this bag
Familiarity:

I've used it several times
I have the 2013 model and after about five uses, I really like it. I agree that the zipper tends to snag a little too often on the bag, but it comes un-stuck pretty easily most of the time. The loft is great, the bag itself is unbelievably smooth, comfortable and it is ridiculously light. I tend to sleep a little cold, and last night was the coldest night I have had in it; 35* and I wore socks, a pair of Under Armour tights, a 160 Icebreaker base layer with a North Face DNP hoodie and was spot-on comfortable; never hot and never a shiver - perfectly warm. Some might say the bag sleeps cooler than the 30* rating, I prefer to say I sleep cold...which I definitely do. It was on sale here, but they must have run out so I got it somewhere else at the on-sale price...which is good, as I couldn't justify paying close to $500 for this unless you are a _serious_ weight weenie and are only camping in moderate weather. Can't discuss wet-weather/conditions performance yet, but will when I experience that.
I had this Marmot bag in my cart until a...
I had this Marmot bag in my cart until a few weeks ago when it apparently sold out and was removed. At that time it had many strong reviews; now it's available again and it has only one 2 star review. It's also $200 more now and even more expensive than the Plasma 15. No longer being on sale is my loss for waiting but what happen to the reviews? Was there a discrepancy with the previous reviews? I tend to lean heavily on reviews and want to ask before I pursue this bag again.
My review was based on last year's model. It seems that model is no longer in stock and this year's model is slightly different as it has the new water-resistant down that's becoming very popular. I would doubt that they made any changes to the zipper and to me the WR down is actually a negative. The longevity seems unproven and the fact that WM considers it a "gimmick" has convinced me that it's not really all that impressive.
Best Answer
Jeff,



The reason for the change in reviews and price are because this is the 2014 version of the Marmot Plasma 30. This bag has been updated and is new for this season, so it will be receiving its own list of reviews independent from last season's model.



Since ryan2206705 has stated that his review is about the 2013 model, I guess we actually don't have any reviews currently for the 2014 model.



Happily, I have had some experience with the 2014 Marmot Plasma 30 and I was very impressed with the bag overall including the changes that were made to improve it over last year.



First of all the zipper was improved to decrease the risk of snagging which was somewhat of a problem in previous editions, though I must say, no more of a problem than on most other sleeping bags. This bag also employs Marmot's 875 fill Down Defender WR down which has a "wet-out" limit 10 times longer than untreated down. If you constantly find yourself sleeping in a waterproof tent where moisture is not a concern, this attribute may seem irrelevant or even gimmicky. However, if you are sleeping in the open air or on a bivy ledge where moisture is a constant threat, treated down comes in handy pretty quickly.



When it comes to price, it is true that you can find a lot of 30 degree bags out there for less money, and even plenty of 30 degree down bags. But the whole point of the Marmot Plasma line is to design bags that are extremely light and compactible for their temp rating. When judged by this standard, the Marmot Plasma 30 becomes a very good value for the quality of the product you are getting.



So in the end I think you have to analyze your own intended use. If you are looking for a solid 3 season bag that is super light weight and compactible, with channeled baffles for excellent down distribution, and you could really benefit from a water-resistant treated down, than this is the bag is a very good option for you.
Mike, thanks for the info. I should have read the specs closer and I would have noticed the differences. It would help if there was a "new" banner of some sort identifying the change. This also explains the 2 plasma 15's selling for 2 different prices as well.




Not too warm, very bad zipper problem
Gender:

Male

Familiarity:

I've used it several times
This is a very comfortable bag filled with a lot of quality down. The outer material is very soft and the neck baffles do a good job of comfortably preventing drafts from getting in. It lofts significantly when and unpacked and can be compressed very tightly--I definitely believe that this is 900-fill down.



However, I don't recommend this bag at all. First off, it's ridiculously expensive for a 30 degree back, a rating that is very questionable. Technically, the EN low end comfort limit is 32 deg (which they rounded down to 30), so this is is more suited for temps of 45+. I would even say that I would be slightly cold in this bad at 50 deg, unless I were wearing some sort of sweater or jacket. This is definitely a summer bag, unless you intend to wear a down jacket while sleeping in the shoulder seasons.



The main problem, and the reason why I hate this bag though, is that the zipper constantly snags. I would say 3/4 times of unzipping or zipping this bag, the zipper gets caught on the extra flap of fabric used to insulate the zipper. The thinness and slipperiness of the outer fabric makes it very easy for it to flap around get caught in.



Sounds like a minor problem, but becomes especially problematic when it's cold at night and you want to zip up, but then the zipper snags and you have to figure out how to fix it in the dark, which can seriously take a two or three minute, then fall back asleep. Or if you're really hot and you can't quickly unzip the damn thing. I should be able to consistently make these quick adjustments in my sleep without being woken up to fix this stupid problem. This has happened to me on several occasions. I'm a sensitive sleeper and the fact that making comfort adjustments wakes me up means I'm returning this pack. Imagine having to get out of your bag, put on your boots, and walk out of your tent at night to zip/unzip the mesh it if it's too hot/cold. You really have to do more than fiddle around to fix these snags.