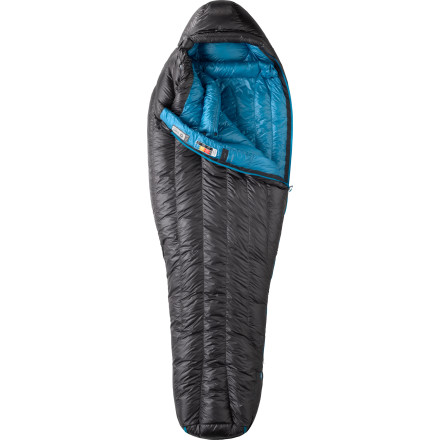 Description
Inspired by the sun, made for Earth.
Brainiac scientists tell us that the sun's made primarily of plasma, so it stands to reason that Marmot would make the Plasma 15 Down Sleeping Bag out of the same hot-hot-HOT material; unfortunately, Marmot's bag designers couldn't quite figure out how to sew plasma and magnetic fields into a functional sleeping bag, so they opted for 875-fill goose down wrapped in bulletproof Pertex Quantum fabric for the ultimate combination of warmth and lightness. The Plasma's designed to be comfortable in chilly temperatures: as low as 15 degrees, with a comfort rating of 29 degrees. It weighs less than a galaxy's worth of anti-matter—just under two pounds—and packs down smaller than the beginning of the Big Bang, so you won't notice it in your pack any more than you'd notice a few extra protons.
This combination of weight and warmth is made possible by the Insotect Flow vertical baffles, which direct heat downwards to the wrap-around footbox, minimizing the amount of down required to keep you toasty. Down also loses most of its insulating value when it gets wet, so Marmot designed the Plasma an inner and outer DWR coating, and treated the insulation with Down Defender, which helps it maintain loft it things do get a little soggy. There are also small touches that make a big difference, like a cold-air defeating insulated draft tube, insulated collar, and face muff to seal your bag up tight against the chill; if you get cold, it's probably because you've taken the Plasma somewhere it doesn't quite belong, like the moon.
875-fill goose down with Down Defender water-resistant treatment
Mummy bag with Insotect Flow vertical baffles
10D Pertex Quantum nylon ripstop fabric
Ultralight
Drawcord hood with insulated collar and draft tube
Wrap-around footbox construction and face muff
Two-way zippers with garage
Hang loops
Decent bag, way overpriced.
Familiarity:

I returned this product before using it
The Plasma 15 is by no means a bad bag, but it's shocking anybody would pay nearly $700 full retail for this thing. I got mine on sale for $430 and am still sending it back. Why? Because you can do a lot better in this weight range.

I compared it to two other bags: The WM Versalite and the Feathered Friends Lark. Both of these bags are rated 10 degrees, but all 3 bags feature about the same amount of down fill, so I think they are very comparable. The WM uses 850, the Marmot 875, and the FF 900. Trust in those numbers as you see fit.

I weighed all 3 bags. The Marmot came out just above 2lbs, which was about 1/2 oz more than promised. the WM bag came out at 2lbs 1oz, or 1oz more than stated. The FF bag actually came out just a bit less than the 2 lbs stated, at 1lb 15.5oz. So all and all, the bags are nearly identical in weight and stated amount of fill.

Laying the bags out next to each other is where the difference is obvious. The Marmot just looks sad next to the WM and the FF. Again, it's a nice bag, but it's clear it isn't in the same class as the other two. They are all cut a bit different, so individual taste will vary, but all fit well enough for me.

The fabric on the Marmot is really nice. It's much quieter than the other two bags and quite comfortable. The WM fabric is nice enough, but nothing about it stands out. The Pertex Endurance UL used on the FF is definitely the noisiest of the bunch. This may bother some people. It's very light, however, and claimed to be very water resistant.

One other thing the Marmot has that the other two doesn't is DWR coated down. Maybe this is important to some people, but I have had a problem with soaked down exactly once in 20 years, so frankly I believe keeping a down bag dry is more about the user than fancy down coatings. It also features the vertical baffles, and I'll leave it as a user exercise to figure out how much difference they make. Reading about them at the insotech website they seem very much like a gimmick, and holding the bag up to light showed a huge amount of uneven down distribution. Some areas looked to have almost no down at all. I'm not convinced the vertical baffling is a good idea.

Granted, I did not use this bag outside, because I had to keep the bags unused to be able to compare 3 of them within my house. So you can take my review with a grain of salt. I have no doubt it will be a comfortable and warm high quality bag. I give it 3 stars because I am 100% convinced that you can get a better bag for far less money. How Marmot thinks they can charge nearly $700 for this bag when you can get a USA made FF or WM bag for so much less is beyond me.

In the end I decided on the FF Lark, and will be sending the WM and Marmot bags back, even though the Marmot would cost me $150 less at the sale price I found it.
very versatile
Gender:

Male

Familiarity:

I've used it several times
I am very happy with this bag! Although I bought it for 3-season use, I actually used it twice winter camping this year, combined with a sea-to-summit liner, on nights where lows stayed in the 20s. The bag itself is very compact. It looks great and feels durable. I used it last weekend in the Adirondacks and my friend's tent had a leak and some water dropped on the bag.....the water beaded up right on the surface of the sleeping bag...it did not seem to penetrate through, and the down did not compact at all. I look forward to using it backpacking a lot in the future!
Best bag around!
Familiarity:

I've put it through the wringer
This is by far the best sleeping bag I've ever owned and I was fortunate enough to buy it when it was still 950 goose down. It is light weight and compressible. I wish I could get a right hand zip but that is a small thing when compared to the performance and function of this bag. I can't really speak to how well the hood works because it keeps me so warm I find myself having to use it more like a quilt which is perfect because I don't really like feeling like a burrito. I've used it in rainy and humid conditions and didn't end up with any moisture on, in, or around the bag, probably helped by the fact that I don't zip it all the way up. I know that the price is steep but you totally get what you pay for with this. Just watch for a sale like I did and it's worth every penny!
Compact and Warm
Familiarity:

I've put it through the wringer
Marmot's origins are in sleeping bags, and to this day they make the best bags on the market. This bag balls up smaller than my down jacket and is perfect for moderate weather trips. The vertical baffeling really sends the heat from your core down to your toes. I even survived a night with a wet bag due to a leaky waterbottle.
How does this bag preform with condensation...
How does this bag preform with condensation or melting snow? Anybody know about this pertex fabric? How water resistant is it really? Good enough for PNW?
It's actually really good about moisture. The down has a hydrophobic treatment so even if you get it damp theres a really good chance the down won't get soaked. I have spilled stuff inside the bag a couple times and just let it air out for a bit and once the pertex was dry the bag was good to go. It's a really good bag. The only thing it's missing n my opinion is some stiffening tape along the zipper to make it snag proof.
This is an excellent ultra-light sleeping bag for cool weather backpacking. I took this out for the first time in mid-April and was surprised by a cold front that dropped us into the teens at night. In those temps the Plasma 15 was not comfortable, by any means, but warm enough to keep my shivering to a minimum throughout the night.

A personal shortfall I've found with this bag is that I cannot zip it past my chest without help from another person.

Once there, getting out of this cocoon of claustrophobia is an even bigger nightmare.

So if you have a barrel chest or broad shoulders, find another bag.
Super warm and comfortable.
Familiarity:

I've used it several times
I used this bag on a one night adventure on the AT in north ga in January 2014. The temp dropped as low as 5 degrees. I did start off in the bag with my Arctertyx cerium down jacket but took it off once I was zipped up nice and cosey. Outside the bag it was freezing, inside the bag it was warm and toasty. I used it again in early march and temps were in the high 30's and the bag was perfect not to hot and definitely not to cold. I highly recommend spending your hard earned coin on this bag. I slept in an eno singlenest hammock with a Vulcan under quilt both times.