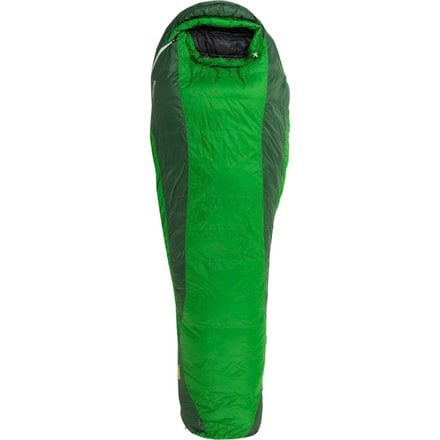 Description
Two-and-a-half pounds of summer sleeping warmth.
Average winter lows in Big Bend hover around 40, making it the perfect environment for the 650-fill goose down Marmot Never Winter 30-Degree Sleeping Bag. Really, though, the Never Winter's perfect for pretty much any spring, summer, or fall trip you can imagine, since it weighs just two pounds but comes loaded with features like stretchy tricot baffles, an insulated draft tube and collar, and a trapezoidal footbox designed to keep your toes warm and comfortable. Super lofty and light down doesn't insulate well if it gets wet, but the Never Summer's got a trick up its sleeve—the down has been treated with Down Defender, which helps it maintain loft and insulating value even if does get a little soggy.

That's not all, though. The Never Winter comes complete with a five-baffle insulated Nautilus hood to keep your brain warm, and a face muff that seals drafts out and warm air in. Cinch everything down, and the locking drawcord will keep it there, and stay out of your face at the same time. Guards prevent fabric from jamming itself into the two-way zippers, too, while a low-profile stash pocket holds small gear that you want to keep handy at night.

37-degree EN comfort rating
650-fill down with Down Defender water-resistant treatment
Mummy bag with ground-level side seams
40D nylon ripstop fabric
Five-baffle Nautilus drawcord hood, insulated draft tube, and face muff
Trapezoidal footbox construction and stretch tricot baffles
Down-filled collar
Stash pocket
Hang loops
Share your thoughts
What do you think of the
Marmot
Never Winter Sleeping Bag: 30 Degree Down
? Share a...
I just received this bag today. It seems thinner than what I was expecting. I am heading to Arizona over the winter months to do some hiking and I am concerned this bag may not work well for the higher altitudes and northern part of the state (including southern Utah). Also, the green is not a very soothing color. Blue seems more of a relaxing sleep color - in my opinion. Do you think I should return this and replace it with the Marmot Sawtooth Sleeping Bag?

On a side note, I am pairing this sleeping bag with the Marmot Pulsar 2 tent: If that gives you any reference point of outside insulation from the elements. And yes, I will have a sleeping pad under the sleeping bag.
Best Answer
Responded on
#1. It is a +30 degree bag, not -30.
#2. Why are you asking questions about products you already bought? Do the research before purchasing.
#3. If you are afraid of being cold, go to Mexico instead.
#4. Again, it is a +30 degree bag. Do your research on what temperatures you will be sleeping in - whether Arizona, Utah or Antarctica!
#5. Do you sleep during the day or with a light on, & with your eyes open? Color is just for looking at your bag in the tent or on the ground. Boogie-men do not care what color bag you are sleeping in. If color is your main concern, stay in the city.
#5A. The women say you had better have color-coordinated your tent with your bag.
#6. Tents provide shelter from wind, precipitation & the sun. They have no insulative properties - unless you are in an outfitters or circus tent.
#7. You may want to put a puppy pad in the bag (on top of your sleeping pad) in case the boogie man shows up, & you "get scared".

Sorry, I just was totally unable to resist the temptation to add some twisted humor to a seemingly outlandish post. It is just that I make sure I do my research BEFORE buying & going. I know, or get to know my environments & equipment, and I could hardly care less about the color(s) of my gear - unless I am hunting.
My daughter & I had a great belly-laugh about Michael's questions. I am helping her replenish her gear in preparation for the 2015 Mongul Derby, 620-mile horse race in Mongolia. By the way, I ordered this bag for her, and it DOES MATCH the backpack I bought for her on Sunday. She will have no sleep problems because of the color.
Posted on
Great 3-season bag
Familiarity:

I've used it several times
I've used it 5 or 6 times so far, sleeping outside in the desert, and it's done the trick. It's nice and light, packs down small, and feels cozy when you zip it up, but you won't wake up sweating to death. I'd call it a solid 3-season bag, as long as you don't sleep really cold or spend October nights way up in the alpine or anything like that. It's also more versatile than the Always Summer, which is a true summer bag. I did get a little soggy once when there was some heavy dew, but that's gonna happen, and it's easily remedied by pitching a tent if you're worried.
Posted on
What is the difference between this one...
What is the difference between this one and the Marmot Always Summer, other than the degree difference?

I'm 5'9, and I get hot easily while sleeping, especially my feet.

Looking for a sleeping bag that I can use in the deserts of Arizona...maybe up north in the mountains year-round. Thanks!
Responded on
Hey Allison,
Great question. The main difference between the two bags is the amount of down used in the bags. This means that the Always Summer bag will have slightly less down which equates to a bag that is not quite as warm. With less down the Always Summer bag will also pack slightly smaller and will weight in just a few ounces less. The Always Summer is an ideal bag for hot climates like where you are located. It would be my choice for a summer specific bag in Arizona, though the Never Winter will also work well. The Never Winter would be a better bag option for the higher alpine climates you may encounter in the mountains of Arizona. The main reason for this is the added down fill will increase the warmth of the bag ever so slightly, which is beneficial when you encounter a cooler summer night at higher elevation. Really I think both bags would work well for you.
Responded on
Thanks for the answer! I have some more questions...

What about if you like to sleep with your feet pointing down? Will it provide enough room in the long for someone who's just shy of 5'9"?

I also saw the features from the Sierra Designs Backcountry sleeping bag...that is really awesome. Are there other sleeping bags out there that have that option where you can stick your feet out?

Lastly, what is the difference between a left-zip and a right-zip? What would compel somebody to pick one over the other?
Best Answer
Responded on
Hey Allison!

Left zip or right zip gives you two things to consider.

If you are right handed, a left hand zip is great because it's easiest to zip/unzip the bag with your dominant hand while laying on your back. And of course, vice versa for a left-handed individual who opts for a right-hand zipper.

Also, if you plan to zip two bags together for a little snuggle sesh, you need to pair a right-hand zipper with a left hand-zippered bag to zip the two together and ensure maximum snuggly bliss!

Hope that helps : )