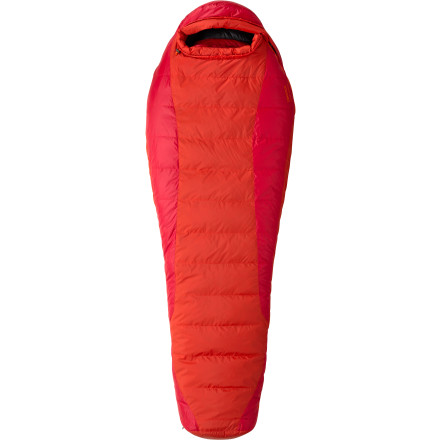 Detail Images
Description
If it's never summer, it's probably always cold.
If it's Never Summer, as the Marmot 0-Degree Down Sleeping Bag of the same name suggests, it stands to reason that it's always either spring, fall, or winter, and that any campers or backpackers are going to need a seriously warm sleeping bag. The Never Summer's certainly that, as it's packed full of 650-fill down that's been treated with Down Defender to help it stay lofty and warm, even in wet conditions. It also has features like an insulated five-baffle hood, a face muff, and a trapezoidal footbox designed to keep you warm and comfortable when the mercury drops all the way down to 13 degrees.
The Never Summer's perfect for active sleepers, too, with stretchy baffles that keep you from getting stuck and claustrophobic, and locking zippers that won't come undone if you're chasing squirrels or wrestling bears in your dreams. An draft tube keeps—surprise!—drafts at bay, and the insulated collar stops warm air from sneaking out the top of your bag. Slip your essential whatevers into the small stash pocket, cinch up the hood drawcord, and ride out the icy winter nights in serious comfort.
13-degree EN comfort rating
650-fill down with Down Defender water-resistant treatment
Mummy bag with ground-level side seams
40D nylon ripstop fabric
Five-baffle Nautilus drawcord hood, insulated draft tube, and face muff
Trapezoidal footbox construction
Stretch tricot baffles
Stash pocket
Hang loops
A great value
Familiarity:

I've used it several times
I'm typically a cold sleeper so I really appreciate having a warm bag like this even though I'm mainly using it in California. I've spent several winter evenings (low 30s) in this bag and have stayed comfortable in only a tank top and boxers. It packs down to a good size and is also light enough for backpacking trips. The stash pocket is great for chapstick, keys and whatever else you like to keep handy.

When at home, I sometimes use this as a blanket or pad for friends to sprawl out on while watching movies because it's so soft. It's a great color too!
Such a great bag!
Familiarity:

I've put it through the wringer
So glad I got this bag, it was worth every penny!

I am generally a pretty cold person and I definitely sleep cold as well, so It was important to me to get a good 0 degree bag.

I've brought this thing to Yosemite and Big Bear when temperatures have been around the low 20's and I was so warm at night that I had to unzip the bag! Major win!

I take it back packing and it doesn't feel too heavy, and packs down to a good size. So glad I got a down bag vs. synthetic.

Another plus is the cool color! :)
Never Summer
Familiarity:

I've put it through the wringer
Great bag; insanely cozy and warm. I often get too warm in it and unzip the bag to get a little air. It's been on backpacking, rafting, hunting, and fishing trips. The bag does its job and I love the bright orange color.
Hi I am going to be climbing Mount Kilimanjaro next month and Im looking for a sleeping bad that's good enough for cold kili nights but also a bag I could use camping in the states would you recommend this one or the mountain hardware phantom?
Dharti,



While both are suggested to be zero degree bags. I'd recommend the MHW Phantom above this Marmot bag.



You'll be getting added benefit from the MHW Phantom bag on top of just being warmer at night. Going up Kili is going to be a long trek so you'll appreciate the reduced weight and the fact that it's more compressible.



Saving space and weight in your pack.



I've emailed you incase you have more questions. I've set a whole bunch of people up with full kits for Kili treks and would be happy to help out if you have any questions!



Shoot me an email anytime you have questions!



Jared D.

Expert Gearhead

801.736.4336

jdowns@backcountry.com
Several temps. mentioned. what is the lowest comfortable temp.? If it is warmer than lowest temp is the bag still comfortable?
Frank,



Sleeping bags can be tricky since there are a number of factors from weather and the tent you're using to how your body regulates it's temperature and what sort of food / how well hydrated you are.



But based on the EN testing, this bag has a comfort rating of 13 degrees F. Personally, I'm a warm sleeper and could see me using this bag down to around 5 degrees F.



You could use this bag in warmer temps but if you're a moderate to warm sleeper, you might find that you don't want to use this bag above say 25 degrees F, otherwise you might over heat in the bag.



Shoot me an email anytime you have questions!



Jared D.

Expert Gearhead

801.736.4336

jdowns@backcountry.com
Warm fuzzies
Familiarity:

I've put it through the wringer
I received my Never Summer as a gift probably 8 years ago or so. I'm sure a few things about the design have changed since then, but I can tell you that after many years, I have no plans to retire my Never Summer any time soon!

Over the years I've beat mine up pretty well. It has definitely lost some down and maybe doesn't fluff up quite as much as it used to, but it is still super cozy to slip into after a long day on the trail and I never have a doubt about staying warm in it. Most nights I have to leave the hood totally open and zip it open at the feet so I don't sweat.

My only disappointment with the bag would have to be the weight. At 3 lb 8 oz, it's a bit on the heavy side. Still, not bad when you consider the temp rating and the price.

Overall, I definitely recommend this bag.
My First Down bag
Familiarity:

I've used it once or twice and have initial impressions
I picked this up to replace my 12 year old 40 degree synthetic Eureka Cimarron. That had gone through the wringer and was in much need of replacing. I got to the point of double bagging with another synthetic bag for late season 14er bagging missions. I wanted a down bag for light weight pack-ability, and really wanted treated down for the trade off of the benefit of a synthetic bag. Plus, its named after a CO mountain rage.

Im 6' 205#s and a regular fits me ok. I didnt want a Long, and need to try to heat excess material. I say it fits ok, because it is pretty snug. my chest measures 51" around my arms. The length is ok as well, I have another 2-3" beyond. I couldn't wear any thing more than a Nano Puff and be comfortable.

Ill update this in the coming months with more info : durability, moisture repellancy, warmth etc
GREAT BAG!
Familiarity:

I've used it several times
I have used this for three nights now and very happy! The coldest is gotten is 20 degrees at Trail Camp on Mt. Whitney. It's been WARM! I know it could easily keep me warm at 0 degrees! Roomy. Long enough for me at 5'9" with tons of stuff in the bottom stuffed at my feet...like my down jacket and pants and a couple of shirts! I love the cinching collar and hood. Keeps out any cool air! Plus the little pocket in the collar is great for keeping my eye drops and chapstick in! Though it was hard to find. But that was probably just me at 12,000ft being stunned. I am taking this bag to Shasta with me! Love the orange colour too! Thank you Backcountry...always great service!
More rugged, super warm down sleeping ba
Familiarity:

I've used it several times
I've used this bag about 6 times now and am thoroughly impressed. Going from a 20F synthetic to this 0F down is life changing. The coldest I've slept in this bag is 20F, and I was very warm.



Otherwise, the bag zips well, as long as you are careful. It's a non issue for me.



If you're looking for a more rugged down bag (40D nylon) and don't need the ultra packability or weight requirement of an ultra light bag, I think this bag is ideal.
COST SAVINGS Agreed
Familiarity:

I've put it through the wringer
I have had a Never summer for quite some time. I recently upgraded for above 0 bag and decided to go with the same one. The warmth is a no brainer, it is 650 down... I am not sure about the zipper issue below, but like any bag you have to be conscientious not to overlap materials. The design is rock solid with a little extra room to tossing and turning. the length in the regular is solid if your under 6'0". Materials are plush and the build is proven. Like Dan Be below said, not much has changed in the last decade, and there has been no reason for it to. This is definitely one of the best bags for the price.
bad zipper
Gender:

Male

Familiarity:

I've used it several times
This is the second bag bought after returning the first because the zipper was so jammed with material I was afraid to unstuck it of fear of tearing the material...returned it for another, got it and use it once last weekend and it did the exact same thing...very poor design on the zipper, no draft tube either and it has a cheap plastic sipper...I won't buy another one for sure...be forewarned on buying one, it is a nice bag, just bad design on the zipper...
Super warm and comfortable
Familiarity:

I've used it several times
I bought this after a cold front came in early this year on the first of two weekend trips in my sawtooth where I woke up and could feel exactly where the zipper was by the cold. It has been really comfortable and warm enough I slept with it open after freezing in the sawtooth I have had and used for years. If it weren't for the extra weight, I would carry it all the time.
awesome for the price
Familiarity:

I've used it once or twice and have initial impressions
Used this on camping in the tetons a few weeks ago, let me buddy borrow my old montbell(long standing favorite) and I think I might prefer this bag over it. It packed up smaller and provided just as much warmth. the only issue I had was jamming the zipper almost every time I tried to zip that bag up.
Warmth that should cost more
Familiarity:

I've put it through the wringer
I have owned a Never Summer down bag for 10 years now. Though the may have seen some light improvements in that decade it is relatively unchanged. The reason for this is Marmot nailed this bag when they first designed it. The bag is fairly light for a 0 degree bag. I use this bag for early spring and late fall camping. I have used it in the dead of winter camping here in Utah and found it worked quite well. Only once have I been cold in this bag and that night was below zero. I would say this bag is quite comfortable from around 40 degrees to 15 degrees or so. The quality is spot on and I have not had one issue with this bag in the time I have owned it. I do store it in a a storage sack to keep it from being compressed while in storage. I would recommend this bag to any one who is looking for an awesome 0 degree bag but doesn't want to spend the money for an ultralight model.
Should be called "Never-In-Summer"
Gender:

Male

Familiarity:

I've put it through the wringer
I've always had a hard time sleeping warm in synthetic bags, especially during winter & spring. This bag has become my main one for quite a while now, but it can get really, really warm during nice summer nights...I usually don't even bother zipping up, and often just sleep with it draped over my midsection. Awesome value for the $$, even good for mild winter camping here in Wyoming! Not an "arctic bag" though...