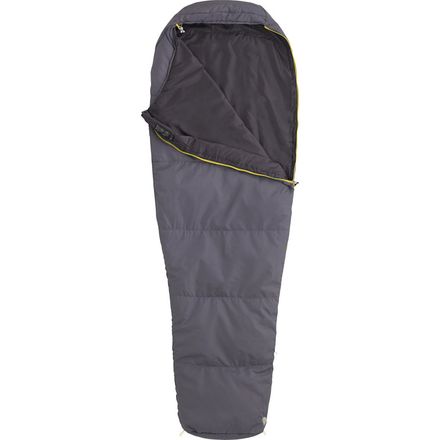 Don't carry more than you need on your next summer backpacking trip just to sweat buckets all night long. Pick up the Marmot NanoWave 55 Sleeping Bag to minimize your load and stay comfy in warmer climates. Super-packable and lightweight, this bag is the ideal companion on your summer adventures whether you're traveling by boat, bike, or by foot.

Lofty SpiraFil insulation combines hollow fibers and denser, solid synthetic fibers in order to offer a balance of warmth, softness and compressibility
Insulation fibers are thermally bonded so the insulation maintains its loft and shape longer, meaning more warmth and a better performing bag in the long run
DWR-coated shell material fends off light rain and moisture so your bag and insulation stay drier in inclement weather
Snagless draft tube won't leave you trapped when nature calls in the middle of the night
Snag-free draft tube seals in extra warmth
Two-way zipper sliders enhance convenience
Blanket construction means that you can unzip the bag, lay it flat, and use it as a blanket in warmer conditions
Included compression stuff sack helps save space in your pack
Great summer bag
Gender:

Male

Familiarity:

I've put it through the wringer
I work in a national forest for 8 days straight, two weeks a month and brought this bag with me all summer. Super light weight and compact. What makes this bag great is the material on the inside. It feels less like a sleeping bag and more like some sort of amazing bed sheets, perfect for hot sticky nights in the Georgia mountains, because we all know that we aren't wearing much in our bags in the summer. Perfect for hot sleepers like myself. The downside is that my version doesn't zip all the way open, and I bought it this summer. Way better than the REI bag rated to the same.
Seemingly solid bag for the price!
Familiarity:

I've used it once or twice and have initial impressions
I have yet to take the bag out to test the limits of the 55 degree rating but will do so next week and can update then.



The packability is AWESOME and, contrary to some other reviews, I had no trouble getting the bag back in the provided stuff sack.



Good video here: https://www.youtube.com/watch?v=GolE9gg3GRo



Initial impressions:

The long is definitely long enough (I'm 6'1).

Even though its not a full mummy, its a bit narrow, most noticeably around the knees, but enough room overall.

The bag is warmer than the VERY thin material would make you think but yet to be tested in under 55 degrees.



Picture shows it back in compression sack next to a gallon jug of water for comparisson
warm-blooded campers take note
Familiarity:

I've used it once or twice and have initial impressions
Backpacking and camping in Georgia summers is a hot, sweaty, sticky affair. Even a 35 degree bag is just too hot to be comfortable. Car camping, you just take a blanket, but what about when you need something lighter and more compact for backpacking?

This bag is perfect. It's light enough, perfect temperature rating, extremely compact, and the material isn't all plasticky and sticky. What's not to love?

It comes with a nice compression sack, and is seriously smaller than a Nalgene bottle when compressed. It's a bit heavy for what it is (55 degree down bag would weigh probably half this, but cost $200+), but compared to other 35 or 40 degree down bags, it's competitive. Plus, it can get wet or at least damp and no worries with the synthetic insulation.

The material is great, it's less like an ultralight synthetic weave, and more of a microfiber cotton. Really comfortable and not sweaty. The length is good, 5'10 and I fit comfortably in the regular with a few inches to spare.

Backpacking in July, I started the night out with it draped over me like a quilt, and in the middle of the rainy night I got a bit chilly so I zipped it up and was great for the rest of the night. It's perfect for summer in the south.

My only gripes are that it could be a bit lighter (maybe it doesn't need a hood?), and the zipper doesn't go all the way to the bottom, so you can't use it like a big quilt. Otherwise great bag at a great price.
The bag type is semi-mummy, with left zipper only - so is it safe to assume two bags cannot be zipped together?
You can zip together if the zippers are on opposite sides, which unfortunately isn't the case for this bag.
Perfect for Summer
Familiarity:

I've put it through the wringer
This is the best bag for any warm weather camping. I have used this bag in 45 degree weather with no problem! It packs down very small and is great for warm weather backpacking. Anything under 40 degrees you will want a warmer bag, this is for your summer camping and is worth the $.
I ordered the Marmot NanoWave 55 Sleeping...
I ordered the Marmot NanoWave 55 Sleeping Bag: 55 Degree Synthetic in the regular size. What height person is that good for?


Hey Kennon,



According to Marmot the regular size will best fit a max user of 6 foot tall.
Best Answer
Kennon,



I have the nanowave in regular, and I am 6'1". It is a little on the short side, but not uncomfortable. However, if I were to order another I would get the long.




I will be heading out west this July hitting...
I will be heading out west this July hitting up Montana, California, Colorado, Nevada, Utah, and some Grand Canyon hiking. Will this bag be good for those conditions and temps?
It's tough to say, since that's a pretty wide spread of states and climate ranges you've indicated-- temperatures in desert regions can drop significantly below 55 degrees after sundown; ditto for alpine settings. Unless you're an extremely warm sleeper, I'd recommend a bag rated down to at least 40 degrees for some of the locations you've mentioned.



(Alternately, you could check out sleeping bag liners for supplementation.)



Feel free to give me a call if you'd like to chat-- 800.409.4502 ext 4456.
No this bag will not be warm enough. In Nevada, Utah (depending on where you are) and the Grand Canyon it would be fine. But it is nowhere near warm enough for Colorado or Montana, i just got back from the Bighorns and it snowed on us... On the 15 of June, i used a 0 degree down bag and was still chilly if it wasn't zipped all the way. Now this is still mid June which is different than July. I own this bag and i use it in the black hills of South Dakota, just cuz its a low enough elevation it never gets cold enough to freeze. Im going to use it bike packing next week. I would highly recommend looking at the Mountain Hardwear 35/55 degree bag. I think those were the temps. It can be used at a 30 degree bag on one side and you flip it and its 55 on the other side. That would work perfect for what you're explaining. Hopefully this was helpful!!!
Rocks!
Familiarity:

I've used it several times
I have been looking at getting a warm weather sleeping bag. I picked this bag up for spring and summer camping. This bag is perfect! It packs up small and it kept me warm throughout the night where it got down to about 50 degrees. If you're looking for a good summer bag pick this up!
I am planning to walk the Camino next year...
I am planning to walk the Camino next year in the fall. I need a light bag but I am also concerned about warmth. I will be staying inside at night but there will not be any heat and the temperatures generally get to the high 40s and low 50s. I'm planning to sleep in my clothes......do you think this bag will provide enough warmth?
Yes, and there is heat in much of the Alburgue's on the trail
Marmot NanoWave 55 works for me
Gender:

Male

Familiarity:

I've used it several times
I recently had the opportunity to use the NanoWave 55 which I just purchased this spring. I used it fro a week straight. It worked very well. The temps were a little warm, but I was comfortable up to about 60-65 at which point it was a little warm. The coldest it got was about 55 and I slept like a baby. I need to try it at the colder range of its rating to see how it does there before giving it the 5th star.



It does pack really small and the only complaint I have is I have not been able to get it back into the original compression sack. I have used a third party 10L compression sack instead.




What are the dimensions of the long version...
What are the dimensions of the long version of this?


The regular is 6' and the long is 6'6.
What are your thoughts on using this as a...
What are your thoughts on using this as a bag liner in a 0 degree down bag during colder conditions?
Best Answer
it depends.



for long term in the field use, i would suggest using a 30 to 45 degree synthetic sleeping bag as an overbag, or get a cottage manufacturer quilt in the same degree range. This will not only add degrees to your 0 degree down bag, but more importantly, moisture from your body prespiring at night will be trapped inside the synthetic instead of the down bag, which is easier to manage, dry, etc.. if you put a synthetic inside your 0 degree down bag, the odds are that your moisture will cool down passing through the synthetic, and freeze inside the down bag, which will cause problems after continous days of use and cause clumping eventually which will make you have to wash the entire bag.



in a pinch, perhaps for a day or two, you could use this as a liner though without any negative consequences to your down. It should add around 7 degrees to your rating.



i would only use this as an overbag for moisture management in extreme cold situations, and not rely on it that much for temperature boost, hence me suggesting a warmer synthetic for that.
Wow, excellent insight Fitztravels!
Great Bag
Gender:

Male

Familiarity:

I've used it several times
I bought this bag to replace my 15 year-old sleeping bag and went from a 32 degree bag to this (I run hot).

The first time I used it I was thrilled:

A.) it was the size of my nalgene bottle and therefore fit into my saddle bags on my bike very easily.

B.) It's incredibly comfortable and warm for its size. ( I ended up trying to sleep in a hammock with no pad in 40 degree weather, got a little cold, but not the bag's fault - it worked for most of the night!)



Great product, recommended it to my mother, would buy again.
i was looking for a small compact and cheaper bag for summer backpacking trips and car camping. i wanted something with good quality but also a good price point. this bag did just that. the zipper works good, but does catch often. the hood gives you that little extra on nights you need it. i have even used it as a liner car camping on cold nights for my 3 season bag.
I needed a sleeping bag for the summer when it's warm. This works perfectly for me. It's good for nights when you fall asleep on top of it or with it unzipped then when you wake up in the middle of the night you can zip it up and not get all sweaty. The 2 way zipper works well for letting your legs stick out to cool off. This also comes with a stuff/compression sack. It will compress tiny, perfect for warm weather backpacking. I will also use this as a liner or 2nd layer for a winter camping bag. It also looks cool and the gray color is nice.
Unanswered Question
Does the zipper go the length of the bag...
Does the zipper go the length of the bag or just half way?