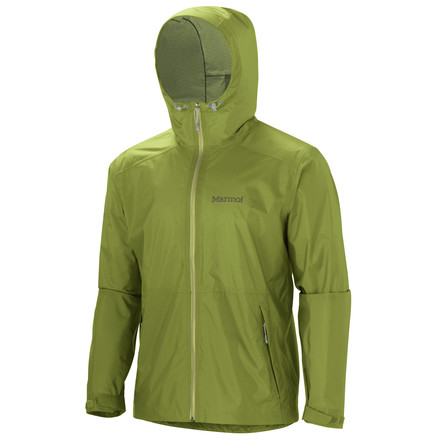 Detail Images
In favor of the Mica Jacket's feathery, six-ounce weight, Marmot engineers ditched the bells and burned all the whistles. The still highly capable 20k-rated weatherproof fabric allows this jacket to fend off three seasons of nasty, mountain weather. And despite its minimalist design, fast-packers, hikers, and gram-counting backpackers will find comfort beneath this jacket's breathable membrane and articulated fit.
Waterproof breathable MemBrain Strata keeps you dry in brutally-wet weather and allows sweaty moisture to escape so you feel comfortable, not clammy, underneath this jacket
Duralite Zonal Reinforcements improve overall shell durability
Fully taped seams add to overall weatherproofing
Angel-Wing Movement describes the articulated cut of the arms, which gives you a full range of motion without lifting the hem of this jacket and exposing your waist
Gale-Force Hood is adjustable for fit and has a laminated brim to keep rain out of your face
Large Pack Pockets and smaller chest pocket provide quick-access storage for essential hiking, climbing or backpacking gear
Fits well, kept me dry. I love the hood, it has a stiff brim when you need the extra protection from the rain, which can be folded back when you don't need it. I have had a mountain hardware rain jacket and the hood was meant for covering a person wearing a helmet, much too large. It is very light weight and looks like a very expensive jacket.
Seattle Rain
Familiarity:

I've used it several times

Fit:

True to size
So I bought this for my dad who lives in Seattle. He doesn't do any hardcore hiking, but spends a lot of time out walking the dogs and with the Seattle fall coming this seems like it will be perfect. I have one myself and I love the light weight of the jacket. It folds up pretty small so pretty much anytime there is even a chance of rain I have this in my bag. Definitely not a jacket that will keep you super warm, but it will keep you dry.
Good Rain Jacket
Familiarity:

I've used it once or twice and have initial impressions

Fit:

True to size
I am not a serious hiker or backpacker, and am a big guy @ 6'2" with a bit of a spare tire (ladies...call me? I have a great personality) and fit great in a XL. I just wanted a nice rain jacket to replace a Mountain Hardware that was too big for me (XXL), and I hated the hood on the Mountain Hardware jacket too.

I have only used it a few times, but so far so good. I like the hood a lot more, because the brim doesn't stick out too far, stays formed, and can be flipped back when you don't need the protection. I feel like the fabric of the jacket won't be to frail. Zippers appear to be high quality and work well. Overall I really don't have anything bad to say about it.
I am looking to buy a new rain jacket and I have been really impressed by the reviews on the Marmot jackets, particularly the PreCip and the Mica, and I am thinking I am going to buy one of those two. Before I do that, I'd like to know some of the differences between the two and their pros/cons... From what I have gathered, the PreCip has the "Angel-Wing Movement" fit and a chin guard, while the Mica is slightly more breathable, weighs 4 ounces less and probably most importantly, has double the waterproof rating. Any other major points I should know about? Which jacket would you recommend? Oh, and does the Mica storm shell have pit zips?
I live in CO and I am buying this jacket primarily for all the hiking and camping I will do, although I could see myself using it as an everyday jacket as well. I look forward to using one of these jackets for years to come, especially since they have a lifetime warranty!
As far as dimensions go, I have about a 32" waist and a 36" chest, so should I go with a Medium size jacket?
Hey Nathan,



The Mica Jacket also has the angel wing movement. No, it doesn't have pit zips. The Mica has a few more bells and whistles than the PreCip but both are great jackets. The main difference is that the Mica has Strata membrain and PreCip is NanoPro (both Marmot proprietary fabrics). I'd go with Mica, it's a rad jacket. Marmot runs very true to size so go with what you normally wear. Good luck!
Always in my backpack
Familiarity:

I've put it through the wringer

Fit:

True to size
I really like this jacket. I've had it for about three years now and I always have it with me. It packs into it's own pocket and weighs next to nothing, so shoving it in my pack has become muscle memory at this point.

Pros:
- Small pack size and light weight so it can go with you anywhere
- Durable enough that it's survived some pretty rough hikes over the last three years
- Packs into it's own pocket which is really neat
- Fits well

Cons:
- Not as breathable as I would like. Spent an hour in a cave and was soaked with sweat.
Lightweight and Dry
Gender:

Male

Familiarity:

I've used it several times

Fit:

True to size
I was looking for a minimal 3 season rain jacket for backpacking and stumbled upon this. So far I love it. I have been wearing it all winter and I have yet to get remotely damp. I live in Oregon and we all know it rains a lot here. I've taken it on a few backpacking trips and had several hours of rain fall. It is amazing how light this jacket is and how the water beads off of it instead of soaking that first layer of membrane like most jackets. The zipper has a very nice weather seal to it and does not restrict the function. The hood sides are attached to the jacket collar which is a big thing for me, I cant stand detachable hoods or partial detached hoods. All in all I would buy this jacket over and over again. Also the fabric does not snag very easily. I've been through quite a bit of brush with it while gritting my teeth hoping not to tear it. After looking it over very closely, no signs os scratches or tears in the fabric, impressive.
Not in a downpour....
Familiarity:

I've put it through the wringer

Fit:

True to size
This is great as a windshirt and light drizzle. I have treated with Nikwax but........in a thunderstorm it is not a raincoat.
Excellent Ultra Light Option
Familiarity:

I've used it several times

Fit:

True to size
Given the low carry-weight of this rain jacket - it's hard to beat if you're wanting to minimize your load. It packs down well and leaves a minimal footprint in your pack. You would think that given the thinness of the material it wouldn't work as well as some other comparable jackets - but, it does the trick very well.

I field-tested in the Smokies and got doused on the AT. The jacket performed well and kept me dry as any other jacket I've owned. The values of this jacket are the super-low weight and high quality workmanship.

The only suggestion for the manufacturer is with the ventilation. It definitely could be better. You have to open up the pockets to get any fresh air. Internal wetness built up from body heat gets trapped. Perhaps future designs might include a few armpit holes or slightly longer pocket zippers (pit zips would add weight).


Gets the Job Done
Familiarity:

I've used it several times

Fit:

True to size
Great fitting rain-jacket for those who are of athletic build. Have worn it about ~5 times so far in the rain and it's essentially an umbrella for your body. The jacket is very light so do no purchase it if you're looking for something other than a rain jacket.
Essential Piece of Gear
Familiarity:

I've put it through the wringer

Fit:

True to size
I take this jacket on everyone MTB and trail running outing. Balls up to the size of small grape fruit and fits nicely into the bottom of a small backpack. I've even used it for an extended summer hiking in the arctic circle where it rained 5 out of the 7 days - amazing water proof properties. Only complaint is that it wears out fast. I got 2 years of steady use out of my mine until the seams started to fall apart. I suppose this is expected from such a minimalist piece of gear. Will buy another one after my current one falls apart (which is very soon!).
Perfect minimalist go-to raingear
Familiarity:

I've put it through the wringer

Fit:

True to size
I've been backpacking for 38 years and to this day I still don't head out on a trip where I KNOW it's going to rain. With that said I don't let a forecast for occasional showers stop me and the weather in the Northwest is unpredictable so I always carry raingear for those few times when I'll need it. After carrying full-on raingear from The North Face, Montbell, Mountain Hardwear and others, two years ago I picked up a Marmot Mica and since then it's always in my pack, even on dayhikes. It's light (my size XL weighs 7.8 oz) and folds into it's own inside-out pocket. Unlike some ultra-tight stuff sacks, the pocket is large enough that the jacket flattens out some when packed so it's easy to push into a cranny in your pack. When it does rain the jacket works as designed and keeps me perfectly dry. I normally wear a size Large but I bought a size XL Mica because I wanted to be able to put it on no matter how many layers I have on - and it is roomy enough to fit over my Montbell puffy down parka. The Mica has a large hood (large enough for a helmet?) but unlike other rain jackets, the hood on the Mica is easily adjustable for a great fit whether or not I'm wearing a fleece hat or baseball cap. All in all the Mica is the ideal fit for my backpacking needs and it's one of the few pieces of gear where I can't imagine looking for something lighter or better.
Great Purchase!!!
Familiarity:

I've used it once or twice and have initial impressions

Fit:

True to size
Fits according to size charts, nice insulation and good purchase!
No Underarm Vents or Chest Pocket
Familiarity:

I've put it through the wringer

Fit:

True to size
Description is misleading. Perhaps they changed the design since I bought mine (Sept 2012), but my jacket does not have the underarm vents or chest pocket mentioned in the description. I don't see any in the pictures, either.



Overall, the jacket is good. It's very light, compresses down to almost nothing, and the fabric is pretty breathable. The fit is great--whatever the Angel-Wing Movement cut is, it really works.
Does the hood stow into the collar?
Does the hood stow into the collar?
Best Answer
Nope, sorry Richard
Hey all,



Just to confirm- this will pack down neatly into it's own pocket. No stuff sack.
This is a great lightweight, no frills, breathable, totally waterproof rain jacket. Perfect for summer rainstorms and lightweight hiking/backpacking.
Super light, not working for me in the rain though
This is a really light jacket that compresses well. It's nice to know I can stash it easily and without adding any noticeable weight, even on a day hike. It will even fit in your pants pocket if you want. I've had problems with the water proof factor though. I've had it for 1 year now, and it is not waterproof at all anymore. 5 minutes in light rain and it is already soaked through to the inside. Could it be possible mine is defective? I thought it had a 20,000 rating, and I find it hard to believe that this model would be that weak when exposed to the element it's designed to protect against.