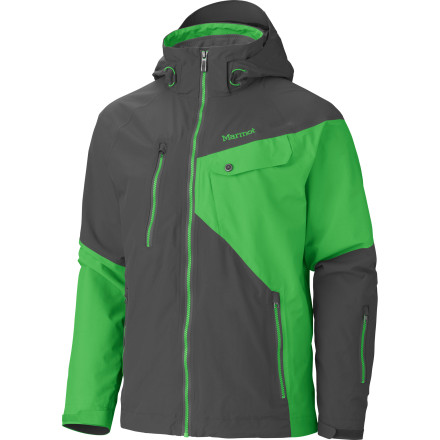 There are about a trillion flakes that fell last night with your name on them, and with the Marmot Marmot Jacket, not one will get inside and ruin the best day of the season. After you zip up this snow-proof shell, snap on the powder skirt, fix the cuffs, and pull on the storm hood, you can ski trenches through shoulder-deep snow all day without it sneaking inside. That way you can just focus on breathing between faceshots.
Fully taped seams mean no drips off chairs or melting snow will find its way through to your under layers
Tough, two-layer MemBrain nylon shell breathes, keeps out moisture, and stands up to the abuse of multiple seasons of ski touring and resort laps
Zip-off storm hood features a laminated brim to keep it from flapping in the wind
Underarm zippers come in handy during hikes and hot rides in the tram
Zip-off powder skirt includes gripper elastic to keep it in place and guard your under layers from deep, fluffy snow
Lined collar, chin guard, and shoulders feel smooth and increase warmth during super-storms
Water-resistant zippers prevent vulnerabilities when closed
Internal mesh pockets hold goggles and gloves and a media pocket secures you phone during hikes or happy hour sessions at the base
Unanswered Question
Are there older versions of this jacket...
Are there older versions of this jacket without pit zips?
how insulated is this jacket how many grams...
how insulated is this jacket how many grams of insulation does it have??
This jacket is not insulated, it has 0 grams of insulation. It is a shell only.



(sorry for not answering this 2 years go)
For Australian conditions this is just perfect. Love it, as always another quality product from Marmot. Recommend this jacket to all.
Marmot's own Curly presents the Mantra Jacket.
Super nice jacket. Feels much lighter than I expected.

The features on this jacket are top drawer. Too many jackets these days don't allow hood or powder skirt, or both, to be removed. Gotta love Marmot for giving that option so generously, as is the case with the Mantra. Having said that, this hood will cover a ski helmet, but it is too small for optimal performance with one. I understand their alpine-oriented jackets have larger hoods, although those more often are non-detachable. Over a hat, this hood wears and adjusts beautifully. Marmot says that their ski jackets have the smaller hoods because most people who ski with helmets don't use their hoods while doing so, mostly using them for the lift ride, etc. In my experience, I would second that (who wants a hood restricting their view when skiing serious stuff?) Apline-type jackets have the larger hoods so climbers can have that extra weather protection while wearing a helmet hanging on a wall or belaying and still have full range of motion. Since many of those jackets from Marmot come with zip-out powder skirts, they become real options as ski jackets!

Alpine-oriented jackets also are much more minimalist in their pocket offerings. The Mantra jacket has pockets galore, inside and out. The small media pocket really could use a velcro tab or some such, as your phone can slip out when bending over. That would be easy to retrofit. But the TWO large open mesh interior pockets along with a large zipper interior, the forearm, the lovely fleece-lined hand, and the two slightly different chest pockets offer outstanding carrying capacity, especially when doing without a pack.

Length of the jacket is generous for deep days. Collar is comfy-cozy.

I had some personal issues with the fit. I'm a pretty slender 6ft, 183lbs, but my arms are a bit long and my shoulders are broad. In the Mantra in size Large, when at the limits of my reach, the sleeves started to come up short and the shoulders across the back started to bind, enough so that it would be a concern to me, especially in the backcountry. The other day I had opportunity to try on in a ski shop Marmot's Cervino jacket (another EXCELLENT jacket one definitely should take a good look at! Liner is lighter weight, less noticeable.) The size large gave me the same fit issues as the Mantra, but the size XL was great. Awesome sleeve length, no binding issues, but, again, the fabric, though I'm sure it's mighty tough for its weight, is not quite burly enough for my needs. But, definitely, if your fit concerns are the same as mine, seriously consider the same jacket in a size up. The extra roominess in the rest of the jacket is great for layering but does not at all seem uncomfortably bulky. Marmot stuff is WELL-TAILORED.

Also, I've decided that for the kind of skiing I do I need a simple, non-lined 3-layer shell. The liner in this jacket, as liners go, is sweet, but probably would hinder me somewhat when "aerobically active." Were I to use this as mainly a lift-served jacket, it would be just fine.

The #1 deciding factor in my return of this jacket simply is the level of ruggedness of the shell fabric. Once again, for lift-served, inbounds skiing that didn't venture too deeply into the tight, forested (read: woods, not: glades,) I'm sure this jacket would be bomber. But to turn away nasty, stunted pine branches and vicious prickers and thorns, I need something a little burlier. Marmot has some great offerings along these lines, although the price point is (understandably) somewhat higher, and one must deal with a corresponding loss of some of those dee-licious pockets!

Bottom line: for its intended use, if not venturing too deeply off-trail, the Marmot Mantra jacket definitely is up near the top! I would not hesitate to recommend it to the right friend. I would expect the appropriate buyer to award it five stars.
The Marmot Erial jacket uses the M1...
The Marmot Erial jacket uses the M1 Softshell, what is this jacket like relative to it in terms of breath ability and wind resistance?
This jacket (Mantra) utilizes the Marmot MemBrain laminate, so it will not be as breathable as the Erial, which uses a densely woven softshell material that Marmot calls their M1. However, the Mantra will be wind and water proof, where the Erial is wind/water resistant (possibly wind proof per Marmot). Hope this helps you.