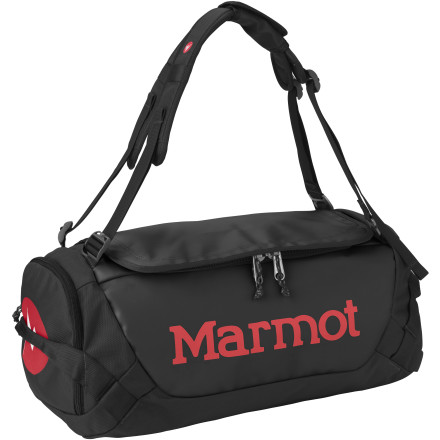 Videos

Community Images
The Marmot Long Hauler Duffel Bag is built big and tough to carry everything you'll need on a long trip, whether it's a weekend or a week. Ballistic nylon construction ensures that your stuff gets where you need it safely no matter what means of transportation that you subject it to.
Shoulder strap carrying handles for easy backpack-style carry
Zippered media pocket so your tunes don't fall out
Interior zippered pocket provides extra security for valuables
Locking zippers so your bag doesn't open itself
Haul loops on both ends so your buddy can help when the load becomes extra-heavy
Dimensions (Inches L x W x D)

Small: 10.5 x 25 x 10.5in (27 x 64 x 27cm)

Medium11.5 x 20 x 12in (29 x 50.5 x 20.5cm)

Large: 12.5 x 29 x 12.5in (32 x 73 x 32cm)

XLarge: 13.5 x 34.5 x 13.5in (35 x 88 x 35cm)
Why do some of the colours seem to have...
Why do some of the colours seem to have tie down straps and others don't, is this merely based on the size and the photos are incorrect or do some colors just not come with the tie down straps?
I think what's happened here is that they have updated the bag with a few new features. If you're speaking of the black compression straps that come out of the side, those aren't on the 2 medium-sized bags that I have, but mine are older models.



I'm assuming they are new things on newer colors.
Holds everything
Familiarity:

I've put it through the wringer
This bag seems to be a blackhole for all my stuff...no matter how big my packing piles are, everything seems to somehow fit inside. I love how many pockets it has as well internally and externally...because yes it's great to be able to shove a TON of stuff inside, it is nice to not have to dump it all out when you are looking for that one last clean pair of ski socks...the pockets help keep anyone somewhat organized.
Great duffel, but rough on the back
The Marmot duffel is proportioned a bit longer and narrower than other brands, but it's true to its 110-liter capacity. 110L to 120L duffels are ideal since they are sized just at the airline limit of cumulative dimensions to avoid oversize bag fees (L x W x H < 62"). Construction is sturdy and appears highly water repellent, with fabric and weight similar to TNF Base Camp model (which only has 90L and 140L models). Ease of access is via a generous D-opening with easy-sliding zipper with lock loops under a weather flap. Compression straps are well-positioned, two on each side, 4 total, so they compress the sides of the duffel, not the D-flap that's in contact with your back when carried by its shoulder straps.

The only significant disadvantage is the discomfort on the back. Trying 5 brands, carrying 40+ lbs, the Marmot's flat, narrow shoulder straps cut in. But the real curiosity is why the lower mount of the straps are only about 5" apart falling right on the butt, and the narrow mounting allows the loaded duffel to rock right and left; it's unstable as you walk. Additionally the straps attach to the lower end by metal hooks and webbing loops that are so tight it makes the "detachable" shoulder straps more theoretical than practical. My ace shoe repair guy said he could add two webbing loops in a wider mount, to solve the rocking problem, but I found another model so was not able to test this solution.
OK, but not as good as NF duffel
Familiarity:

I've used it several times
a bit more big and clumsy that the others and the cinch straps aren't as effective as the North face duffel
Which Long Hauler is best size, L or XL?...
Which Long Hauler is best size, L or XL? My teen is camping for two weeks. She needs to bring clothes, camping pillow, sleeping bag and pad, a few utensils and water bottles, and a few other small outdoor gear items like headlamp, snorkel. Which bag do you recommend?
Best I can do is give you the dimensions for the two sizes:



Large - Large: 4575ci (75 liters) 29 x 12.5 x 12.5 inches



XL - 6700ci (110 liters) 34.5 x 13.5 x 13.5



Since it sounds like you know about what she will be bringing with her I would probably see how much room that gear would take up and base your pick on that.
Dimensions of the small bag
Familiarity:

I've put it through the wringer
The dimensions of the Long Hauler Duffle Small are: 11.5 x 20 x 12in.
Go with TNF Base Camp
Familiarity:

I've used it once or twice and have initial impressions
I needed a medium carry-on sized duffel, and this came up on steepandcheap for half price. I picked it up. I'll say it's decent, but it's no North Face Base Camp duffel (I have one in Large). There are a few nice things about it, such as the multiple pockets as others have mentioned. The ability to use it both as a backpack or clipping the straps together as a single strap is nice. However, compared to TNF duffel, the backpack straps leave much to be desired. Whereas TNF straps are burly and almost comfy, the Marmot ones are floppy, get twisted, and are too narrow to be remotely comfortable. The material on the top and sides of the Marmot bag are nice PVC coated fabric, and the bottom seems tough enough to stand up to heavy use. However, again TNF wins for using a ridiculously tough, coated fabric for the entire bag, and a tougher material on the bottom.

The most annoying thing however, about the Marmot bag, is that the bottom is floppy, there's no structure, while the sides are somewhat rigid. If you fill the bag halfway up, it's going to sag like crazy on one side. Many duffel bags have an internal plastic sheet on the bottom to give some structure, this doesn't. TNF bag is structured enough not to have this problem.

Overall, this bag gets the job done, but not as well as TNF bag. It's nice, and if you don't have a TNF bag, you'll probably like it. For the price I paid, I'll keep it, it works, but if you're going to pay full price or can find TNF Base Camp on sale, I'd go with it instead. It's more well-designed, more durable, and (in my opinion) looks better.
Sturdy
Familiarity:

I've used it several times
I have the medium that I recently used as a carry on no problem. Along with my Eagle Creek pack it system I was able to fit everything I needed in here for nearly 3 weeks away from home and easily fit it in the overhead compartment. Inside is a mesh pocket on the lid which is handy for things you know you are going to need upon your arrival. There is also another internal storage pocket on the inside which I don't use because I feel like it actually limits your storage space when you put things in there. This has a handle on each end, backpack straps which can me fastened together to form a sling or carry handle. They are also removable on one end. My favorite feature on this bag is the outer stash pocket on the top end. It is small but it is perfect for a few items that you need to access quickly or frequently. Very durable bag all around, especially the bottom.
Versatility and Durability
Familiarity:

I've used it several times
Just returned from a 10-day trip to western Montana. As a guide, I carry a ton of equipment all around the country. Grabbed a Long Hauler XL for this most recent trip. First off, the XL is BIG. Possibly too big. I carried 67 pounds (yes, I paid for the overweight baggage fees) of gear through the airports. Unlike my shoulder, the bag didn't hesitate. 10 days worth of clothing, rain gear, jackets, 2 pairs of hikers, spotting scope, tripod, optics, medical kits, etc. all fit with ease. If you can fit it, this duffel will haul it. BTW - the bright orange bag can be seen from the terminal as it is loaded on a jet, and you'll never guess which bag is yours at baggage claim!
Marmot Long Hauler Duffle Bag - 50L
Solidly built, go-to duffle bag
I have the M in black. The size is perfect for a carry-on while also limiting me to bring only what I need. Pair this with the Marmot Ultra Kompressor backpack and you can travel far and wide. The shoulder strap is comfortable and the option to wear as a backpack is nice, though I haven't needed it yet. Only two compartments (main and side) but each has zippered areas within so you can separate the important stuff easily. This thing is so well built I don't see how I won't be travelling with it ten years from now. Another winner from Marmot.
Medium as EQ Bag / Carry-on
Familiarity:

I've used it several times
Picked up a medium. A bit smaller than expected (in comparison to our mammoth TNF Base Camp), but fit's more than enough. Currently sits in a closet as a grab-and-go EQ bag, but recently used as a carry-on for an international flight. Not as bomb-proof as the TNF bag, but nice to have something a bit different. Side (round end) pocket is a great addition for electronics and passports. Would (and have) recommended to friends. Only downside would be the shoulder strap configuration, where the buckle sometimes digs into my chest when wearing over the chest (i.e. messenger-bag style).
Anyone fit the large as a carry on?
Anyone fit the large as a carry on?
I don't think it'll work unless it's mostly empty. Most carry on limits are 45 linear inches and at 12.5*12.5*29 you are over the mark at 54 linear inches. You might get away with it if the flight crew isn't being strict.
Got the Medium first. It is more like a large gym bag. Exchanged for large, very easy process. Haven't used yet, for trip in January.

Could use a pocket on the other end.
I am trying to find dimensions of this bag...
I am trying to find dimensions of this bag for each size - length/width/height
12.5*12.5*29 for large from marmot web site. I purchased one a month ago on sale, but this sale is better. Looks great and well constructed, have not used it yet.
Good all rounder
Gender:

Male

Familiarity:

I've used it several times
This bag is a great all round duffel for any sport or traveling. I have always liked the Marmot's Long Haulers and I have all the sizes. Some of the nice features are the side zipper pocket which has small pockets in side of that for storing little items..like your keys or phone. The other nice feature is the handle/backpack straps and how they are easily used. I would have given this a 5 however I dont like the new design on the strapes as much as the earlier version. Marmot move the lower connection points closer together so the strape tend to dig in to your side more so I dinged it a point. I have also used the TNF based camps as well and prefer the strapes on this bag vs having the straps separate.
So I've been looking for the ideal duffel to use as a carry on for 2-3 day business trips or vacation. Couldn't find anything that gave me everything I wanted. Then I found this bag (in a M). The L is carry on size and fits more stuff than my 22" roll away that I usually carry on a flight. The bag seems to be durable (have only used it on a couple trips) and I imagine it would hold up well for outdoor adventures.

So here's my overall take: I wanted something that had a shoulder strap as well as the typical dual handles for carrying by your side. Didn't care as much about the backpack straps. What Marmot did with this bag is took the backpack straps and made them an all-in-one type system. So, there is a velcro strap that ties the backpack straps together when you want to use the straps as a shoulder strap or handle. Essentially you just have to adjust the length of the straps to fit what you want. I'm not a huge fan of the system (I'd prefer two handles and a shoulder strap separate from everything else) but it works. I almost bought the TNF Base Camp Duffel but it doesn't have a shoulder strap. I realize these bags are more for backpacking and outdoor adventures so the backpack straps make sense. I was really surprised to see so many bags without a shoulder strap.

A couple of things I really like about the bag are: the material - durable but not overdone (TNF base camp seems to be almost too much); the exterior end zip pocket - this is ideal for separating and organizing, be it wet clothes, electronics, toiletries, whatever; the interior top mesh pocket (great for dirty clothes); and the interior zip bag pocket (also good for basic organization and separation). I feel a lot of the bags lacked this functionality so having the extra pockets and options was a big selling point for me.

Overall, this is a fantastic bag. Only reason it doesn't get 5 stars is because of the all-in-one carrying system (wish it had separate shoulder strap and briefcase handles). Currently, I can't find anything that encompasses all that I was looking for so this is the top of the list in my mind.
How many liters/cu is the XL version of...
How many liters/cu is the XL version of this bag? It only lists the volume of the Large and Medium sizes.
It appears it would be somewhere around 85-100 liters and 6700 CU.
The XL Long Hauler is 110 liters or 6700 cubic inches.