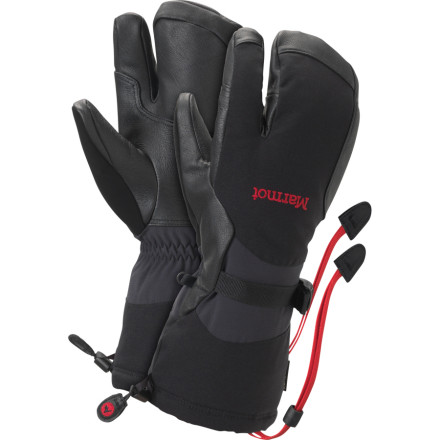 Community Images
Keep your claws warm in the Lobster Mitten with Gore-Tex membrane. While the Lobster Mittens won't help you battle shrimp, they will keep you warm and dry with the Gore-Tex durable, waterproof, windproof, and breathable inserts. Marmot's durable and compressible Thermal R insulation provides additional warmth for cold days that would make even a lobster turn blue.
DriClime wicking linings help keep your hands dry even when spring comes early and you're sweating in the lift line
Independent index finger means you can pick icicles out of your nose or point at the beer menu at lunch
Gauntlet quickdraw allows you to seal out snow and ice when you yard sale in some fresh pow, and a safety leash means you won't lose your Lobsters
Wrist flex zone allows maximum movement so you have much more mobility than a lobster
Not warm enough
Gender:

Male

Familiarity:

I've used it once or twice and have initial impressions
Needed a pair of warm gloves for snowboarding as my hands ALWAYS get frozen....found the Marmot Lobster was absolutely no warmer than any other glove I've used - hence, they went back.

That being said, Marmot is a quality product and these lobster mits would probably do the trick for most people who find that style is warm enough for them......they just didn't cut it for me (self admitted I think I just have really, really cold hands 90% of the time).

Overall, no slam on Marmot as I love their products - this one just wasn't for me as I must need the warmest gloves known to man to keep me warm. :-|
Warmest lobster type mitts that I have used so far - dexterity is also great and combined with great quality.
Anyone know which would be warmer and...
Anyone know which would be warmer and drier? This mitten or the Outdoor Research Highcamp 3-Finger Glove (http://www.backcountry.com/outdoor-research-highcamp-3-finger-glove-mens). Wasn't sure how Gore-Tex comparied to Ventia membrane. Which Gore-Tex membrane is used? Also, can anyone confirm if this mitten has a removable liner?
I am a little confused by the description of the Lobster Mitten. The description says that there is a waterproof breathable insert but the review from a customer states that there is not a removable insualation liner but another customer states there is a removable liner. Please clarify.

Also, anyone try out the Black Diamond Lobster Mitten? Trying to figure out which to buy.

http://www.backcountry.com/black-diamond-guide-lobster-gore-tex-mitten





Thanks.
Best winter gloves I've owned.
My sister got me these as an early Xmas present, so I've been using them almost all winter, skiing, riding my bike to class, or having snowball fights. They're fantastically warm, wind and water resistant, and awesome looking. Everybody who sees them goes "Whoa!" and wants to try them on. And they've been like iron nails so far, lots of use, and little sign of it. However, I do wish that not only it had a removable liner, but that it also had division inbetween the middle, ring, and pinky fingers, to stop them from getting super sweaty from being by each other. However, I solve this by wearing a pair of Smartwool glove liners under the Lobster Mitten, which has worked swimmingly.

TL;DR, awesome and warm glove, totally worth every penny.
A good start, Needs improvement
After owning a Marmot trigger finger Mitten from 12 years ago, I was hopeful to recapture the warmth and utility of this genre of glove which is sorely missing from the market.

The gloves are indeed warm. The quality is great. The fit is true to size.

The big drawback is that, contrary to the features listed, the liner is not removable. Thus it loses it's utility in warmer conditions or during periods of greater exertion.

I applaud Marmot for reintroducing the trigger finger mitten, I hope they will convert to a removable liner.
What is the layout of the liner in this...
What is the layout of the liner in this 3-finger mitt - is the liner 3-finger also, or a regular 5-finger glove? Hestra and Stoic 3-finger mitts are both 5 finger on the inside, but I can't find any info about Marmot's version. Thanks!
Best Answer
The Lobster Mitt doesn't have a removable liner, that's a misprint on the features list.