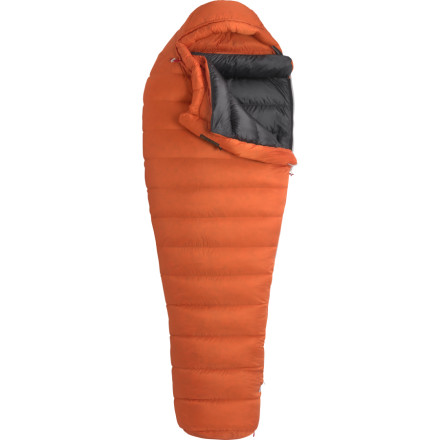 Community Images
Marmot created the 0-Degree Lithium MemBrain Down Sleeping Bag for guides and other outdoor professionals who need a lightweight, durable bag that will keep them comfortable in cold mountain environments. Marmot wrapped high-quality, high-loft down in its proprietary, waterproof breathable fabric so precipitation doesn't have to be a concern.
MemBrain 2L waterproof fabric helps shelter the down insulation from external condensation, snow, and water
MemBrain 2L fabric is also highly breathable so evaporating sweat won't condense inside the bag and cause the down insulation to clump
Premium 850-fill goose down packs down well, rebounds nicely after repeated compression, and features a high warmth-to-weight ratio
Trapezoid-shaped footbox has an extra layer of goose down that holds your feet together to conserve heat
Nautilus six-baffle hood with down-filled collar and drawcord guards your face
Insulated draft tube means no chill gets through the closed zipper
Stretch tricot baffles extend the life and maintain the shape of the bag and improve warmth retention
Stuff and storage sacks included
I notice the rating on the membrain version...
I notice the rating on the membrain version is warmer than the normal lithium. Does anyone concur with this difference?
I have the regular lithium which is super warm, however the membrane version is going to be warmer due to the membrane itself. It's not going to breath as well but will insulate you more than its non-membrane counterpart.
Best Answer
I concur that that's what the specs say and agree with Alexander. It's in the shell, and the MemBrain has the better material. Men should be using the lower limit numbers on the EN13537 rating system. The system has some flaws because of variables like individual metabolic rates. Women sleep colder than men, and most of the test controls on the 4 ratings are based on comfort levels for them using a mannequin. Your clothing, tent, ground pad, even what you ate for dinner will make a difference in how warmly you sleep. You can automatically pick up 10+ degrees F with the tent alone. If price is a big consideration, know that it's doubtful that you'll really notice the few degrees of difference. If you're planning on routinely pushing that lower limit down to the point where you're getting to extreme limits, you need to go down to a lower rated bag. For what it's worth, even if the temps are in the single digits, I've never been cold using the basic temperature rating that Marmot states in the name of the bag. Actually, with 0 degree bags, I'm usually wide open and half way out. Hope this helped you out some.
i am 6 feet tall could I fit the 6 foot...
i am 6 feet tall could I fit the 6 foot bag? thanks
Best Answer
The bag isn't 6', it's designed to fit a person (user) that's 6' tall, so you do have some room. Although, being 6' tall myself, I like to hunker in and cram most of my clothing into the foot box to keep it warm, so I prefer the long. Longer bags are also great for back sleepers because of the way your feet flex down (plantar flexion) and extend your height.
Marmot Lithium MemBrain Sleeping bag
I was using the bag this winter with a bivy in the low 20's and was a bit warm during the night. I had to unzip the side down a foot or so. In the morning the condensation from breathing saturated the lip of the bag which perplexed me and made me wonder what the bag would be like if it received any direct moisture from mother nature. Overall I am very pleased with the bag and look forward to using it on Rainier here soon.
The bag is fluffy, warm and yet very light. Haven't tested the MemBrain properties as yet, but the fabric feels bomber.
What's the stuff sack size? (Ht x Wdt)
What's the stuff sack size? (Ht x Wdt)
still have yet to use it in cold temps, but fully confident it will be awesome. i lay in it all the time in my house.
Marmot Lithium Membrane Sleeping Bag
After researching several bags I decided on the Marmot Lithium Membrane 0 degree bag as my second bag to use during the winter months. I have another brand bag rated for 15 degrees but find I need to add additional fleece layers for 35 degree temps so decided on this 0 degree Marmot bag . I wanted the water proof membrane version due to occasional condensation a tent can get while camping in colder temps. I have used this bag twice since buying it this month and have ben very happy with it. The first trip was snowshoeing at Mt Rainier, temps dropped to zero that night with 35mph winds. I wore a very light fleece pant and a medium fleece top and stayed warm all night and the membrane did great to shed the condensation I had in my tent by my feet. The bag is comfortable, light weight and was able to get it compressed down fairly small with a compression stuff sack. I am 5' 10" and had plenty of length. Very happy with bag, see picture of Tatoosh Range from my base camp at Mt Rainier Dec '11. Todd Mortensen
Do you expect to get the MemBrain version...
Do you expect to get the MemBrain version of this bag back in stock?
I realize this is an ancient post, however for anyone interested...Marmot no longer offers their Ultralight series sleeping bags with the MemBrain fabric. The only bags currently offered in MemBrain are the CWM MemBrain (-40) and Col MemBrain (-20).