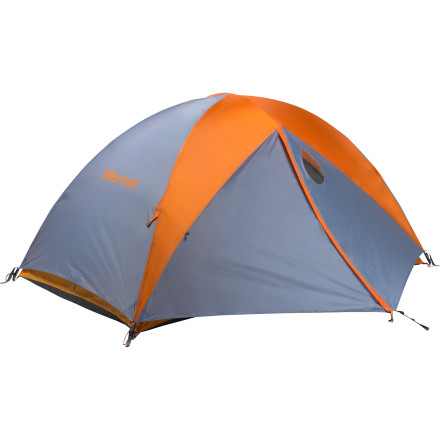 Marmot Limelight 2p Tent: 2-Person 3-Season with Footprint & Gear Loft
View Larger Image
Videos

Community Images
Description
Ready to head for the woods.
Marmot designed the Limelight 2-Person 3-Season Tent for quick, easy setup and built it with lightweight materials for easy traveling. A 9-square-foot vestibule keeps your boots and other items dry and safe when the rain pays an unwelcome visit, and the included gear loft and footprint mean that the package comes completely trail-ready right out of the box.
Polyurethane-coated floor and fly help rain bead off instead of soaking you and your gear inside
Lightweight, durable polyester and mesh body keep the weight down for longer weekend backpacking excursions
Floor and fly seams are taped to prevent water from sneaking in through fabric joints
Catenary Cut floor means the floor material curves a few inches up the tent walls to reduce direct seam-to-ground contact
Two DAC press-fit poles make the tent easy to assemble day or night and save weight without sacrificing durability or strength, and a DAC cross pole provides more interior headroom
Freestanding, dome-like structure withstands harsh weather and wind while maximizing space
Single door with 9sq ft vestibule give you and your partner room to stow your gear
Staked-out vestibule and zippered storm flap on the vestibule seals out nasty three-season weather
Tapered rectangle shape with 32sq ft (54in-88in) floor area provides enough space to fit two adults comfortably, and its 41in ceiling height allows sitting up when you get stir-crazy in a storm
Entire tent weighs less than five pounds for easy hauling in the backcountry, especially when you split the weight between a partner
Mesh panels in the door, walls, and ceiling let fresh air in and let hot air out during hot nights or muggy mornings
Clip design is easy to assemble while reflective points keep the tent visible in the dark
Noise-free zippers prevent waking up cranky trail partners and snag-free zippers enable smooth entry and exit from the tent
Thanks to the included footprint, the Bare Bones fast-pitch option lets you carry just the poles, fly, and footprint to save extra weight on the trail
Window Weld waterproof window construction in the fly allows you to view outside of your tent without having to get out of your bag
Once packed into its included sack, the entire tent package is only 7in x 18in for easy lashing to a pack or fitting inside a dry bag
Included gear loft provides even more convenient gear storage and works as a drying rack for clothes
Interior pockets hold your headlamps, map, or other small accessories close at hand
Share your thoughts
What do you think of the
Marmot
Limelight 2p Tent: 2-Person 3-Season with Footprint & Gear Loft
? Share a...
Quick and easy!
Familiarity:

I've used it several times
I love how easy the tent is to setup and take down. It also fits very well in my pack. there is plenty of space for 1 person and a comfortable fit for 2 people as long as you're very comfortable together.
I love the green color to it since it blends in well and doesn't stick out and the reflective points on it are perfect at night so you can see where the tent is, just in case you packed a flask!
Love the tent and am extremely happy with my purchase!!
I plan to backpack for a week. Would be carrying all tent supplies myself. Trying to decide between the one person Tungsten and this Limelight 2 person. I'm new to backpacking. Planning for PCT in June 16. Need advice on weight vs comfort. I think I want more room with gear loft but I'm unsure since I've never done this before. Advice please.
Hey Hope!

The one person Tungsten is about a pound less, though you'll have a tad less space. The Tungsten has pre-bent poles which give you more interior space than a traditional tent, especially at the bottom where you sleep. Most other features are comparable enough (waterproof, set up, etc). Depends if you like having your stuff inside with you or if it can be in the vestibule.

Good luck and have a great trip!
So far, so good!
Familiarity:

I've used it once or twice and have initial impressions
I used this tent for the first time over Labor Day weekend. My wife and I spent the weekend backpacking and enjoying the backcountry. Neither of us are very large (I'm 5'9" and 150 pounds and she's 5'3" 130 pounds) but we had more than enough room in this tent. It's VERY easy to set up (we didn't even read the instructions). The gear loft came in handy for a light (we even hung a small tent fan). It did rain a little bit so the window comes in handy to check on the weather outside.

Overall, great tent that's easy to use, functional, and reliable.

Worth every penny
Familiarity:

I've used it once or twice and have initial impressions
The Marmot Limelight tent was definitely the right choice. I have taken it out a couple of times on my own and it took me less than 5 minutes to set up and take down without any help. It is the perfect size for a plus one, but if you have dogs and a lot of gear it might be a little tight.The tent packs down to a reasonable size even with the footprint and rain guard. This tent was extremely stable in the wind, lightweight and as a newbie to backcountry camping I am extremely happy with my purchase.
What is the difference between the limelight and the tungsten?
Armando,

Great question!

Doors:
The major difference is the second door that the Tungsten offers. So if you're going to be sleeping two people, the Tungsten is the better option since each person gets their own door rather than one person needing to crawl over the other to exit the tent.

Tent Body:
The Limelight has a body that is made up for mesh and fabric panels. Where as the Tungsten has a body that is split between mesh and fabric from the bottom corner of one end of the tent to the opposite upper corner (diagonally). Similar materials in both tents but a different layout of the mesh and fabric.

Weight:
The Tungsten is 3 oz heavier (trail weight) so if weight is your focus and you don't mind having just one door, the Limelight would be the way to go for you.

Clips:
The Tungsten is using smaller clips where as the Limelight is using slightly beefier clips.

Shoot me an email anytime you have questions!

Jared D.
Expert Gearhead
801.736.4336
jdowns@backcountry.com
High County or Flatland for ONE!
Familiarity:

I've used it several times
I've used this tent over the past year from the Cloud Peak Wilderness of Wyoming to the North Shore of Lake Superior, state parks, national parks, etc. Temp range from 22° into the 70's. The tent breaths well (never any condensation issues) and is rock solid in strong winds (sustained 30 gusting to 50). The tent packs very well and the weight makes it an easy carry. I would practice the set up a few times to get a system down if you need to hurriedly pitch it in rain or wind. With some practice, you can get it done in under 5 minutes easy. The stakes which come with it are "ok" but I would suggest upgrading to some backpacking stakes which grip just a little better if you are in loose or sandy soil. The provided footprint is a nice feature and allows the option of backpacking with only the rain fly to save weight.

Marmot promotes the tent as a 2 person. At 6-1 215 there is not a lot of extra room to begin with and I pretty much fill the tent. You could have 2 people but it will be tight and with only one door, getting in and out is a challenge if you are along the back wall. Bottom line is for one person, this is a great tent. If you intend on using it for two people on an extended trip, I hope you like the other person...a lot.

Along with the possible interior space issue, the vestibule on this tent is ok but not very realistic with a large pack. For multi day trips I use a 70L pack and end up putting it in the tent with me down by my feet. Again, with 2 people and one door, sufficient interior space to keep everyone and everything dry if needed is going to be an issue.

Bottom line is for one person (or one person and a dog, kid, etc) this is a great piece of equipment. For two people plus gear, you are probably better off looking for a larger tent.
Pretty Legit
Familiarity:

I've used it once or twice and have initial impressions
I was so excited to get this tent, after searching and searching and searching! It finally arrived today and I was just too excited to wait....so despite the wind and the rain I set out to set it up in the yard. And WOW! Even setting it up in stormy weather it was a breeze, very simple and straight forward took me MAYBE 5 minutes to set it up (no staking, no rainfly). Afterwards, I invited the dog in for him to scope out the new digs. Myself (5'2) and the dog (75 pounds of pure love) fit inside very comfortably. The mesh panels are great in terms of position and the top panels are definitely star-gazing worthy. Great Marmot quality. And to include the footprint and gear loft? Definitely worth the money....Can't wait to take this sucker out this weekend!
Solid product for rainy Pacific NW
Familiarity:

I've used it once or twice and have initial impressions
I've taken this tent out for two long weekends so far, and I'm very happy with it. The second outing rained for a day straight, and the tent held up beautifully. I really like that the footprint, tent, and rainfly are all separate: I was able to first set up the rainfly+footprint while it was raining, then clip in the tent body under the rainfly and out of the rain.
how is this tent in cold weather? Is it good for lower temps camping?
Ben,

How would you define cold weather? And what area are you looking to use it in?

If I were aiming for a tent to use in the snow I'd be looking for one that is a 4 season tent that is double walled with no mesh.

Because of the mesh on this tent, you'd get cold air flowing from the bottom up (depending on scenarios).

Shoot me an email anytime you have questions!

Jared D.
Expert Gearhead
801.736.4336
jdowns@backcountry.com
How does this compare to the Marmot Ajax 2 - 2 Person Tent?
Best Answer
Jen,

The Ajax 2 is going to be a bit heavier than the Limelight2 but some of the major differences are as follows:

Doors:
Ajax - 2
Limelight - 1

Interior Height:
Ajax - 39.5"
Limelight - 41"

There are some other differences those are the main.

Shoot me an email anytime you have questions!

Jared D.
Expert Gearhead
801.736.4336
jdowns@backcountry.com
Great Tent, Comfy, Light, and stays dry
Familiarity:

I've put it through the wringer
I bought this as my second tent all purpose backpacking tent after my stoic tent was starting to fall apart after many hard years use. So far its been great. It has a super easy set up and has done well through some summer storms with rain and wind. Its comfortable inside with plenty of room for two people and some gear. Definitely a great tent for the cost.
Hi. I want to know if this tent resist a lot of wind and rain. I want to camping between 10k and 14k ft. What do u think?
Best Answer
Juan,

The Marmot Limelight tent series are a pretty sturdy tent and from my experience hold up to wind and rain pretty well.

But realistically it depends on how strong the winds / rain are and how well the tent is guyed out.

Shoot me an email anytime you have questions!

Jared D.
Expert Gearhead
801.736.4336
jdowns@backcountry.com
Had to pitch the three-person version on a 10k summit in a hailstorm with 60-70mph winds, so a bit of water got in during the pitch and we had to get out at one point and restake, but that was due to the frozen ground. It stayed solid and kept us alive, which is why I'm buying a 2P for myself now
Cozy and dry!
Familiarity:

I've used it once or twice and have initial impressions
I enjoy this tent immensely! I was looking for something rather light that I could potentially backpack with (whether you're sharing the weight with a partner or not) but wasn't too expensive. Cheap or not, this bad boy does the job well! I've used this tent back home in Michigan and on the Blue Ridge Mountains in North Carolina recently, and my girlfriend and I stayed warm and dry (coupled with the Big Agnes sleeping pad and Marmot Atom sleeping bag, I slept soundly). Highly recommended!

In all honesty, at first glance it looks a bit small for two people, and that can be discouraging (especially if you don't ever plan to go on the trail alone; if you're alone, you'll have plenty of room). But give it a go, and though it's cozy, it's plenty long enough for a 6' guy like myself, and there's still room if you need to adjust your sleeping position a bit. It can be tight since there's only one door, and the person sleeping away from the door might at some point have to climb over the other person, but for the durability, portability, and money, you'd be hard-pressed to find a better tent.
This tent has a gear loft. Does that infringe on the 41" interior height listed?
Best Answer
It does but slightly. Not a very big gear loft but perfect for what it is. We had 3 people in there sitting up with room to play cards.
Trying to decide between this tent and the marmot tungsten 2p. Anyone have any advice or experience with both of these?
Liam,

I shot you an email about the tents! Let me know what you think.

Jared D.
Expert Gearhead
801.736.4336
jdowns@backcountry.com


Are the red stakes and the cords necessary to use with this tent?
Hi Lynn,

The red stakes and cords are not necessary to set the tent up, they are just upgrade options. The stakes that come with the tent are pictured in the question above, nothing wrong with them per say, in comparison to the red ones suggested they are flimsy. As for the chord, those are guy lines for the rain fly. The tent should come with some, the nice thing about the Sterling cord is that they are of higher quality and they are reflective so you won't trip on them at night.

Please hit me up directly if you need anything else.

Matthew Pizza
Expert Gearhead
mpizza@backcountry.com
801.736.5363
Does this tent let water in when it rains? thanks
I thought it performed admirably in the rain. Just take the time to guy it out so the rain rolls down the rain cover and away from the mesh on the head/foot sides. Having some extra parachute cord is always a good idea to supplement the materials that come with the tent. But when I was on the AT last year, I never had any leakage, even in some pretty hard rain storms.

There were people on the trail that had to use waterproofing spray on their tents - you don't ant to have to mess around with that.
Nope... is is a very solid design with good weather resistance. DO make sure you guy out the fly though... that's a requirement of all tents!