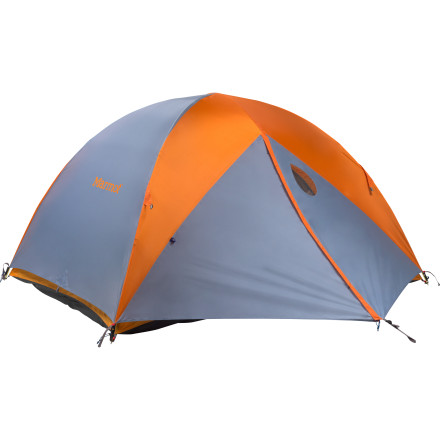 Marmot Limelight 3pTent:: 3-Person 3-Season with Footprint & Gear Loft
View Larger Image
Videos

Community Images
Description
Your friends can join you so long as they don't snore.
Whether you're at elevation on a summer trip or sitting out a late spring storm in a valley, the Marmot Limelight 3-Person Tent is designed for you and your buddies to enjoy a nice night in the backcountry. The Limelight makes it easy for three campers to get a good night's rest, with two roomy vestibules let you store gear and wet stuff out of the main living space, a gear loft to add storage and an included footprint that enhances durability and comfort.
Polyurethane-coated floor and fly help rain bead off instead of soaking you and your gear inside
Lightweight, durable polyester and mesh body keep the weight down for longer weekend backpacking excursions
Floor and fly seams are taped to prevent water from sneaking in through fabric joints
Catenary Cut floor means the floor material curves a few inches up the tent walls to reduce direct seam-to-ground contact
Two DAC press-fit poles make the tent easy to assemble day or night and save weight without sacrificing durability or strength, and a DAC brow cross pole provides more interior headroom
Freestanding, dome-like structure withstands harsh weather and wind while maximizing space
Two doors and two vestibules (10sq ft each) give you and a partner easy entry, exit, and gear storage
Staked-out vestibules and zippered storm flaps on the vestibules seal out nasty three-season weather
Rectangle shape with 42.6sq ft (66 x 93in) floor area provides enough space to fit three adults comfortably, and its 46in ceiling height allows sitting up and crouching when you get stir-crazy in a storm
Entire tent weighs less than six pounds for easy hauling in the backcountry, especially when you split the weight between backpacking companions
Mesh panels in the door, walls, and ceiling let fresh air in and let hot air out during hot nights or muggy mornings
Press-fit clip design is easy to assemble while reflective points keep the tent visible in the dark
Noise-free zippers prevent waking up cranky trail partners and snag-free zippers enable smooth entry and exit from the tent
Thanks to the included footprint, the Bare Bones fast-pitch option lets you carry just the poles, fly, and footprint to save extra weight on the trail
Window Weld waterproof window construction in the fly allows you to view outside of your tent without having to get out of your bag
Once packed into its included sack, the entire tent package is only 8in x 22in for easy lashing to a pack or fitting inside a dry bag
Included gear loft provides even more convenient gear storage and works as a drying rack for clothes
Interior pockets hold your headlamps, map, or other small accessories close at hand
Share your thoughts
What do you think of the
Marmot
Limelight 3pTent:: 3-Person 3-Season with Footprint & Gear Loft
? Share a...
How steep are the walls? I'm 6' 10" (82") tall and I don't want my feet or head touching the walls.
Hey Brian,

I would consider the walls at about a 55-60 degree angle from the ground so at 93 inches across you should just fit lengthwise. If you are the only one in the tent, you could sleep diagonally and have plenty of space (114 inches). Feel free to contact me directly with any more questions about the Marmot Limelight or if you are interested in setting up an order.
Awesome tent for 2 people
Gender:

Male

Familiarity:

I've used it several times
I bought this tent for my wife and I while living in Denver, CO. We wanted a little more space than our 2-person Eureka provided, and I liked the rain fly that provides full coverage plus a vestibule on each side. We have used this tent several times and I could not be happier. I can throw the footprint on the ground and set up the tent by myself in about 5 minutes. We've been in heavy rain and wind and temps down into the low 30's and have been 100% comfortable every time. It is a bit small to try to fit 3 people in there, but for 2 people it is great. The quality of the stakes and poles is also excellent. Last trip we made it rained most of the time and the temp at night around 10,300ft was low 30's. We were cold by the campfire, but when we got into the tent, it was comfortable enough that I didn't feel chilly at all getting ready to crawl into the sleeping bag. Very nice tent and highly recommended. (I will add a couple more photos in reviews - seems like I can only add one to each review...)
Does anyone know how this does in warm weather/humidity? Is there enough ventilation to make it comfortable in Texas when it's hot but the mosquitos make it difficult to leave the doors open....
Julie,

There is some ventilation, however, the Marmot Tungsten would be much more open. It has 360 degree no-see-um-mesh, which not only opens up the tent, but gives you gorgeous views as well (if the bugs don't get in the way, that is).

Have a look!
http://www.backcountry.com/marmot-tungsten-3p-tent-3-person-3-season?s=a

More questions? Let me help!

Emily Jenson
Expert Gearhead
801.746.7587
ejenson@backcountry.com
Solid tent
Familiarity:

I've used it several times
We got this as an upgrade to a 2-person REI tent. The extra space is nice, and the features on this tent didn't disappoint. Super easy to pitch and pack, good quality zippers, all in a nice lightweight package. Also, I never would have thought I'd need a gear loft, but since it's there I find myself using it almost every trip.

Ok, so the (minor) downsides:
-The rainfly doesn't extend very far from the sides of the tent, so in a downpour some water can splash up from underneath the rainfly and into the tent.
-I wish the rainfly had some option for ventilation

Overall I'd feel good about buying this tent again, but would consider looking for something that solves my minor rainfly gripes.
You should buy this
Familiarity:

I've put it through the wringer
Great tent. I've used this in all kinds of weather. I did have some water leak into the sides, but it was a tremendous downpour. Other than that, no complaints. Super easy and fast setup. Lightweight. Love it.
Buy this tent
Familiarity:

I've put it through the wringer
I've slept in many, many tents in my life. This is the tent I want to be buried in.

We got one several years ago, getting ready for a cross-country journey through our National Parks, and to "practice" we went with some friends to Acadia in Maine for our first stop. It poured the whole weekend. Buckets and buckets. They were cold and wet in the morning, we were comfy and dry. It was then we knew we had a special tent. Just an amazing tent.

Easy to set up, sets up almost anywhere, gear loft is super handy and I'm shocked its not standard in tents after this, the rain fly is spectacular, and I think I've run out of superlatives for this tent. It's that good.
Great tent
Gender:

Male

Familiarity:

I've used it once or twice and have initial impressions
We've only made it out a couple times since getting these tent but so far it seems like a great purchase. Super simple to set up, rain fly a footprint kept us nice and dry even in heavy rains the first night in this tent. We love the vestibules for keeping our gear dry and out of the way. All and all this tent seems really well made and we are very happy with the purchase. Maybe a bit heavy for long treks but I don't think you can beat the Limelight for quality at this great price.
Happy Camper
Familiarity:

I've used it several times
Seriously the best tent we've had. Great looking, roomy, dry; perfect!!
I'm content with this tent
Gender:

Male

Familiarity:

I've used it several times
The Marmot Limelight 3 person tent works for me.

I wanted a tent with room inside for 2 and gear without being cramped. Didn't need a 4 season tent. But didn't want something flimsy, either. Given the price, specs, and reviews, the Limelight seemed like the best option.

The Limelight straps to the bottom of my Arcteryx Bora 90 big pack. It's weight is noticeable, but not terrible. Once at camp, it sets up super fast using two poles, bound in the middle with a swivel clamp to form an X. There is another, little half-pole to keep the rain fly vestibules spaced away from the tent doors. Mine came with a footprint, too. All three components: footprint, tent, and fly install seamlessly. One person can set this up with no problems, even in pretty stiff wind.

Once set up, the tent is spacious and has some nice features. The walls are pretty vertical, so all of the floor space is usable. The double doors allow superb cross-ventilation. The zippers are a bit catchy, but a little mindfulness will prevent snags. The mesh doors roll and tie back. There's a 12"-12" loft in the ceiling for small stuff.

The Limelight holds up well to foul weather. Whipping wind doesn't throw the tent around, and there aren't any drafty spots. Rain, even wind-blown, doesn't get through the fly, and there aren't any gap between the fly and tent. Likewise, ground surface water doesn't get in through the footprint or the floor. I'm sure the weather-resistance will degrade over time. But out of the box I give the Limelight 4 out of 5 for its ability to keep wind and water out.

The Marmot Limelight 3 person tent is a best value offering in its category in my POV. The only thing I can't comment on is its durability. I'll try to update the review when I can.
One bad mamma jamma
Familiarity:

I've used it once or twice and have initial impressions
Used this bad boy/girl on a weekend trip a local state park. On the last day of the trip, mother nature decided to hit us with some fierce rain. This tent stood up to her nastiness and kept us, two dogs and our gear dry. We are going to be doing a leg of the AT soon and can't wait to use this tent. Kudos!
PS. The vestibule configurations are an amazing option.
Great Multi-use Tent
Familiarity:

I've put it through the wringer
I'm a big fan of this as my 3 season back packing tent option. It also serves as a great car camping option because of its durability and venting systems. Set-up is quick and easy, I have yet to see anyone struggle with it. Features of the tent are on the higher end of this price point. Tent fly is fully seam taped and seems to be of high quality construction. Body has experienced no issues after general wear and tear from ground abrasion. Vestibules on both sides of the door are large enough to get a pack under during a rainstorm, but not large enough to be using expedition style as a camp kitchen. IMO, this tent is a great option for those looking for a fairly lightweight do it all 3 season tent. I would highly recommend.
bring on the elements
Familiarity:

I've used it several times
I recently purchased the Limelight 3, it is very easy to set up and even has the poles color coordinated to help you. The footprint comes included and is a super nice feature since it is fitted to the tent specifically. Spent 3 days in Escalante, Utah and it rained off and on the whole time but everything stayed nice and dry thanks to the rain fly that buckles into the tent. The large vestibule is great and was nice not having to bring wet shoes into the tent. The reflective cords on the corners of the tent were a nice feature as well. I highly recommend this tent to everyone since the quality and durability will go through many years of good use.

Meh just bought this tent and curious to what size compression sack would this tent fit into. I'm finding it very difficult to find any information on a conversion ratio. Any help would be greatly appreciated. Thanks
If you wanted to use a compression sack instead of the sack the tent comes with I would recommend the Sea To Summit eVent Compression Dry Sack in an XL. This tent is 22 x 8 x 3 in. so for most compression sacks that is in the Large-XL range.

Feel free to shoot me any more questions or if you would like help placing an order:
801-736-4337
klivingston@backcountry.com
Hello, is the Marmot Limelight 3pTent a good choice for 2500 m (8200 ft) altitude with possible heavy rains / summer Alpine type conditions?
Hey Maya,

Yes this tent would be ideal for those elevations and would it keep you dry if those heavy rains roll through.

Feel free to contact me if you'd like to set up an order 800.409.4502 ext 4789 or my direct email at mburnett@backcountry.com
Breeze to pitch, spacious and dry
Familiarity:

I've used it once or twice and have initial impressions
I added this tent to my quiver of tents (I have a problem, I know) - needed one with enough room for wifey, daughter and my ridgeback, "Judy".

This tent is plenty big enough, yet light enough if I take the "Huns" backpacking we can split the tent up and share the weight. (Who am I kidding, I'll be a pack mule).

Took the tent to Cedar Mountain, NC where my in-laws have a "rustic" (moldy, old and mice filled) cabin. No way in hades I was sleeping in that cabin, so my daughter and I pitched the tent. My wife chose to sleep in the cabin with the dogs. Needless to say with her allergies she didn't sleep a wink and was ill as a hornet the next day. My daughter and I slept like fat babies and the cool temps and rain pitter patting made our slumber even better. My daughter did not get out of the tent until 9:30.
The tent stayed dry during a steady rain and trapped just enough heat in to keep the temp perfect.
I look forward to more family trips with this piece of gear. Set up was a breeze, the fly has full coverage for storms and it is very spacious.

I highly recommend this tent.
Cheers

This tent can handle anything
Familiarity:

I've used it several times
I was hiking in Romania a few weeks ago. Slept in a valley and ended up running into these sheep herders, with mules and dogs. Probably 100 sheep, 8 mules, 9 dogs. That night, the worst rain and wind I've ever camped in happened, and all the animals kept bumping into the tent and trying to dig up under the rainfly. We were being assaulted on all sides. The wind was strong enough to bend the tent almost completely on its side. I'm talking like tropical storm force winds. This tent stayed up the whole time, withstood all the sheep stepping on it, and kept us dry all night. It would have been very bad if it didn't, because we wouldn't have been able to set the tent up again because the sheepdogs would have eaten our faces if we got out of the tent around the sheep. Idk if this tent saved our lives necessarily, but it sure felt like it. Only damage to the tent was that it was covered in sheep doodoo the next morning. Also the gear loft is awesome, you never realize how easy it is to lose stuff in your tent until you have a means to not lose it. Made life so easy. Buy this tent.
CAR CAMPING!
Familiarity:

I've put it through the wringer
This tent is certainly not the most ideal tent if you're going on a long backpacking trip. However, if you are car camping and weight is not an issue, this is my go to. Spacious, lofty, and easy to set up, you can't go wrong with this tent.
$ for $ the Best 3-Person Tent Available
Familiarity:

I've put it through the wringer
Hands down the best 3-person tent you can find for it's price. At a $280 price point most other tents you'll find won't provide the same value. This tent comes with the footprint which is a huge savings compared to every other tent in this price point. Plus this tents weight includes the footprints weight which other tents do not.

Last weekend three of us used this tent on a 2 day, 26+ mile backpacking trip here in the Uintas to Lightning Lake.

Set Up:
Set up goes real quick with this tent. Assemble the pole (main pole) and attach to the corners and attach the clips. Assemble the cross pole and attach to the tent. Match the red tags up on one corner (from rain fly and tent body) and clip the rain fly to the tent body. Then stake the tent and guy out the lines.

Interior Space:
There is ample room for sitting up and hanging out in the tent. A bit tight for 3 people for really great for 2 people.

Sleeping 3-People:
It's a 3-person tent but the biggest problem is sleeping 3 people. The three of us slept in the tent and were wall to wall crammed in like sardines. So this might be a roomy 2-person tent or a 3-person tent for smaller folks. The three of us are 6'4'' (215), 6'0'' (175), and 5'7'' (160). Having the dude that was 6'4'' in the tent really took up some space. But he fit length wise perfectly. We all had Big Agnes sleeping pads that were 20" wide and they went wall to wall width-wise.

Footprint:
One of the rare tents that includes a footprint with the tent. Most have it as an add on. We didn't use the footprint though. We opted to save a little weight and left it in the car. We had no issues without it.

Weight:
Not the lightest thing out there. But for its price point and what you get (the weight above includes that of the footprint) it really is the weight cost/weight/functionality that you'll get from a tent. This is one of the few pieces from Marmot that I'm really thrilled with.

Breaking Down:
It was raining when we tore down camp and it went quick which was wicked nice! We folded the tent body up and then the rain fly and everything went quickly. Thanks to the plastic clips that hold the poles in, everything just snaps apart really quickly rather than needing to slide the pole out through a sleeve.

Gear Loft:
One of the features I appreciate a lot. There were three of us in the tent on our trip and putting cell phones, sunglasses and other goodies up top was great. We didn't have to worry about crushing any of them breakable items we had since we could stow them up above.

Corner Pockets:
Each corner has a small mesh pocket in it. These were not super important but nice for having a spot to put something small that you might need while sleeping. They're not huge so they don't really hold much.

Vestibules:
Each side has a vestibule (2 in all) which is great. If you're backpacking with one other person then each of you get a vestibule which is awesome. There was plenty of space for me to get in and out while storing my 50 liter MHW pack in a dry spot while it rained. I didn't want my pack in the tent so the vestibule was a perfect dry spot for it.

Rain:
We stayed at Lightning Lake and we got just that. Lots of lightning and even more rain. It poured all night and into the morning but we stayed perfectly dry and had no water issues at all.

Shoot me an email anytime you have questions about the Marmot Limelight 2 or 3 person tents or any other gear!

Jared D.
Expert Gearhead
801.736.4336
jdowns@backcountry.com


Great tent
Familiarity:

I've used it once or twice and have initial impressions
Used it once and it held up well in the rainy conditions. Stayed warm throughout the night without having to much condensation in the tent. Enjoyed the gear loft but wish it had a clip for the lantern light on it. The one issue we have with it is that two people with sleeping pads and two backpacks take up all the room so we should have gotten the 4 person tent. Otherwise really happy with the investment.