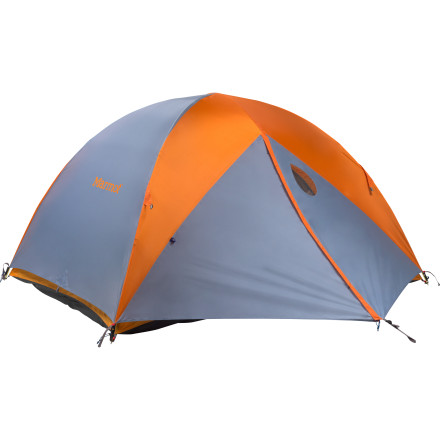 Marmot Limelight Tent with Footprint and Gear Loft: 3-Person 3-Season
View Larger Image
Videos

Community Images
Description
Your friends can join you so long as they don't snore.
Whether you're at elevation on a summer trip or sitting out a late spring storm in a valley, the Marmot Limelight 3-Person Tent is designed for you and your buddies to enjoy a nice night in the backcountry. The Limelight makes it easy for three campers to get a good night's rest, with two roomy vestibules let you store gear and wet stuff out of the main living space, a gear loft to add storage and an included footprint that enhances durability and comfort.
Polyurethane-coated floor and fly help rain bead off instead of soaking you and your gear inside
Lightweight, durable polyester and mesh body keep the weight down for longer weekend backpacking excursions
Floor and fly seams are taped to prevent water from sneaking in through fabric joints
Catenary Cut floor means the floor material curves a few inches up the tent walls to reduce direct seam-to-ground contact
Two DAC press-fit poles make the tent easy to assemble day or night and save weight without sacrificing durability or strength, and a DAC brow cross pole provides more interior headroom
Freestanding, dome-like structure withstands harsh weather and wind while maximizing space
Two doors and two vestibules (10sq ft each) give you and a partner easy entry, exit, and gear storage
Staked-out vestibules and zippered storm flaps on the vestibules seal out nasty three-season weather
Rectangle shape with 42.6sq ft (66 x 93in) floor area provides enough space to fit three adults comfortably, and its 46in ceiling height allows sitting up and crouching when you get stir-crazy in a storm
Entire tent weighs less than six pounds for easy hauling in the backcountry, especially when you split the weight between backpacking companions
Mesh panels in the door, walls, and ceiling let fresh air in and let hot air out during hot nights or muggy mornings
Press-fit clip design is easy to assemble while reflective points keep the tent visible in the dark
Noise-free zippers prevent waking up cranky trail partners and snag-free zippers enable smooth entry and exit from the tent
Thanks to the included footprint, the Bare Bones fast-pitch option lets you carry just the poles, fly, and footprint to save extra weight on the trail
Window Weld waterproof window construction in the fly allows you to view outside of your tent without having to get out of your bag
Once packed into its included sack, the entire tent package is only 8in x 22in for easy lashing to a pack or fitting inside a dry bag
Included gear loft provides even more convenient gear storage and works as a drying rack for clothes
Interior pockets hold your headlamps, map, or other small accessories close at hand
first tent, great tent
Familiarity:

I've put it through the wringer
I bought this tent a couple years ago and love it. It's lightweight, durable, keeps out the rain and snow, and easy to put up and take down. As described, it should probably be used as a 3-season tent-- we camped once in the winter and used this tent. It kept the snow out but didn't insulate enough to be comfortable.

As others have mentioned, this is really a two-person tent. That seems true of most "3 person" tents: they really only fit two people and their gear comfortably. The only time I have used it to fit three people is when the three of us were all petite women.

That being said, this tent has been excellent. I have a friend with the 2-person limelight who camped in the woods for 2 months straight over the summer, and his tent has yet to show any wear and tear. They hold up extremely well.
I just got this tent and its amazing
Familiarity:

I've used it once or twice and have initial impressions
I bought this tent last month and I've set it up once and used it once. (PICTURES TO COME LATER) I am used to light weight backpacking tents where you have to put the bag in first and crawl into it backwards. This thing has sooooo much space compared to my tiny Kelty backpacker. I feel like 3 people could easily fit into this tent and there's a lot of head room. The gear loft that comes with it is really nice feature for your alarm and phone. The footprint is an exact match size and approx a 70.00 dollar value. Over all on first use this tent is a screaming deal, unless like me you're a long haul backpacker and weight is a big issue. Ill probably use this for weekends in the spring when I go mudding with friends.
This tent is the bomb!!!
Familiarity:

I've used it once or twice and have initial impressions
This tent is a nice backpacking tent especially if your splitting it between two people. first time set up takes some extra time but after that you can set it up in about 10mins and it looks cool too!!!
Best tent I have ever owned
Familiarity:

I've used it several times
I have had the chance to use this tent 4 times in all kinds of weather conditions and absolutely love it. Rain, Wind, even a light dusting of snow. Able to set up in about 10 minutes and take down in about the same. packs away nicely and weighs almost nothing.
A great value :-)
Familiarity:

I've used it several times
I bought two of these tents for family backpacking. They are a little heavy but they are very nice. It is nice that the tents come ready to go with ground cloth and sealed seams right out of the bag.
They are sturdy and comfortable.
This guy is a champ
Familiarity:

I've put it through the wringer
I've used this to camp around everywhere in numerous conditions including snow & rain where I never had a problem staying dry. I own an older version before the doors were redesigned to not open on the floor. The tent set up is very easy even with one person. The only drawback is the visibility is extremely low even with the small window when the rain cover is on.
How steep are the walls? I'm 6' 10" (82") tall and I don't want my feet or head touching the walls.
Hey Brian,



I would consider the walls at about a 55-60 degree angle from the ground so at 93 inches across you should just fit lengthwise. If you are the only one in the tent, you could sleep diagonally and have plenty of space (114 inches). Feel free to contact me directly with any more questions about the Marmot Limelight or if you are interested in setting up an order.
Awesome tent for 2 people
Gender:

Male

Familiarity:

I've used it several times
I bought this tent for my wife and I while living in Denver, CO. We wanted a little more space than our 2-person Eureka provided, and I liked the rain fly that provides full coverage plus a vestibule on each side. We have used this tent several times and I could not be happier. I can throw the footprint on the ground and set up the tent by myself in about 5 minutes. We've been in heavy rain and wind and temps down into the low 30's and have been 100% comfortable every time. It is a bit small to try to fit 3 people in there, but for 2 people it is great. The quality of the stakes and poles is also excellent. Last trip we made it rained most of the time and the temp at night around 10,300ft was low 30's. We were cold by the campfire, but when we got into the tent, it was comfortable enough that I didn't feel chilly at all getting ready to crawl into the sleeping bag. Very nice tent and highly recommended. (I will add a couple more photos in reviews - seems like I can only add one to each review...)
Does anyone know how this does in warm weather/humidity? Is there enough ventilation to make it comfortable in Texas when it's hot but the mosquitos make it difficult to leave the doors open....
Julie,



There is some ventilation, however, the Marmot Tungsten would be much more open. It has 360 degree no-see-um-mesh, which not only opens up the tent, but gives you gorgeous views as well (if the bugs don't get in the way, that is).



Have a look!

http://www.backcountry.com/marmot-tungsten-3p-tent-3-person-3-season?s=a



More questions? Let me help!



Emily Jenson

Expert Gearhead

801.746.7587

ejenson@backcountry.com
Solid tent
Familiarity:

I've used it several times
We got this as an upgrade to a 2-person REI tent. The extra space is nice, and the features on this tent didn't disappoint. Super easy to pitch and pack, good quality zippers, all in a nice lightweight package. Also, I never would have thought I'd need a gear loft, but since it's there I find myself using it almost every trip.

Ok, so the (minor) downsides:
-The rainfly doesn't extend very far from the sides of the tent, so in a downpour some water can splash up from underneath the rainfly and into the tent.
-I wish the rainfly had some option for ventilation

Overall I'd feel good about buying this tent again, but would consider looking for something that solves my minor rainfly gripes.
You should buy this
Familiarity:

I've put it through the wringer
Great tent. I've used this in all kinds of weather. I did have some water leak into the sides, but it was a tremendous downpour. Other than that, no complaints. Super easy and fast setup. Lightweight. Love it.
Buy this tent
Familiarity:

I've put it through the wringer
I've slept in many, many tents in my life. This is the tent I want to be buried in.

We got one several years ago, getting ready for a cross-country journey through our National Parks, and to "practice" we went with some friends to Acadia in Maine for our first stop. It poured the whole weekend. Buckets and buckets. They were cold and wet in the morning, we were comfy and dry. It was then we knew we had a special tent. Just an amazing tent.

Easy to set up, sets up almost anywhere, gear loft is super handy and I'm shocked its not standard in tents after this, the rain fly is spectacular, and I think I've run out of superlatives for this tent. It's that good.
Great tent
Gender:

Male

Familiarity:

I've used it once or twice and have initial impressions
We've only made it out a couple times since getting these tent but so far it seems like a great purchase. Super simple to set up, rain fly a footprint kept us nice and dry even in heavy rains the first night in this tent. We love the vestibules for keeping our gear dry and out of the way. All and all this tent seems really well made and we are very happy with the purchase. Maybe a bit heavy for long treks but I don't think you can beat the Limelight for quality at this great price.
Happy Camper
Familiarity:

I've used it several times
Seriously the best tent we've had. Great looking, roomy, dry; perfect!!
I'm content with this tent
Gender:

Male

Familiarity:

I've used it several times
The Marmot Limelight 3 person tent works for me.

I wanted a tent with room inside for 2 and gear without being cramped. Didn't need a 4 season tent. But didn't want something flimsy, either. Given the price, specs, and reviews, the Limelight seemed like the best option.

The Limelight straps to the bottom of my Arcteryx Bora 90 big pack. It's weight is noticeable, but not terrible. Once at camp, it sets up super fast using two poles, bound in the middle with a swivel clamp to form an X. There is another, little half-pole to keep the rain fly vestibules spaced away from the tent doors. Mine came with a footprint, too. All three components: footprint, tent, and fly install seamlessly. One person can set this up with no problems, even in pretty stiff wind.

Once set up, the tent is spacious and has some nice features. The walls are pretty vertical, so all of the floor space is usable. The double doors allow superb cross-ventilation. The zippers are a bit catchy, but a little mindfulness will prevent snags. The mesh doors roll and tie back. There's a 12"-12" loft in the ceiling for small stuff.

The Limelight holds up well to foul weather. Whipping wind doesn't throw the tent around, and there aren't any drafty spots. Rain, even wind-blown, doesn't get through the fly, and there aren't any gap between the fly and tent. Likewise, ground surface water doesn't get in through the footprint or the floor. I'm sure the weather-resistance will degrade over time. But out of the box I give the Limelight 4 out of 5 for its ability to keep wind and water out.

The Marmot Limelight 3 person tent is a best value offering in its category in my POV. The only thing I can't comment on is its durability. I'll try to update the review when I can.
One bad mamma jamma
Familiarity:

I've used it once or twice and have initial impressions
Used this bad boy/girl on a weekend trip a local state park. On the last day of the trip, mother nature decided to hit us with some fierce rain. This tent stood up to her nastiness and kept us, two dogs and our gear dry. We are going to be doing a leg of the AT soon and can't wait to use this tent. Kudos!
PS. The vestibule configurations are an amazing option.
Great Multi-use Tent
Familiarity:

I've put it through the wringer
I'm a big fan of this as my 3 season back packing tent option. It also serves as a great car camping option because of its durability and venting systems. Set-up is quick and easy, I have yet to see anyone struggle with it. Features of the tent are on the higher end of this price point. Tent fly is fully seam taped and seems to be of high quality construction. Body has experienced no issues after general wear and tear from ground abrasion. Vestibules on both sides of the door are large enough to get a pack under during a rainstorm, but not large enough to be using expedition style as a camp kitchen. IMO, this tent is a great option for those looking for a fairly lightweight do it all 3 season tent. I would highly recommend.
bring on the elements
Familiarity:

I've used it several times
I recently purchased the Limelight 3, it is very easy to set up and even has the poles color coordinated to help you. The footprint comes included and is a super nice feature since it is fitted to the tent specifically. Spent 3 days in Escalante, Utah and it rained off and on the whole time but everything stayed nice and dry thanks to the rain fly that buckles into the tent. The large vestibule is great and was nice not having to bring wet shoes into the tent. The reflective cords on the corners of the tent were a nice feature as well. I highly recommend this tent to everyone since the quality and durability will go through many years of good use.