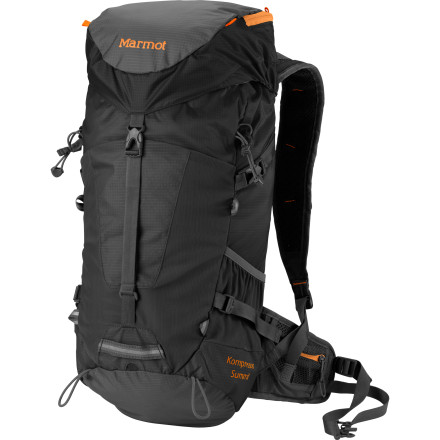 Community Images
Marmot designed the Kompressor Summit Backpack for serious wilderness go-getters seeking a balance between lightweight packability and multi-season durability. This backpack weighs in at under two pounds and uses a multiple small-storage options and versatile packing capabilities to ensure a well-balanced, well-organized load.
Comfort-molded shoulder straps with Air Comfort tech are lightweight and ventilated for easy comfort
Removable closed-cell foam back sheet offers a bit of support while remaining flexible
Top-loading access is simple and easy to use
Compressible design lets you stuff the pack into the lid pocket
Durable nylon double ripstop with silicone-impregnated panels is lightweight and tough
Hydration sleeve holds your reservoir so you can wet your whistle
Compression straps tighten down your load so your gear doesn't shift or swing around on your back
Daisy chain and dual ice ace loops haul your climbing and mountaineering gear
i strongly recommend this backpack, very light, comfortable, i planning use as climbing bag, size specially for women, i can put inside all that i need for 1-2 days trip.pity that there is no raincover and thin fabric but necessary to choose between weight and strength, i choose light weight
agree with steve
Familiarity:

I've put it through the wringer
seeing as how i dont carry sharp-ish stuff i love this pack. it definitely will rip easily with sharp stuff easier than other material but it was made very lightweight and more of a pack for day hikes without sharp-ish stuff. if your looking for a more durable and technical pack dont get this one. if your just an hiker and backpacker without sharp ish stuf get this pack. i used it for an overnighter and had to do a little squeezing but fit everything in. worth the price. o it will also repel water very well, but the seams arent taped so it can get in through those. still worth it though
Disappointing structure and durability
Familiarity:

I've put it through the wringer
I wouldn't recommend this bag. I use it for light overnight hikes and approaching climbing crags, but I'm looking for a replacement bag.



-The outside has some puncture holes after 18 months of moderate use. I can't say what caused the holes, but this pack couldn't handle ice axes or other sharp-ish equipment.

-Too small. It can barely hold a small sport rack, 60 m rope, water, food, and light layers. I can't use it for trad approaches.

-The frame deforms too easily. I understand that it is for lightweight backpacking, but it can't hold its form when I load it with 25-30 lbs
Good features, light weight
my wife uses this as her climbing bag, though i imagine she might use it for a fast 'n' light backpacking trip. It's got good space, especially for a smaller person. she's got her helmet, a couple pairs of shoes, our food for the day, her layers, a trad rack, and usually 3 liters of water with room to spare. it could handle a good, 3-season bag, and gear for 3 or 4 days (as long as you got a 1 person tent, or you split tent/food/cooking gear with partners) without being too extreme. the stuff pocket on the back is great for quick access to rain gear and other jackets.



her complaint is that it is a one-size-fits-all bag and she hasn't been able to get it to fit her 5'5" frame just right. seems like it could be designed with some more shoulder strap adjustability without adding much weight...
I recently purchased an Osprey Talon 33 for general use. In general I wanted a bag I could use for, bushcraft, hiking, day treks, bicycle commute, parkour, trail running overnighters, anything up to 5 days. THe Osprey was a great bag, but had an excess of strappingmaterial, made of normal nylon, flimsy and too large for my purposes. So I returned it for this Bag, and I've been nothing but pleased with it. I've packed and used it for a 4 night trip, with downbag, BigAgnes SL1,Exped Downmat, Food, Water Filtration, Cook Kit, Misc essentials. Clothes, shell. Also use it everyday to bike to work and hold weight when running. THe material is durable, while the back ventilation isn't as nice as the Osprey's I don't really mind. It sits well on your hips, though the straps are a little slimmer than the Osprey or a framed bags obviously. it had a nice removeable pad that's behind the inside storage sleeve for hydration bladder. I don't really see myself using it for that but it does fit aM.S.R dromedary 2L , you could easily put something under the top lid, which isn't detacheable, but I like less. Dual iceaxe loops, I don't do anything to need those, but I have strapped a full size axe, and a tomahawk to them and it holds well. It's my go to bag
How to compress and stuff the pack into...
How to compress and stuff the pack into the lid pocket ?

Will the pack be damaged by over compressed ?


This is the only one of the Marmot Kompressor series packs that doesn't stow in its own hood because of the size of its external features like the hip belt, back sheet and shoulder straps. However, the Ultra and the Plus will by turning the lid pocket inside out, stuffing the rest of the pack in and closing it up using the reversible zipper. And no, those packs won't be damaged doing it, even repeatedly over time.
How large a reservoir does the hydration...
How large a reservoir does the hydration sleeve hold?
Best Answer
It will easily fit a 100 oz bladder